Info on the Hippopotamus Brand Pool Tables?
---
11/20/2017 7:05:32 PM
Info on the Hippopotamus Brand Pool Tables?
I found an 8' slate billiards table on Craigslist and it's pretty much exactly what I'm looking for.
But I've never heard of the brand Hipopottamus pool tables. I can't seem to find much online except one mention of one for trade in this forum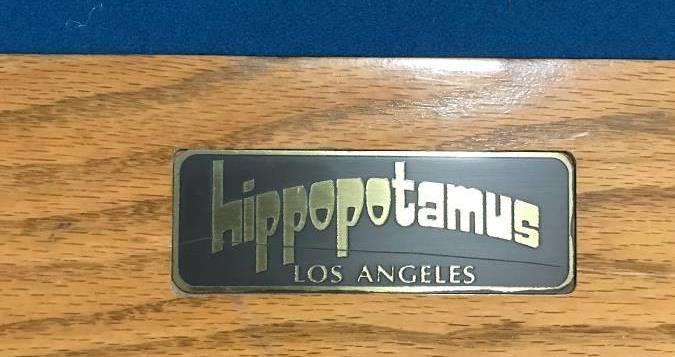 user1511222730
Info on the Hippopotamus Brand Pool Tables?
Replies & Comments
---
billiardsforum on 11/21/2017 7:29:19 PM

Hippopotamus was a furniture maker founded in 1975 by Jim Auerbach based out of Los Angeles, California, with about 600 customers and annual sales between $5 million and $10 million.

Hippopotamus
6801 Wilson Ave
Los Angeles, CA 90001-2160
Phone: (619) 423-9948

The company was purchased by "Golden Oak", a manufacturer of dining and game room furniture in the fall of 2004. Until this time, the tables were made in Los Angeles. After the sale, production of the Hippopotamus line moved to Golden Oak's plant in Mexico.

furnituretoday.com/article/391158-golden-oak-purchases-hippopotamus

The Hippopotamus billiard tables from before the sale were well designed, solid, and well built. Every now and then, one will pop up on Craigslist (as this one has). I can't speak to the post-2004 versions made after the sale of the company and the transition of manufacturing to Mexico. (Note: Brunswick Billiards has also had factories in Mexico since the 1960s).

The versions sold after the move to Mexico production look more like the dime-a-dozen pool tables everyone imports from asia these days. Here is a post-acquisition Hippopotamus pool table:

I am thinking that the one in your pictures is pre-1994 (but not 100% positive). The game room furniture from Hippopotamus still sells second-hand for very high prices. For example, a pair of Hippopotamus billiard spectator chairs go for over $500.

But because pool tables are plentyful on classified sites, you can usually get em cheap.

Here is a Hippopotamus billiard table for sale on Michigan Craigslist in 2016 for $1300 including installation:

I always recommend pricing a pool table by looking at what else you could get for the price you are thinking about. Say your table is for sale for $1000. You can usually get a good feel if it is worth it, by looking at what other pool tables you could get for the same price.

What is the asking price on the one you are looking at?

user1511222730 on 11/21/2017 10:27:36 PM

They're asking $650 but I have a feeling I can get them to go down a little. It's on the better end of the pool tables for sale in my area in that price range. Thank you so much for the insight

billiardsforum on 11/21/2017 11:03:41 PM

Yeah, I mean that seems reasonable. It's a decent table. Just remember to factor in your tear-down, moving, and set-up/leveling costs.
Info on the Hippopotamus Brand Pool Tables?
Title: Info on the Hippopotamus Brand Pool Tables?
Author: user1511222730
Published: 11/20/2017 7:05:32 PM
Last Updated: 11/21/2017 6:48:11 AM
Last Updated By: billiardsforum (Billiards Forum)