Info and Identification of a Vanguard Billiard Table
---
8/14/2021 6:52:23 AM
Info and Identification of a Vanguard Billiard Table
I just bought this Vanguard pool table.
I need some help identifying the model, it's value (what price it might be worth now), and whether or not it's a collectible item.
The name plate says:
Manufactured By
Vanguard Billiard Tables
Australian Made
Vanguard Building
400-412 Princes Highway
St. Peters 2044
For Sales & Service
Ring 519 6746, 519 6747
Patent Pending
Serial No. 2111
I've looked all over the internet can't couldn't even find a picture of it, let alone any information on the Vanguard pool table brand.
Please help, I'm so curious.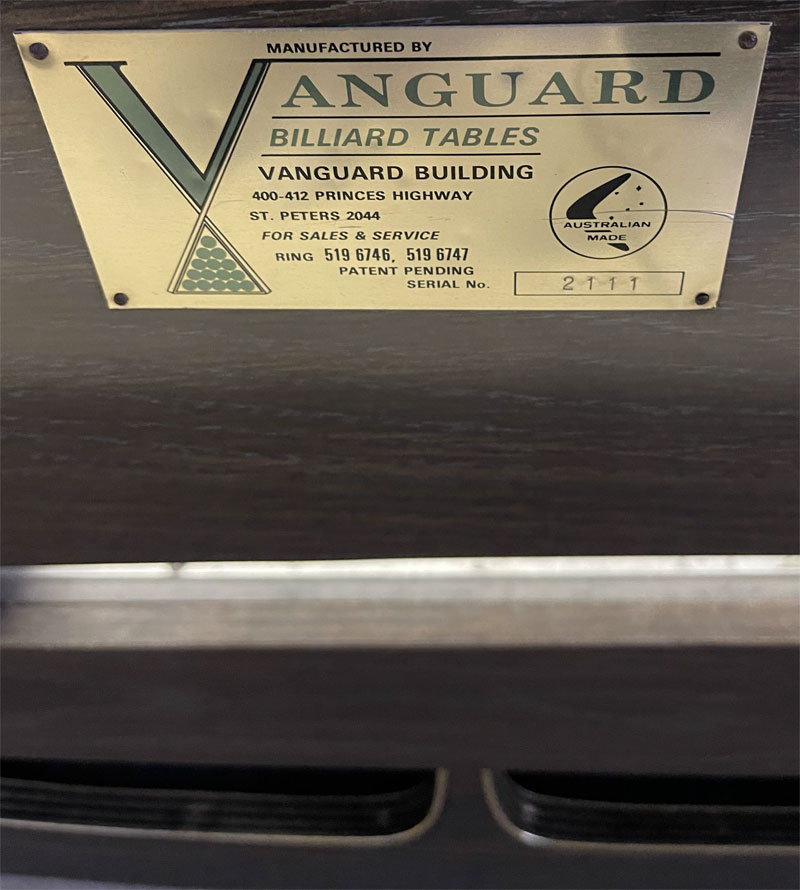 atron
Info and Identification of a Vanguard Billiard Table
Replies & Comments
---
billiardsforum on 9/1/2021 3:41:48 AM

It would be super helpful to see photos of the rest of the pool table.

The little info we have in our archives about Vanguard Billiard Tables is below:

Vanguard Billiard Tables was a trade name (DBA name) of "Baril Holdings Pty Limited".

They were big in the 1970s. There were several job postings in the Sydney Morning Herald in mid- to late-summer of 1973.

1973-05-16 - Looking for mechanics for their coin-op amusement machines business (e.g. coin-op pool tables and other amusement machines) at their 396 Princes Highway location in St. Peters.

1973-08-30 - Looking for cabinet makers and assemblers for their pool table business at their 44 Hiles St. location in Alexandria.


There's also this photograph, which was taken on June 12, 1970 at the Food and Catering trade fair at the Sydney Showground.

The company was forced into liquidation by the tax courts at the end of March, 1987. The liquidator was Nelson Wheeler O'Brien Chartered Accountants.

The fact that there's no further information AT ALL online anywhere is indicative that the Vanguard Billiard Table brand pool tables were unremarkable and hold no "collectible value".
Info and Identification of a Vanguard Billiard Table
Title: Info and Identification of a Vanguard Billiard Table
Author: atron (Ahmed Alameddine)
Published: 8/14/2021 6:52:23 AM
Last Updated: 9/9/2021 6:15:54 AM
Last Updated By: billiardsforum (Billiards Forum)