Identifying Antique Pool Table, Brunswick 1895?
---
6/22/2017 4:48:15 PM
Identifying Antique Pool Table, Brunswick 1895?
I really could use some help identifying this antique pool table. My grandpa bought it in 1970 from a co-worker who needed to sell it for personal reasons. I have been told it's a Brunswick pool table from pre-1920s. One person has said it's a Brunswick pool table from 1895.
What would be the identifying markings and/or traits that would help me tell if it was a Brunswick Billiards pool table?
Is there any way to tell what year it was made in? Obviously I still need to put it together, but I thought you experts may be able to tell from these pictures.
Is it potentially a knock-off? (The craftsmanship still appears to be great, if it is).
I was told there used to be a nameplate with "Grauman Billiards" or "Grauman Company" on it. Does that name ring any bells to anyone? Would they have potentially gotten a Brunswick and branded it with their own name?
Any help greatly appreciated!!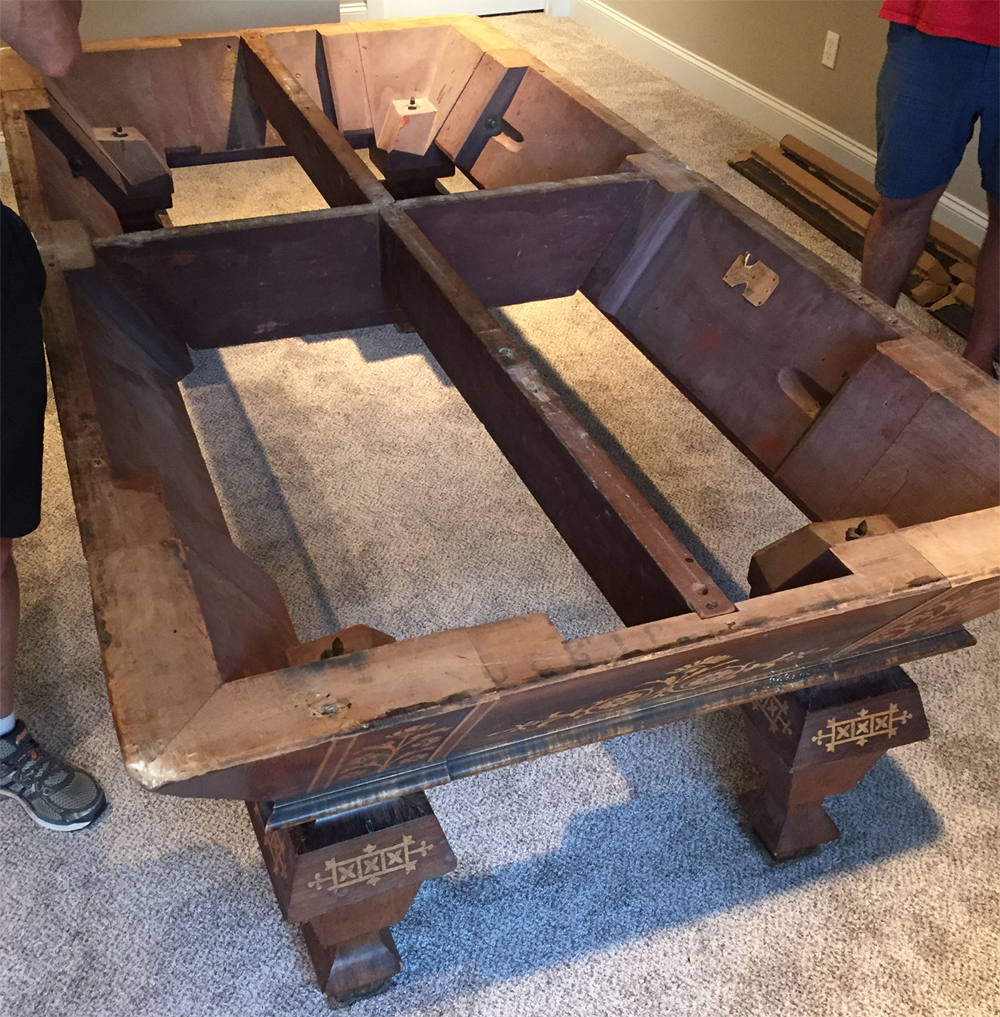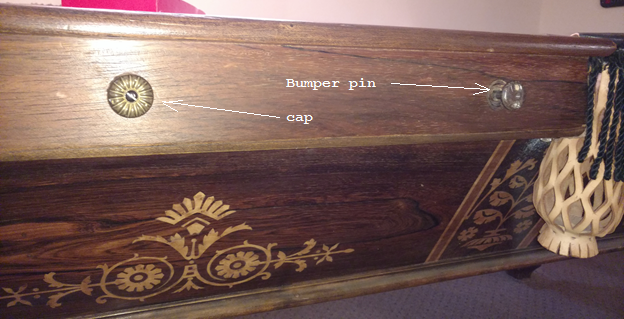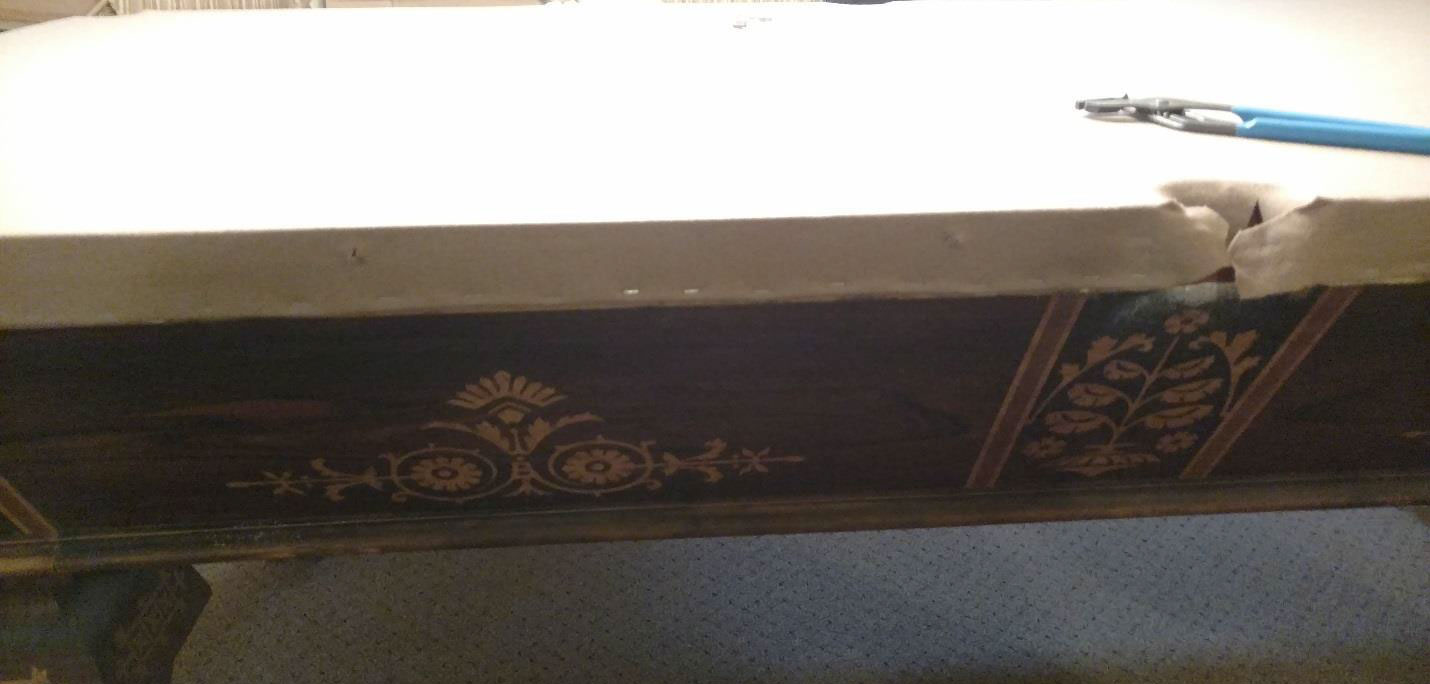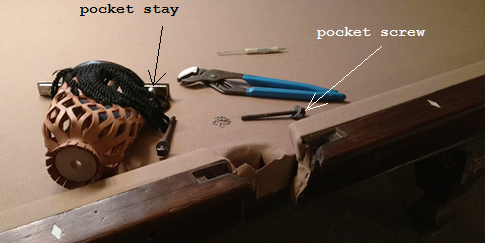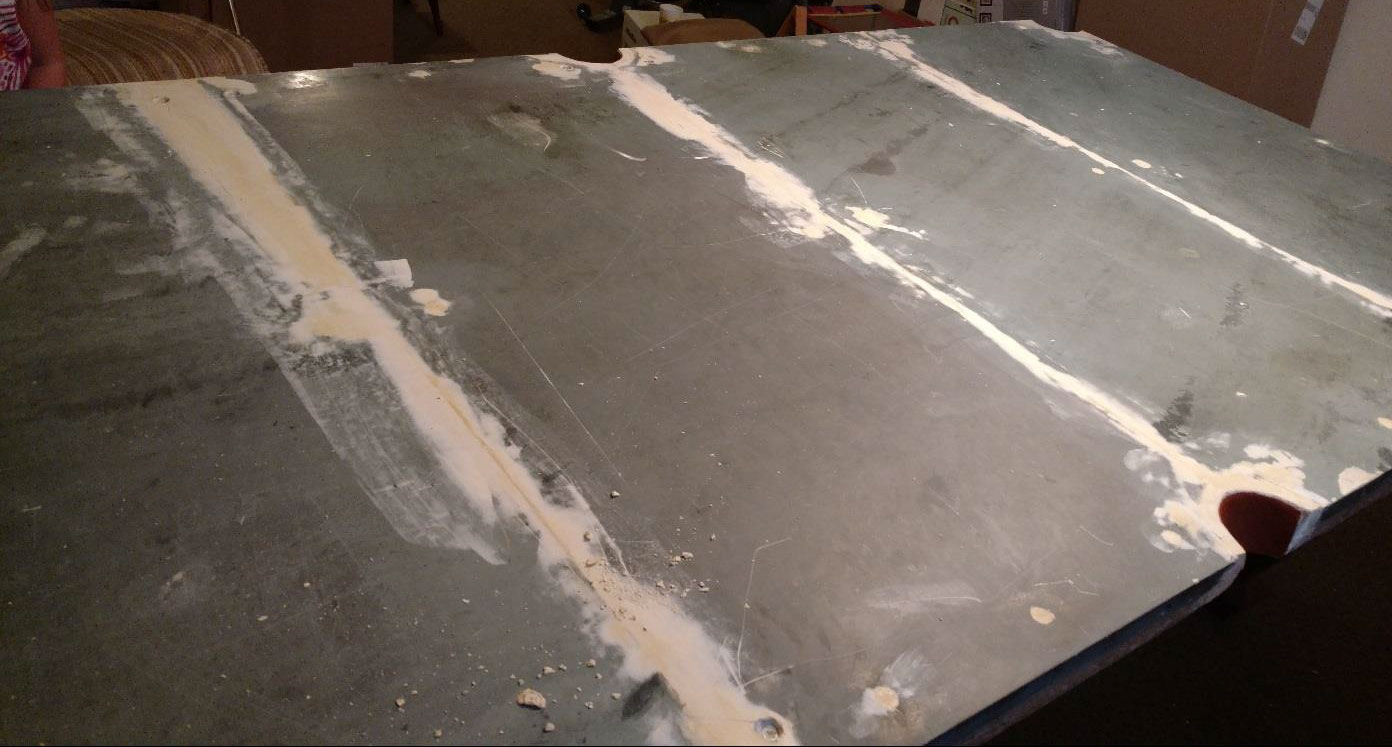 It's an 8 foot, four piece slate (1 inch) table. Here'a a couple pics of the rails. Thanks for the help!


STLman
Identifying Antique Pool Table, Brunswick 1895?
Replies & Comments
---
billiardsforum on 6/22/2017 11:20:21 PM

That is a really nice antique pool table. Really nice. This was a fun one to research as well. The information couldn't have presented itself any easier and I found some really interesting stuff.

I think in the end you'll see that it is likely an antique Brunswick Balke Collender "Popular" pool table. "Popular" is the model name. They had Rosewood sides with Maple marquetry (and some were the reverse of that). Made between 1870s into the late 1890s.

So first, regarding the "Grauman" name plate, I found two references to a Denver, Colorado company, but unfortunately these references are all I have at the moment.

1911 Colorado Business Directory:

GRAUMAN FIXTURE CO L, soda fountains, pool and billiard tables, store fixtures, 1540-42 Wazee, Denver

1919 Colorado Business Directory:

Grauman L Co - Soda fountains and pool tables, 1550 Blake, Denver

Now here is where it gets interesting.

I found this exact table for sale on eBay just now for $3995. They are calling it a 1895 Brunswick "Popular" model.

But get this - It is in Denver, CO. They put the table at about $35000 after a re-finishing (which can cost between $5000 and $15000). I am going to disagree with this number. It's too high. and as you'll see there seems to be enough of them around.

It's funny to note that the "Grauman Co" was in Denver, and the table above is also in Denver. Hmm. If it truly is a Grauman pool table, it may be that they just used Brunswick Monarch cushions - hence the Brunswick Monarch name plate in the eBay pics. Then again, it may have, at one time, been repaired or serviced by Grauman Co. and perhaps they affixed a name plate at that time.

ebay.com/itm/352084503131 forums.azbilliards.com/showthread.php?t=454373

Then, another search on eBay for "Brunswick Popular" returns ANOTHER antique pool table exactly like this... this time it has been restored, and it is listed as an 1896 8-foot Brunswick "Popular" pool table just like yours. It's going for $3,900. This one is in Texas at a retail store called "Buffalo Billiards".

ebay.com/itm/391820044787

Another one in Colorado, fully re-finished, at Sheridan Billiards:

And this one from Bank Shot Antiques out of Albany, NY: The "Popular Rosewood" by Brunswick Balke Collender. I guess Brunswick offered various styles, e.g. one version where the main finish is the rosewood, and the marquetry is birds-eye, and then the opposite of that, where the finish is birds-eye maple with rosewood marquetry.

Shown with old finish removed but no Repairs or refinishing The "Popular" - produced from the 1870's into the 1890's, with Some variation in design, first by H.W. Collender Co. and later by Brunswick-Balke-Collender. The images below is a Brunswick Balke Collender version with Beautifully quilted Bird's-eye Maple background and Rosewood inlays:

...and here is the opposite (which I think is what you have):

And this one from Marschak's out of Dubois, Wyoming:

Brunswick Popular 9' Antique Pool Table - Birdseye Maple with Rosewood inlays, Rosewood rail tops and Ivory sights. Circa 1895.

This antique pool table was once called "one of the most beautiful billiards tables ever produced," in an industry publication. Circa 1895, this model was one of Brunswick's most popular pool tables. It is gracefully designed with bird's eye maple with rosewood inlay and rosewood rails with ivory sites. It was restored to match the company's original craftsmanship and detail, including high-quality leather pockets. It features a cove form body with brackets at each corner and corrugated frame molds, as well as Monarch's quick acting cushions, which are still considered state-of-the-art today. A fitted Vermont slate bed rests on a wooden frame more than seven inches thick. Iron bolts run the length of the legs for solidity and balance.

marschaks.com/antique-pool-tables/1895-birdseye-popular

Finally, just an FYI in case you don't already know, Brunswick has a history section on their website... with cataloged images of historic brochures, etc. You could spend hours going through it all, but that's where I'd start. Do a google search for "Brunswick Billiards pastperfect" - any one of the first two links.

Anyway, hope this helps you out, and please do let us know what else you find and what you decide to do with it.
Identifying Antique Pool Table, Brunswick 1895?
Title: Identifying Antique Pool Table, Brunswick 1895?
Author: STLman
Published: 6/22/2017 4:48:15 PM
Last Updated: 6/22/2017 10:13:23 PM
Last Updated By: billiardsforum (Billiards Forum)