Identifying a Pool Table by It's Marquetry
---
3/26/2018 6:33:32 AM
Identifying a Pool Table by It's Marquetry
Hello, my brother and myself have inherited this pool table from my mother. Is there a way that I can identify the manufacturer of the table so that I can research it further. Thanks so much for your help and we really like your website. Thanks, Jim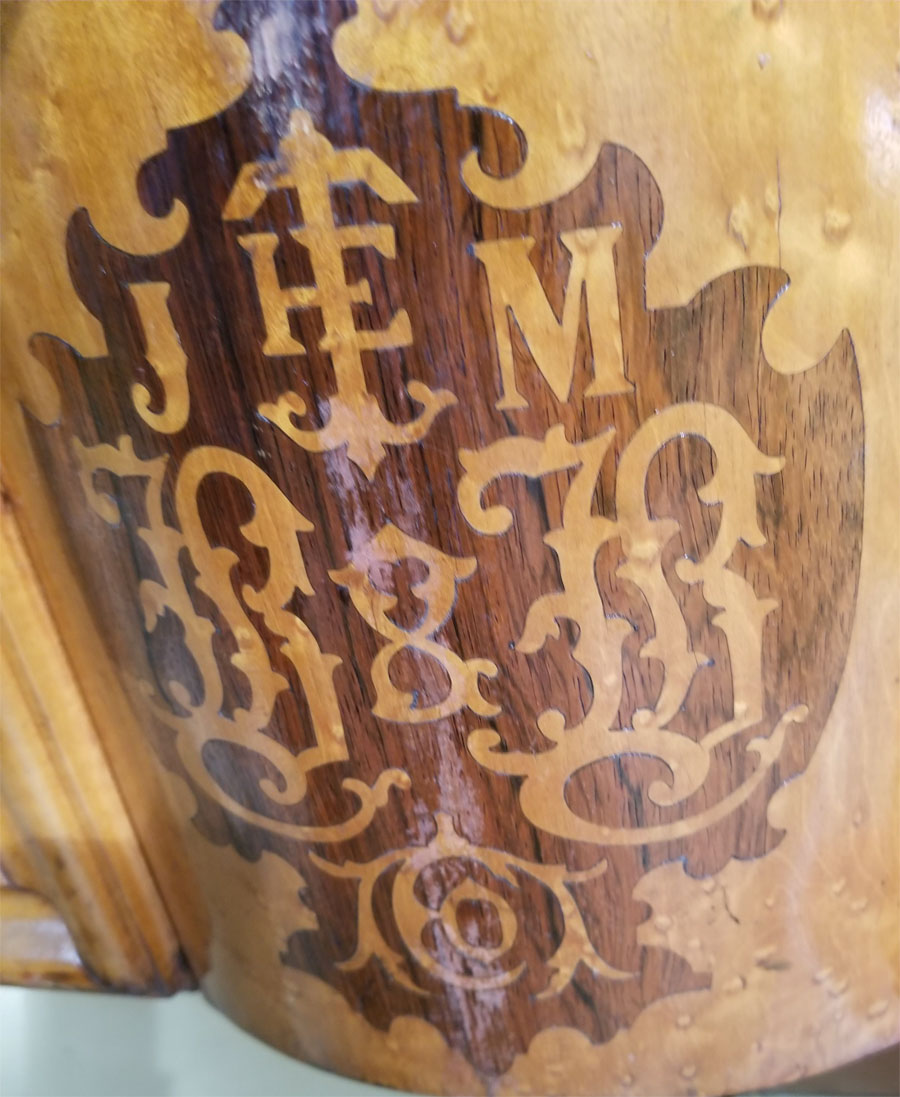 jimrich
This question mentions the following businesses:
Identifying a Pool Table by It's Marquetry
Replies & Comments
---
billiardsforum on 3/26/2018 6:09:44 PM

I am looking into it for you.

In the meanwhile, can you check to see if there any other markings, names, numbers, symbols, name plates, etc... anywhere on the pool table? Check underneath as well.

UPDATE:

This is a very old (and rare) J. M. Brunswick pool table from the 1880s I believe (possibly a "Novelty" model). The marquetry has 4 letters - "J. M." on top, and "B & B" below it. That stands for "J. M. Brunswick & Balke Co." Lots online about them. I found this very similar one restored and for sale in by Rockford, IL pool table restoration company "Antique Billiard Supply" - listed in their "Over $35,000" category.

I can't get you any closer to an exact model without seeing more of the pool table.

J.M. Brunswick was building pool table since 1847, and joined forces with Julius Balke and the two incorporated J. M. Brunswick & Balke Co. in 1879

This ornate Brunswick pool table model was used for championship matches during the 1870s because of its superior playing qualities and its general excellence in construction. This 9-foot antique pool table features panels of French walnut burl and extensive hand inlays of exotic woods. Fancy inlaid scrollwork and turnings accent the lower edges of the cabinet.

Another one:

Antique J.M. Brunswick & Balke Co. Nonpareil Novelty Pool Table circa 1874.

This table features a deep dark rosewood background with birds-eye maple marquetry inlays baring the initials "The JM B&B Co" in the lower cabinet center plaque. This rare table is being pictured in original un-restored condition.
Identifying a Pool Table by It's Marquetry
Title: Identifying a Pool Table by It's Marquetry
Author: jimrich (Jim Rich)
Published: 3/26/2018 6:33:32 AM