Identify Vintage Brunswick Home Table?
---
11/26/2017 5:34:24 PM
Identify Vintage Brunswick Home Table?
I'm hoping someone on here might be able to assist in identifying the model of this vintage Brunswick home pool table.
My husband remembered being told something about being a 1952 but I don't know the accuracy of that information and he didn't see any sort of model information noted anywhere.
Any help would be greatly appreciated!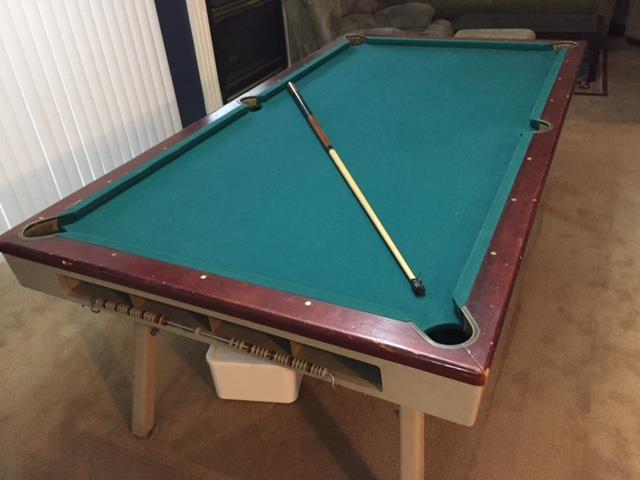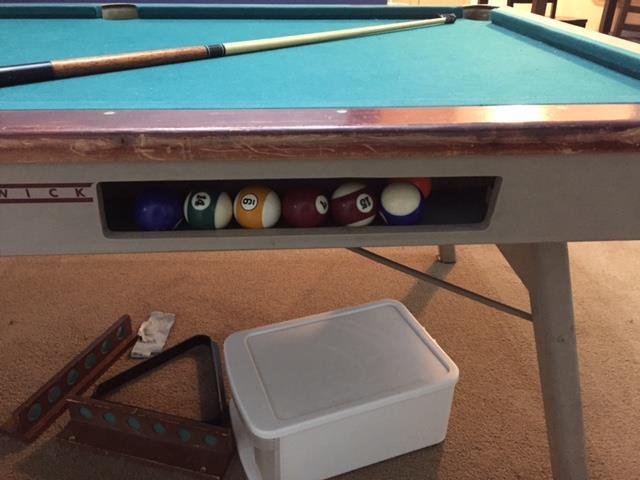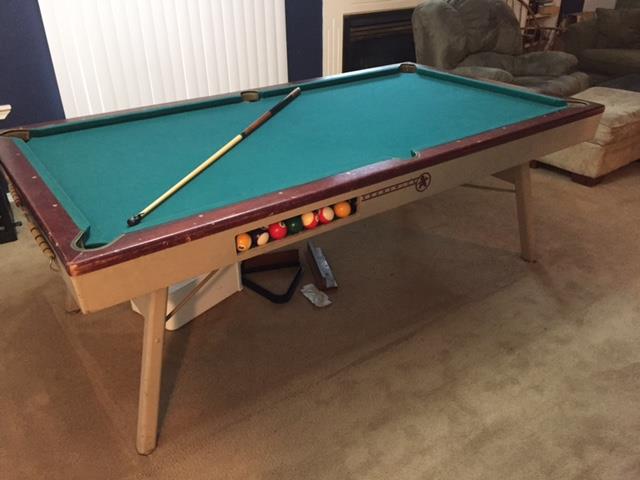 meld9672
Identify Vintage Brunswick Home Table?
Replies & Comments
---
billiardsforum on 11/26/2017 7:47:22 PM

It is a 1951 Brunswick Super Deluxe Home Billiard Table. Manufactured from 1951 to 1965. Replaced with a very similar-looking after that called "the Edgebrooks".

Here is the technical info from the 1951 Brunswick "Super Deluxe Home Billiard Table" installation manual:

6 Foot options (32" x 64" Playfield)

(Also available in 2 1/2' x 5' size.)

Each table is packaged in one carton and consists of the following:

Complete table assembly.
Box of 12 pieces of Clik chalk.
Two cues.
One triangle; set of 16 billiard balls (1 7/8" size), book of rules and "How To Play Pocket Billiards".

From the 1958-1959 Billiard Catalog, page 17:

Fully equipped with 4 cues, set of 15 professional type cast phenolic balls and cue ball, maple triangle, box of chalk plus book of rules and games to play.

Leveling devices on legs provide an absolutely level playing surface. It's simple to adjust whenever necessary.

Gully ball receivers are built into the aprons at each side. Returns ball automatically, doubles as cue storage space.

Ball storage rack holds up to 24 balls. A built in score marker with 50 professional type marker buttons counts points.

Folding is easy ... the legs are framed in pairs and attach securely with heavy gauge hinges. A twist of a large hand knob releases the legs for easy folding.

This entirely new home table is custom built to the same precision standards that have made Brunswick tables famous the world over. Live, accurate cushions, select cabinet wood rails fitted with flush set angle sights are reinforced at corners to assure perfect alignment. 3-ply laminated composition is attached to a specially constructed frame that makes the bed warp-resistant. All exposed wood is preserved with sealing lacquer and table rails are protected with a burn resistant coating. Metallic gray legs, Ivory aprons and Persian red rails.

jennyrose9 on 7/1/2018 7:23:33 PM

@meld9672 - Did you do any research on the value of your 1951 Brunswick table? I'm curious as there is one in the basement of my father's house and we are thinking of selling it.

user1635201587 on 10/25/2021 3:39:48 PM

I have the same Brunswick Super Deluxe pool table. I just got mine for free and the cloth and cushions are pretty bad. I'm very happy to have it because the smaller pool tables are hard to find. Meanwhile I'm seeing tons of free full-sized pool tables with slate because most people just don't have large enough rooms to dedicate to a pool table.

I'm planning to replace the felt and the rubber cushions but the issue I'm having is that the rubber cushion profile is a proprietary Brunswick design.

I'm fairly adept at woodworking so I could possibly modify the rails to a more V-shaped one, as is common, or maybe I can get new rubber from England. I was reading that most US pool tables are big while the smaller ones were more popular in England. I think the rubber may be more similar to that of a snooker table with a bit more of a squarish shape. The balls are 1 7/8" (and my #10 and #8 balls missing). I also have the snooker balls, and I would think that they must have been an option. I'd like to find the two missing balls, so if anyone disposes of one, please think of me.

If anyone knows where I can get the correct rubber I'd be very interested. I'll recover it with the existing cushions if I need to, but it would make more sense for me to replace the cushions, even if I need to change the rails and modify them with a router to fit a new profile.

Evidently the rail should be at 63% of the height of the ball. I'm not sure if that's for the contact point or the height of the top of the rubber. Either way, the balls are 1 7/8" so that works out to 1.181" above the table surface.

I'll make templates before removing the rubber. If necessary I can grind the rubber a bit, but obviously, resizing the rubber accurately is hard to do. I'll try to get the best profile I can find and work with that.

I don't really want all the balls launching too easily. Other than that, perhaps the snooker style of rubber would give a more accurate return angle. Maybe some more experienced players have info on that. I also thought that having a smoother cloth might have less rolling resistance, and thus, would increase the speed a bit and might also display warps in the table more. I think I may be able to check the flatness of the top with the cloth off. I have a machinist's level that's accurate and I know there are some indents. Maybe I can fill them level with Bondo.

The overall condition, other than cloth and rubber, seems OK, so I will be happy to spend some time to restore it.

It has a sort of George Jetsons style to it. We put it in the kitchen and we were laughing at Beverly Hillbillies clips where they reference the "billyards table". They use it as the dinner table so it seemed a bit redneck and kind of fitting. ;-)

Also, the Brunswick Edgebrook pool table is shown below was from 1965 on, so it is older than 1965.

brunswick.pastperfectonline.com/library/D33CF811-3ACB-4F41-AC23-416422115109

This one does not appear to have the ball returns in the sides. Note that it says the Edgebrook model takes the "Centennial" rubber, which may be still available. It also says that it has a 5" honeycomb "slate", whereas I believe the Brunswick "Super Deluxe" model uses a high density particleboard. It appears that the thicker honeycomb top required extra room, thus, the removed ball return feature. I think the rubber for the "Super Deluxe" model is more square in shape and has a proprietary profile.
Identify Vintage Brunswick Home Table?
Title: Identify Vintage Brunswick Home Table?
Author: meld9672 (Andrea Biffle)
Published: 11/26/2017 5:34:24 PM
Last Updated: 11/26/2017 7:37:26 PM
Last Updated By: billiardsforum (Billiards Forum)