Identify Vintage Brunswick Home Table?
---
11/26/2017 5:34:24 PM
Identify Vintage Brunswick Home Table?
I'm hoping someone on here might be able to assist in identifying the model of this vintage Brunswick home pool table.
My husband remembered being told something about being a 1952 but I don't know the accuracy of that information and he didn't see any sort of model information noted anywhere.
Any help would be greatly appreciated!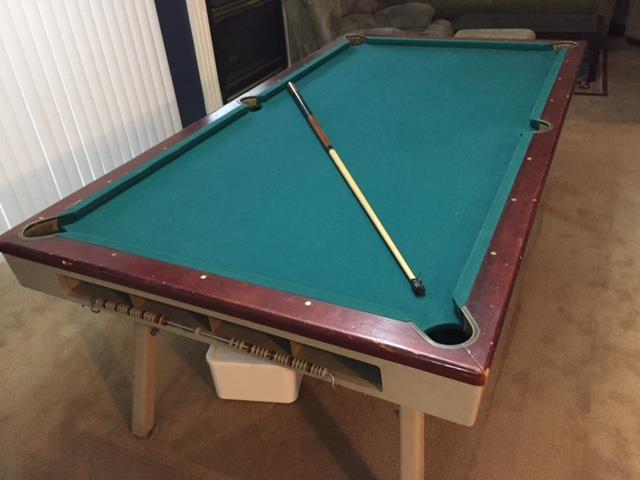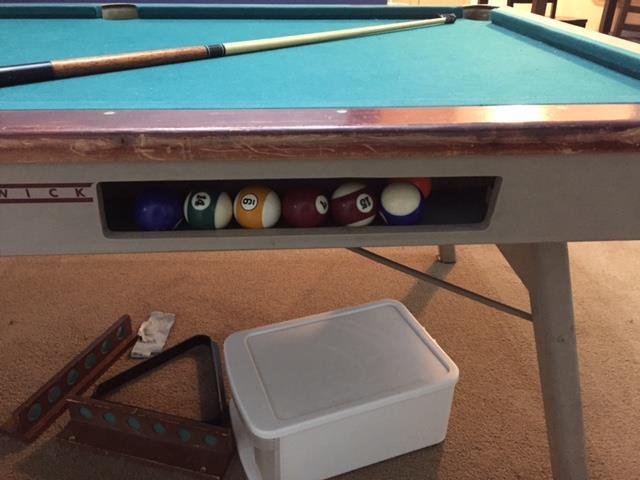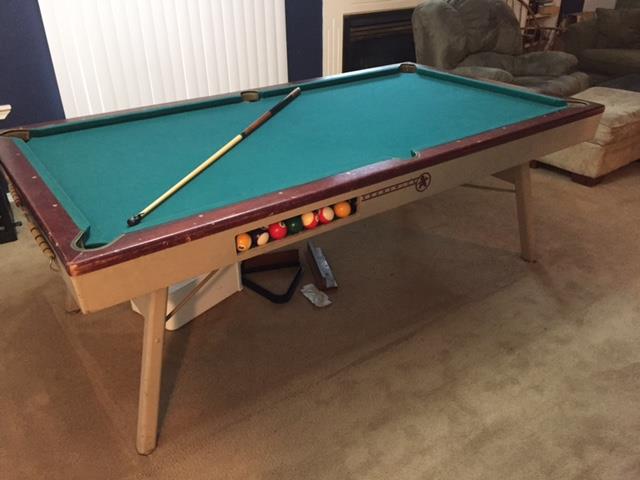 meld9672
Identify Vintage Brunswick Home Table?
Replies & Comments
---
billiardsforum on 11/26/2017 7:47:22 PM

It is a 1951 Brunswick Super Deluxe Home Billiard Table. Manufactured from 1951 to 1965. Replaced with a very similar-looking after that called "the Edgebrooks".

Here is the technical info from the 1951 Brunswick "Super Deluxe Home Billiard Table" installation manual:

6 Foot options (32" x 64" Playfield)

(Also available in 2 1/2' x 5' size.)

Each table is packaged in one carton and consists of the following:

Complete table assembly.
Box of 12 pieces of Clik chalk.
Two cues.
One triangle; set of 16 billiard balls (1 7/8" size), book of rules and "How To Play Pocket Billiards".

From the 1958-1959 Billiard Catalog, page 17:

Fully equipped with 4 cues, set of 15 professional type cast phenolic balls and cue ball, maple triangle, box of chalk plus book of rules and games to play.

Leveling devices on legs provide an absolutely level playing surface. It's simple to adjust whenever necessary.

Gully ball receivers are built into the aprons at each side. Returns ball automatically, doubles as cue storage space.

Ball storage rack holds up to 24 balls. A built in score marker with 50 professional type marker buttons counts points.

Folding is easy ... the legs are framed in pairs and attach securely with heavy gauge hinges. A twist of a large hand knob releases the legs for easy folding.

This entirely new home table is custom built to the same precision standards that have made Brunswick tables famous the world over. Live, accurate cushions, select cabinet wood rails fitted with flush set angle sights are reinforced at corners to assure perfect alignment. 3-ply laminated composition is attached to a specially constructed frame that makes the bed warp-resistant. All exposed wood is preserved with sealing lacquer and table rails are protected with a burn resistant coating. Metallic gray legs, Ivory aprons and Persian red rails.

jennyrose9 on 7/1/2018 7:23:33 PM

@meld9672 - Did you do any research on the value of your 1951 Brunswick table? I'm curious as there is one in the basement of my father's house and we are thinking of selling it.
Identify Vintage Brunswick Home Table?
Title: Identify Vintage Brunswick Home Table?
Author: meld9672 (Andrea Biffle)
Published: 11/26/2017 5:34:24 PM
Last Updated: 11/26/2017 7:37:26 PM
Last Updated By: billiardsforum (Billiards Forum)