Identify an Olhausen Table
---
2/5/2021 8:04:56 AM
Identify an Olhausen Table
I need to identify an Olhausen pool table.
I purchased a house with this Olhausen pool table in it.
What do we have here? Does anyone know?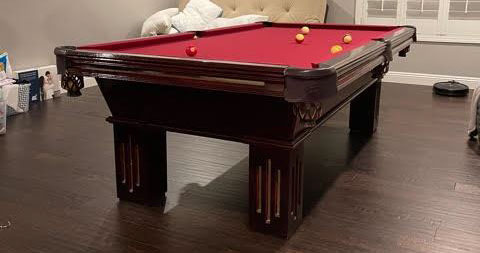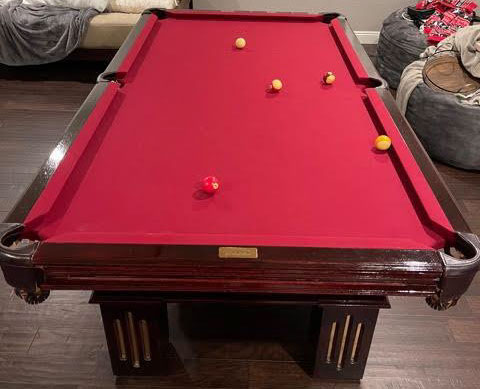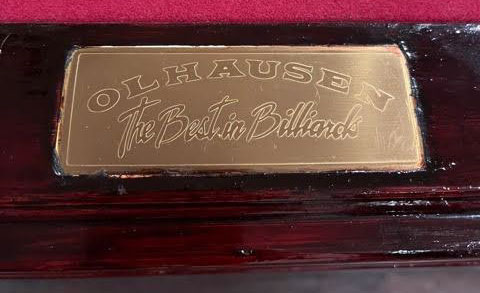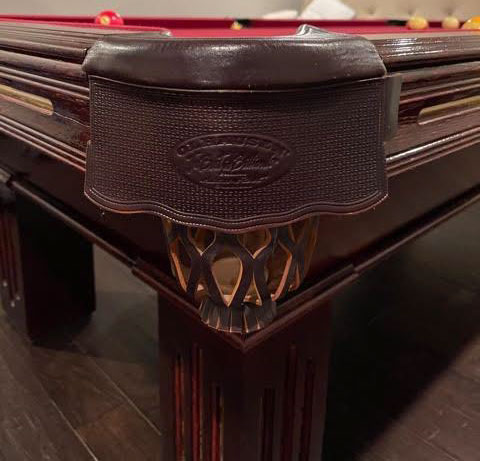 Johnny Rouhafzai
Identify an Olhausen Table
Replies & Comments
---
billiardsforum on 2/6/2021 9:36:49 AM

It is an Olhausen Gem pool table.

In terms of value, it would be similar to any other used low- to mid-range Olhausen pool table. The style is slightly out-dated (the "flutings backed with brass" on the rails and legs), so that may affect price slightly. Maybe not though.

Here it was in the 1991-1992 Olhausen Billiards catalog:

Johnny Rouhafzai on 2/6/2021 11:29:18 AM

Awesome! Do you know if its 1 piece slate or 3 piece?

billiardsforum on 2/6/2021 11:56:23 AM

The brochure doesn't explicitly say, but it refers to the slate as a "set" which, to me, insinuates more than one piece.

Additionally, I saw an ad for a 9-foot Olhausen Gem pool table, and the listing mentioned it had a "3 piece, 1" thick Italian slate top".

I know that's not a solid answer, but now that you know the model, you can probably put in some time with the search engines to figure it out.
Identify an Olhausen Table
Title: Identify an Olhausen Table
Author: Johnny Rouhafzai
Published: 2/5/2021 8:04:56 AM
Last Updated: 2/6/2021 9:21:42 AM
Last Updated By: billiardsforum (Billiards Forum)