Identify 10ft Brunswick 6-Leg Pool Table
---
10/13/2021 9:42:09 PM
Identify 10ft Brunswick 6-Leg Pool Table
Need help identifying this 10ft 6-legged Brunswick pool table.
Thanks in advance!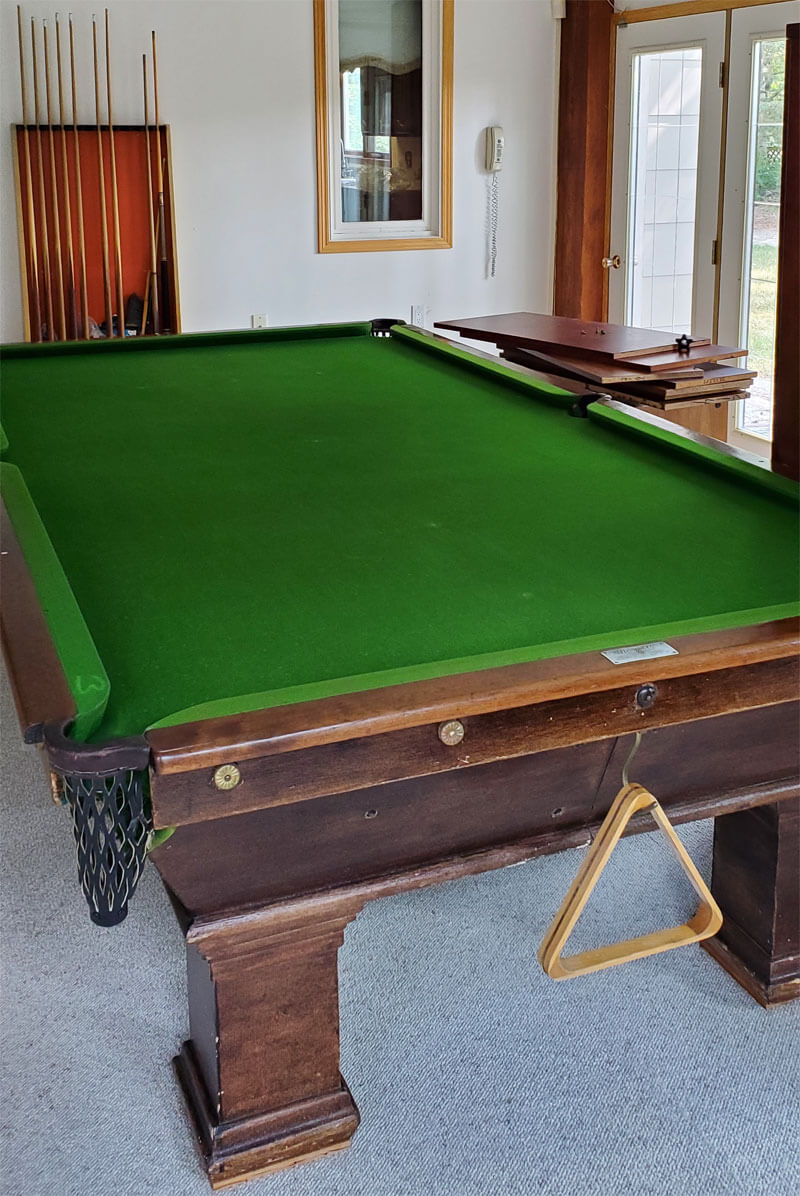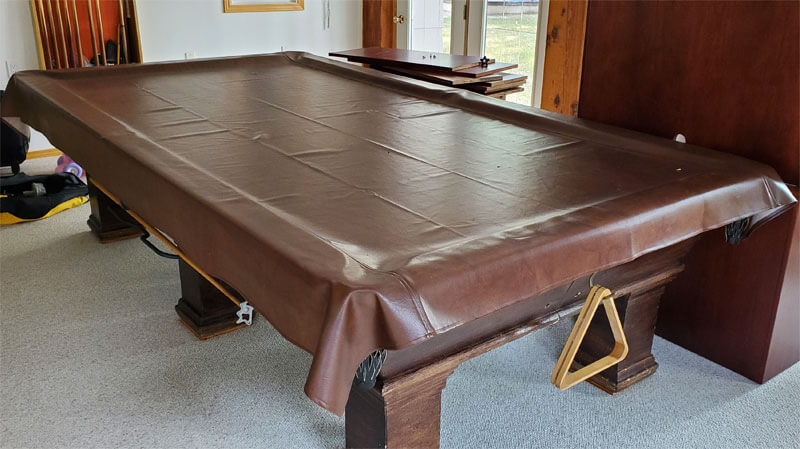 joetater
Identify 10ft Brunswick 6-Leg Pool Table
Replies & Comments
---
billiardsforum on 11/6/2021 3:08:42 AM

It looks to be a Brunswick Wellington pool table, manufactured from 1906 To 1911.

Here are the specs and catalog photo from the 1908 Brunswick Balke-Collender pool table:

Brunswick Wellington Pool Table

Sizes:

8 Home options (44" x 88" Playfield)

Slate: 3 pc. 1" unframed
Weight (lbs):1200

9 Pro options (50" x 100" Playfield)

Slate: 3 pc. 1" unframed
Weight (lbs):1350

Brunswick Wellington Pool Table Specs:

Color Options: Golden Oak, Mahogany
Manufactured under 18 construction patents awarded from 1892 to 1905.
Available in carom, six pocket, or combination.

The Brunswick Wellington model pool table is available in a combination version. Note: Combination billiard and pool tables have patent Monarch Pocket Stops.

The Wellington is a leader of recent production that has firmly established itself in public favor.

Our make of billiard and pool tables have found favor with billiard players throughout the world during the past sixty years for the reason that we have spared neither pains nor expense to make them of a superior construction and finish in all essential details. Even our medium priced tables, it may be observed, have a character of design which puts them in the lead of all others.

The "Wellington" is one of our latest productions. The design is strikingly plain and the beauty of the table is the handsomely figured flat surface veneer work which brings out the harmonious colorings of the wood, producing the best possible effect. The table is of medium weight but is thoroughly substantial and well built. The slate bed is of the very best Vermont. Furnished with Monarch quick cushions. The table is, in short, one that is calculated to serve every purpose of the medium grade of billiard room.

Here's the catalog page:

joetater on 11/6/2021 12:26:06 PM

Great. It's not the easiest thing to find this information!

All the best, and thanks so much!
Identify 10ft Brunswick 6-Leg Pool Table
Title: Identify 10ft Brunswick 6-Leg Pool Table
Author: joetater (Joël Tétreault)
Published: 10/13/2021 9:42:09 PM
Last Updated: 11/6/2021 2:52:48 AM
Last Updated By: billiardsforum (Billiards Forum)