Brunswick Snooker Table
---
4/12/2019 10:58:54 AM
Brunswick Snooker Table
Does anyone have more information on this Snooker table? My friend and I bought it about 4 years ago. We just put new felt on, and put it back together. Our cushions are bad, and we are looking to replace them. Any help?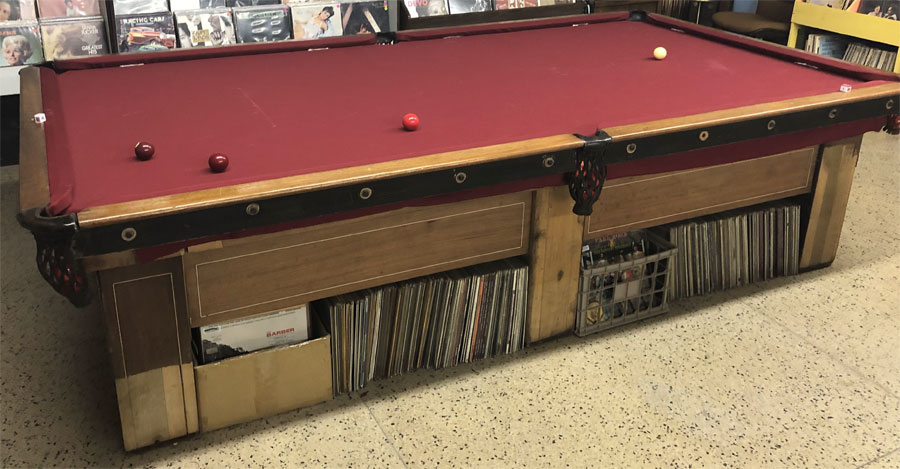 Davidthacker
Brunswick Snooker Table
Replies & Comments
---
billiardsforum on 4/12/2019 3:29:47 PM

Now that I look at it more closely, I think it's probably a Brunswick-Balke-Collender Madison snooker table. Made from 1916 to 1924. However, it looks either to be half refinished or built from parts from multiple different tables?

From page 36 of the 1916 Billiard Book Catalog of the Brunswick-Balke-Collender Company.

Specs:

Year of ManufactureFrom 1916 To 1924
Color Options: No. 6 Medium Golden Oak, No. 2 Mahogany
Cushion Rubber: Brunswick Balke Collender Monarch Cushions
Slate: 3 pc. 1" framed slate, 1 1/8" thick reinforcing frame (same for all table sizes)
Size options:

8 Home options (44" x 88" Playfield). Weight (lbs):1150
9 Pro options (50" x 100" Playfield). Weight (lbs):1250
10 Foot options (56" x 112" Playfield). Weight (lbs):1530

Product Technical Description

The Madison is one of our new style of billiard tables on which we have secured design patent because of originality and simplicity. It is a good medium grade of table which will certainly be very popular. Design patent granted May 7, 1912. Manufactured under various patents granted from 1900 to 1916.

Is also available as a combination table, and can be furnished to order on reasonable notice in 5x10'.

Wood and Finish: Furnished in quarter-sawed oak and Mahogany. The oak is finished in our No. 6 medium or golden color, The mahogany is finished in our regular No. 2 stock mahogany color with white holly inlay with black border. After being given the ordinary cabinet finish it is hand rubbed, and can be more easily kept clean than any other furniture finish.

Construction: This table has what is known in our factory as the semi-jumbo framework, which means that it is unusually heavy and has enormous carrying weight. The top of the side and end sections are 5" across, gradually tapering to 1 1/2" at the bottom, with the sides and ends 14" high. Both sides veneered. It is also provided with single cross stretchers, 8 1/4" long by 1 1/2" thick by 14" wide stretched to side frame. Both of the side stretchers are secured to the reinforcing blocks by 6" bolts, making an extraordinary strong bridge work. The sides are attached to the head blocks formed by the corner legs and secured thereto by 3/4" hardwood dowels reinforced by one 8" frame bolt countersunk in 2 1/4" blocks glued to the side fences. The table is built in sections and can be taken part for K. D. shipment. Legs are 7 1/2" square, tongued and grooved compound construction, reinforced by corner blocks, double cross veneered inside and out and rigidly built into end framework of body. The wood construction is all of the very best quality, cabinet made, and put together in a most thorough manner. All joints made close and secure and all mitres absolutely accurate. Joints are tongued and grooved, strongly doweled and glued, or screwed firmly together. All corners and edges made perfectly smooth and true.

Cushion Rails: 1 3/4" thick x 3 3/8". Rail with facing complete 2 1/4" x 4 1/8". Compound construction built up of various kinds of hard woods of different grain to insure strength and prevent the wood being affected by climatic conditions. Invisible cushion bolts covered by what is know as blind cushion rails built up in 5-ply thicknesses placed in an alternate run of grain, with fancy figured veneer on the exterior. Cap rails 7/8" thick x 2 7/8" hardwood veneered. Solid rosewood corners. Ivory diamond sights. Inlaid with metal fancy name plate. 8 rail bolts on sides and 4 on each end of 4 1/2 x 9' table.

Slate Bed: Good quality Vermont, 3 pieces to the set. The joints are made with brass dowels and sockets with no screw holes in playing surface. Wood reinforcing frame 1 1/8" thick. Wood trim for pocket openings.

Cushions: Standard Monarch certified by trademark plate countersunk in cap of rail cushion.

Pockets: The pocket irons are the No. 3 style, with nickel plated flanges countersunk in the cushion rail top, provided with invisible bolts entering from the lower side of the rail. Heavy black cover leather and red trimming leather. No. 20 green worsted pocket sets.
Brunswick Snooker Table
Title: Brunswick Snooker Table
Author: Davidthacker
Published: 4/12/2019 10:58:54 AM