Age or Year of Antique Saunier Wilhem Big 8 Pool Table
---
6/24/2020 2:13:45 PM
Age or Year of Antique Saunier Wilhem Big 8 Pool Table
This is a Saunier Wilhem "Big 8" pool table with Art Deco aluminum corners.
The legs are plain sided, square based, and slightly angled to become smaller as you go up.
The slate and frame pieces are all labeled with the code B259.
I am trying to find out the year when this pool table was manufactured.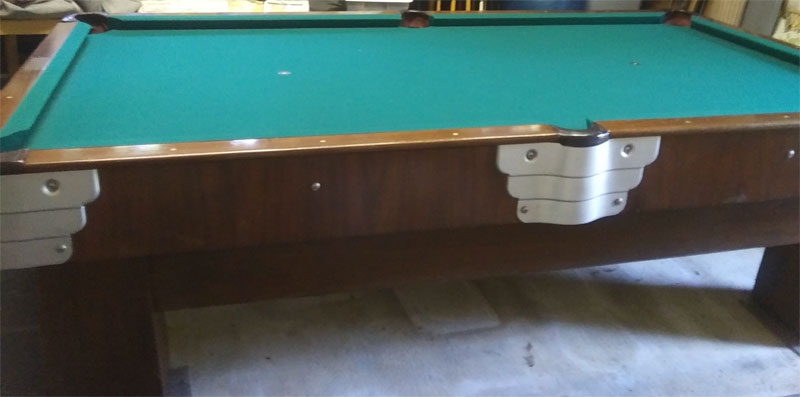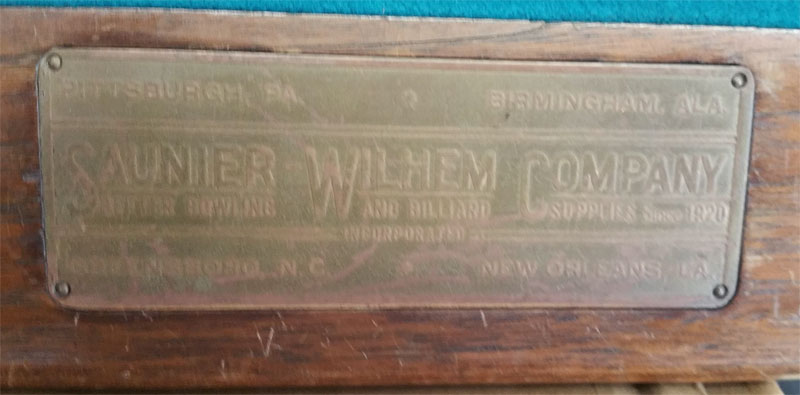 user1593033224
Age or Year of Antique Saunier Wilhem Big 8 Pool Table
Replies & Comments
---
billiardsforum on 9/18/2020 4:44:45 AM

I don't know the exact age or year of this Saunier Wilhem pool table, but I did find another one in a classified ad in Savannah, GA, which mentions that it's from the 1930s (details below).

I don't know whether that 1930s claim is true or not because I couldn't find any supporting brochures, etc., but I have no reason to disbelieve it.

Rare Antique Vintage Art Deco Saunier Wilhem Pool Table and Accessories

Location: Savannah, GA
Price: $3500

This listing is for a 1930s Saunier Wilhem Pool Table. It is a coin op table that still has a coin slot but it's currently disabled for home use. Professional pool table movers are required.

My grandfather acquired the table in the 1950s or 1960s. It was originally used in a bar.

The pool table is very solid and the slate is in great shape.

I purchased new pocket irons and leather for them 1.5 years ago.

It comes with 10+ cues of various weights and lengths, a kit to re-tip pool cues, two sets of balls, a cue stand, chalk, etc. This is a great pool table and statement piece. Perfect for a billiards enthusiast, a man cave.

There is another one that was posted elsewhere for identification in 2007 (but no answers were provided):

Identify "Saunier ?" Pool Table

I found this pool table and the only part of the name I can make out is "Saunier". It is a 4 1/2' X 9' pool table and is in pretty good shape. Can anyone give me any information on this pool table? Who made it and what might it be worth? All the wood is in excellent condition and the pool table has been in the same basement for over 30 years.

ForestWay on 11/6/2021 7:58:38 AM

Thank you so very much for your time and shared information about the Saunier Wilhem pool table.

Very cool information!
Age or Year of Antique Saunier Wilhem Big 8 Pool Table
Title: Age or Year of Antique Saunier Wilhem Big 8 Pool Table
Author: user1593033224 (G. Jopling)
Published: 6/24/2020 2:13:45 PM
Last Updated: 9/18/2020 3:30:48 AM
Last Updated By: billiardsforum (Billiards Forum)