Pool Shot Aiming Drill
Pool Shot Aiming Drill
This drill is designed to help you improve shots that are far from "straight in" and to help you with your billiard shot aiming, and consistency.
Pool Shot Aiming Drill
To begin, set up all of the object balls in a semi-circle around any pocket. Then pick a starting position for the cue ball that is some distance down the long side of the table. Once everything is set up you can start shooting at the object balls beginning with the one closest to the rail and working your way out as you sink each one.
Be sure to bring the cue ball back to the same position as you sink each cue ball. This will ensure that you are exposed to a full array of angles.
If you miss a shot or sink the cue ball you have to begin the entire billiard drill all over again.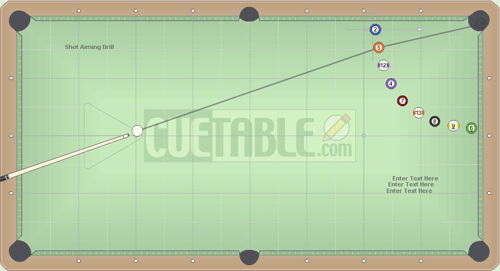 This exercise should give you some decent aiming practice since you'll get the full range of angles.
Once you become comfortable with "running all of the balls around the pocket, try moving to a side pocket, or switching to the opposite corner pocket. You can also increase the distance between the cue ball and object balls.
Pool Shot Aiming Drill
Title: Pool Shot Aiming Drill
Author: billiardsforum (Billiards Forum)
Published: 9/30/2006 2:18:14 AM
Last Updated: 9/15/2016 8:21:56 PM
Last Updated By: billiardsforum
Pool Shot Aiming Drill
The Pool Shot Aiming Drill article belongs to the Aiming and Execution Tutorials for Billiards category. Billiard and pool playing tips around shot making, aiming, and execution.
Pool Shot Aiming Drill Comments
Reply and share your comments below: