Paul Gerni
Paul Gerni
Paul Gerni started playing pool at age 6, and his years of experience has really paid off.
Paul Gerni
Lives: Shawnee, Kansas, U.S.A. ( southwestern suburb of Kansas City)
Children: Two. Paul II, 22, at 6'7", he likes computers, and is now currently serving in the U.S. Air Force. Ashley, 21 in January, played college volleyball, got injured, now enjoys success in musical theater.
Paul Gerni Education: Purdue University, West Lafayette, Indiana, U.S.A. (1966-1971) Undergrad Degrees: B.S.-Economics, B.S.-Marketing. Graduate work: M.S.-Consumer Behavior.
Paul Gerni's appearances include many personal appearances and performances each year for corporate events, trade shows, benefits, college student centers, sports shows, billiard rooms, tournaments, and other special events. Internationally known, he has promoted the sport in 48 countries around the world. Out-of-the-ordinary appearances: Not only has Paul Gerni performed his trick shot show on Royal Caribbean cruise ships, for the White House, and for the King of Sweden, but also on a concert stage with members of the New York Philharmonic Orchestra playing a Patrick Kavanaugh composition which determined the notes according to the position of the balls. (The fourth movement and its exciting finale included Gerni pocketed multiple balls with selected trick shots.)
Paul Gerni
Articles: Paul Gerni has written booklets on pool, and over 200 trick shot articles for the pool and billiard magazines in Australia, Spain, Denmark, Italy, France, Austria, Germany, and the U.S.A. Paul's television appearances include having his trick shots shown on such U.S. television shows as Baretta, Kojak, Columbo, Bionic Woman, Sesame Street, The Dinah Shore Show, Dynasty, That's Incredible, & People Magazine.
Broadcasting: Broadcast host for "Pool Around the World", announcing selected pool tournaments & events. Also doing some broadcast work for tournament events on the Billiard Network.
Video / DVDs: Paul Gerni's 43-minute live show videotape is called "Paul Gerni -- Live & On Cue". Soon on DVD. It is available through the Online Store on paulgerni.com
Paul is also releasing a series of three DVDs in 2006-2007, two being trick shot DVDs, and another an instructional DVD. The first DVD of the series, "Fun and Easy Trick Shots," was shot on location at the fabled Camelot Castle, and features 21 great shots to learn quickly and share with friends and family. Paul's DVD includes overhead views, slow-motion takes, and graphs of shots when appropriate, plus some light moments with the furnishings of the Castle. This DVD is aimed right at the casual players and the home players who have asked for a shorter DVD with shots that are actually make-able by them, and to not be overwhelmed by too many shots. This DVD is the perfect answer for them. The instructional DVD, "Raising Your Pool Game to the Next Level," a 2-DVD set, is already much anticipated, and will be a useful tool for players wanting to improve every facet of their pool table experience, and for Paul's students at his Pool Players Fantasy Camp. The final DVD of the series is a 2-DVD collection of some outstanding pool trick shots, but with the same careful attention to the proper execution of the shots.
Superstar Poster: Featured in the Birkbeck brothers "Superstars of Pool" Collector Series of poster prints.
Television Commercials: His shots have been used for magazine ads and U.S. television commercials and for selected commercials for billiard industry products.
Endorsements: Paul endorses Pechauer Custom Cues, Simonis Billiard Cloth, Silver Cup Chalk, Sir Joseph Cue Gloves, and Cue Doctor Cue Care Products. Of course, he is open to discussions for other items.
Associations: One of seven original founders of the WPA (World Pool-Billiard Association) in 1987, which has its pool-billiard federations on five continents. In 1967, Paul was been awarded a lifetime membership in the Billiard Congress of America, and in 1991 was one of the original founding gentlemen of The World Trick Shot Artists Association. Currently Paul has other affiliations with federations around the world, including the WPA and IPT.
Paul Gerni has many great compliments payed to him by various organizations of which he is a part.
Paul Gerni has so dominated the discipline of Pool Billiards artistic shots that he has become the standard by which all the other trick shot artists of the world are measured.
-Stern Magazine (Germany)
Gerni adds class to the once-reviled game of pool. His scope is international and audiences everywhere relate to him. He is an articulate, talented champion who readily flashes his winning smile and always obliges autograph seekers. It's no surprise that his name is bandied about with those of the great legends of the game.
-Canadian Broadcast Corporation
Outstanding generosity, warmth, professionalism, and hard work. Few performers would be willing to duplicate Paul Gerni's schedule and efforts to insure the success of a charity benefit, often foregoing needed rest and meals. He is a great player who truly cares about people with a depth that few achieve.
-Cystic Fibrosis Foundation
Without any doubt the game's greatest showman. He electrified the audiences with a pleasing mixture of trick shots and wit and humor, which separates him from all the other trick shot artists. His show format, his timing, and his way with the audiences were very deserving of all three standing ovations.
-Houston Post
Gerni is called the ambassador from the clean and fresh side of pool. He's the son of a Lutheran minister, doesn't smoke, drink, swear, or gamble, and he does look every bit the diplomat.
-Pensacola Journal
Paul Gerni .... was the real story behind the scenes. I've been around celebrities most of my life, but I've never seen anyone work so hard for the success of the event. I know how completely drained of energy he must have been, yet I heard not one word of complaint. It is people in the billiard world like Paul Gerni that make the rest of us realize that pool is still a gentleman's game. And, in my opinion, Mr. Gerni belongs at the top of the list.
-Muscular Dystrophy Association
Positively the funniest show on slate!
-Performance Magazine
An outstanding show in every way. Paul is a credit to the entertainment field as well as the billiard industry, as he is professional, yet personable, and a true gentleman. He has our highest recommendations.
-NACA College Programming Magazine
He (Gerni) has a deep belief in God, a refreshing positive attitude, and the ability to laugh at himself. He has great natural talent, confidence, and quick wit, and handles his success very diplomatically. He has a unique talent for thrilling audiences with impossible trick shots, and is succeeding in promoting a very positive and favorable image for the game.
-The Nashville Tennesseean
Paul Gerni is probably the biggest thing that's happened in this business as far as getting the public into the far-reaching aspects of trying to sell the game again, and get rid of the old image, as anyone or anything that we've done in this business. .... He is truly, in my opinion, and we've nicknamed him this, "The Ambassador of Pool." With all his skills, P.R. abilities, and his contributions to the billiard industry, and to billiard federations worldwide, Paul Gerni is a can't-miss Hall-of-Famer. . . I've had the great honor and extreme pleasure to watch this man work, as I've also watched Ralph Greenleaf, Jimmy Caras, Willie Mosconi, and the great trickshooters Clarence Anderson and Charlie Peterson. Collectively they have produced some of the finest exhibitions in history. But they all have to step aside for Paul Gerni. He doesn't have to take a back seat to any of them, and will probably go down as the greatest trick shot artist of all time.
-A.M. "Red" Jones, for the Billiard Congress of America
As the Mosconi-Gerni exhibition progressed, Paul Gerni proceeded to rack up more and more points with the audience, scoring smiles, laughs, and encore applause for his showmanship. It might better have been billed as the Gerni-Mosconi exhibition.... Chalk up a large plus for pocket billiards --- Paul Gerni.
-Kansas City Star
This show has it all, as billiard trick shot exhibitions go. It has stood firm as the most popular trick shot exhibition program around the world every year since 1974, and still proves its number one rating with each show.
-Conrad Burkman, Billiard News
Paul Gerni - Billiard Player
Headshot photo of Paul Gerni: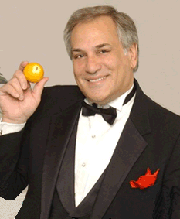 Photos of Paul Gerni playing billiards: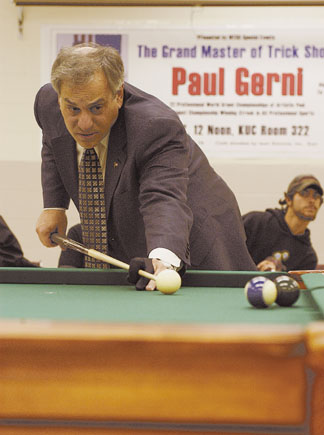 Paul Gerni - Biography
Date of Birth: 1949-04-15
Place of Birth: Newark, New Jersey, USA
Country of Residence: United States (USA)
Paul Gernis Nickname(s): The Ambassador of Pool, Grand Master of Trick Shots
Paul Gernis Sponsors: Paul Gerni publicly endorses Pechauer Custom Cues, Sir Joseph Cue Gloves, Simonis Billiard Cloth, Silver Cup Chalk, and Cue Doctor Cue Care Products.
Charities Supported: Cystic Fibrosis Foundation, Muscular Dystrophy Association
Email Address for Paul Gerni: paulgerni@sbcglobal.net
Paul Gernis Website: http://www.paulgerni.com
If you know of any other interesting information about the life of pool player Paul Gernis, send us an update using the contact form below.
Paul Gernis Cue Sports Records and Accomplishments
When you have been playing pool since you were six years old, and have been playing professionally for over 20 years, you are bound to rack up some impressive accomplishments. Here are a few of Paul Gerni's accomplishments:
22 consecutive times Professional World Champion of Artistic, Skill, Trick & Fancy Shots. (Record: This is the longest championship winning streak in all professional sports.)
15 consecutive times "International Challenge Cup Champion," defeating professional pool trick shot artists from around the world in this short format shot-by-shot challenge series.
9 times (in 12 years) voted WTSAA's Artistic Pool Player of the Year (1994-2006).
Paul Gerni wice named "Outstanding College Entertainer" for Novelty-Variety programs. He was also named twice as outstanding shopping mall live promotion of the year. Featured on 13 magazine covers. These are just a few of Paul Gerni's many accomplishments.
Title: Paul Gerni
Author: billiardsforum (Billiards Forum)
Published: 8/13/2007 9:34:28 AM
Last Updated: 10/23/2016 5:12:23 PM
Last Updated By: billiardsforum
Paul Gerni Comments
Crocodile from Estero, FL on 8/16/2010 12:58:26 PM

Hey Paul,

It was really cool meeting Allison Fisher at the Cape Coral pool tournament this Saturday. Sorry you were not answering your phone. Allison wanted me to tell you hi. I thought about doing so and said heck with that.

So I went back to Allison and said I would dial your number and she could say hi to you herself, instead of me being the middleman. Anyway, thanks for all your suggestions on why more than likely I am not ready to go on the pro tournament circuit yet.

Maybe in four and five years. After I review all the billiard tips written here, which will take four or five years to read through. LOL.

Anyway, there were better players at this tournament that Allison Fisher. But who wants to talk a bunch of dude pool players. The only thing that could have better than talking with Allison would have been talking with Jeanette Lee, the Black Widow.

Take care.

Thomas E. Scherer
Former pool-playing candidate for United States Congress.

BMW from Pompano Beach, FL on 11/21/2010 9:03:21 PM

I originally found this page looking for Paul Gerni's hometown, and also for old pictures of Paul Gerni.

Back in 1971 I was living in Pompano Beach, FL (still do) and I was taking a trip to Michigan to visit my Mom. The bus I was on stopped in Indiana and Paul Gerni got on at one of the stops because there wasn't a shuttle fight to Logansport where he was heading. Paul was trying to get home to see his folks.

Paul Gerni was a super nice guy back then and I can see by reading about him here that he still is. I still have the autographed photo he gave me. It hangs over my cue sticks.

Wishing Paul all the best.
Reply and share your comments below: