Pankaj Advani
Pankaj Advani
Pankaj Advani was born on July 24, 1985, in Pune, India. Advani is an exceptional billiard professional from India. He is the winner of three world titles in billiards and snooker. He became the first player to complete a grand double by winning both the points format as well as the time format titles in the IBSF World Billiards championship in 2005. Advani also won the Rajiv Gandhi Khel Ratna Award for 2005.
It has been said that Pankaj Advani is the best thing to have happened to Indian billiards after the legendary Geet Sethi. Pankaj Advani showed promise and talent from a young age. He has made a mark for himself by capturing three world titles at only 19 years old.
He was spotted by Arvind Savur, former national snooker champion, when he was a 10-year-old who used to accompany his elder brother to the Karnataka State Billiards Association hall.
At seventeen years of age, Pankaj became the youngest national snooker champion, and went on to do very well for himself internationally. In 2005, Advani became the first player to complete a grand double by winning both the points format as well as the time format titles in the IBSF World Billiards championship in Malta. He also won the World snooker title in 2003.
Advani is said to be unassuming, but his opponents know, and cower at the fact that he has won the points format title beating compatriot Devendra Joshi 6-2 in the final, and that he had the patience and the skills to beat the best in the longer format as he outplayed seven-time World champion Geet Sethi in a thrilling six hour final.
Watch to see Pankaj Advani reach greater heights in the sport of billiards in the years to come.
Pankaj Advani
A snooker professional cannot let anything get in the way of his or her game. He of she has to practice regularly, with body and mind and has to be totally focussed. Below, Pankaj in his own words talks a little bit about practice and tournament play.
Pankaj Advani - Snooker Practice
At present, I put in about 5 hours of practice a day. When I started playing, it would be about 8 hours in the weekends and vacations and about 3 hours on school-days.
Physical fitness is also a very important aspect of sports. In snooker/billiards, this aspect may not be as rigid as, say in swimming, tennis or other more physical sports, but one has to be physically fit. There is a lot of walking around the table, bending for every shot, and focussing on the balls. Hand and eye coordination are of prime importance. In Billiards, if you are on a huge break, you may have to keep on striking the balls at the table for an hour at a stretch. Imagine the strain on the back, eyes and arms. Plus with all the walking around, one's legs also get strained. Hence, a lot of stamina is required. That and mental endurance. An even small slip in attention and the break could come to a sudden end
My coach, Mr. Arvind Savur, practices with me at his home where he has a billiards room with a full-sized 12' x 6' table. If it were not for his coaching, I would never have reached where I am today. He is a genius of a coach and he has never charged me anything for his training. His wife- Jyotsna Aunty, I call her- is as skilled in cooking as Arvind Uncle is in Snooker coaching. Many a time, I have lunch with them and then resume practice. Their daughter Leena (my age) is my Raakhi sister. We have a lot of fun together.
When I am not practicing with Uncle Arvind, I play at the Karnataka State Billiards Association (KSBA). They have ten tables here and I have started playing here since the time I was 11 years. Many clubs don't allow such young children to play on their tables. I am really grateful to KSBA for flagging off my career at such a young age.
Pankaj Advani - Tournament Preparation
The Nationals are held in Jan./Feb. every year. Till last year, I had been participating in Both the Jr. and Sr. Billiards and Snooker Tourneys. Now, being over 21, I play only The Senior Nationals. Points are allotted to players according to their final rankings. Then, domestic selection tournaments are held for the top 8 and the overall winner gets to play International Events. For the Junior Events- the Asian/World Under-21 Snooker Championships, only the National Rankings are counted.
A lot of travelling is involved. The Sports Ministry pays for most of our International Events - travelling and expenses. We get our air-tickets in our hand, but we have to pay for the other expenses like lodging/boarding/travelling, etc. and get reimbursed a few months later.
Being a vegetarian can be a big pain when we go to countries like China, Thailand, etc. it is very difficult to get vegetarian food. More than that, language is a big problem as I cannot explain "vegetarian" to them. Even the McDonalds, KFC, etc. do not have veggie burgers. Many a time I take the 'ready to eat' foods from India and eat them with bread or rice. A poor substitute for mom's cooking!
We have about half a dozen international tournaments and some 7-8 domestic ones. Which means that I am away from home a lot. The biggest events in Snooker and Billiards are - the IBSF World Snooker Championship (which I won in China in 2003) and the IBSF World Billiards Championship (which I won in Malta in 2005 and in Singapore in 2007). Then we have the Asian Games every 4 years. Unfortunately, Cue-sport has not been included in the Olympics and Commonwealth Games.
This information is also posted on Pankaj's new website.
Pankaj Advani - Billiard Player
Headshot photo of Pankaj Advani: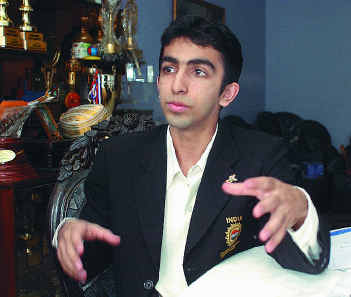 Photos of Pankaj Advani playing billiards: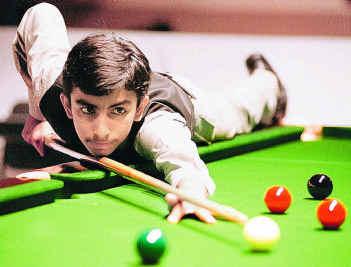 Pankaj Advani - Biography
Date of Birth: 1985-07-24 00:00:00.000
Place of Birth: Pune, Kuwait
Country of Residence: India (IND)
Email Address for Pankaj Advani: pankajadvani@gmail.com
Pankaj Advanis Website: http://www.pankajadvani.com/
If you know of any other interesting information about the life of pool player Pankaj Advanis, send us an update using the contact form below.
Pankaj Advanis Cue Sports Records and Accomplishments
Pankaj Advani has been the recipient of many awards and other winnings over the past decade.
Pankaj Advani 2007 Titles

Karnataka's Kempegowda Award in 2007
Karnatakas highest civil award, the Rajotsav Award in 2007.
Winner of the IBSF World Billiards Championship (Time Format) in Singapore in Sep. 2007.
Pankaj Advani 2006 Titles

Asian Games Gold Medallist - English Billiards singles
Pankaj Advani 2005 Titles

World Billiards Championship
Asian Billiards Championship
India Billiards Championship
India Junior Snooker Championship
India Junior Billiards Championship
WSA Challenge Tour
Pankaj Advani 2004 Titles
Pankaj Advani 2003 Titles

IBSF World Snooker Championship
Indian Junior Billiards Championship
Indian Junior Snooker Championship
Pankaj Advani 2002 Titles

Indian Junior Billiards Championship
Pankaj Advani 2000 Titles

Indian Junior Billiards Championship
Pankaj Advani 1999 Titles

Pot Shot All India Triangular Championship
Pot Shot non-medallist Championship
Pankaj Advani 1998 Titles

Karnataka State Junior Snooker Championship
Pankaj Advani 1997 Titles

27th BS Sampath Memorial Handicap Snooker Championship
T.A. Selvaraj Memorial Billiards Championship
Karnataka Stage Junior Snooker Championship
His awards seem to keep piling up, so if you know of any new ones, please post a message below.
Pankaj Advani was awarded the Rajiv Gandhi Khel Ratna, which is India's highest sporting honor achievable, for the year 20052006. He received this award on August 29, 2006.
Title: Pankaj Advani
Author: billiardsforum (Billiards Forum)
Published: 10/13/2006 1:21:12 AM
Last Updated: 10/23/2016 5:10:48 PM
Last Updated By: billiardsforum
Pankaj Advani Comments
Abhijit Patel from Aurangabad, Maharashtra on 9/30/2007 1:59:00 AM

I am a billiard player from India and have been playing for the last 12 years. I am deeply pained when cricket gets so much attention and money while all other sports suffer. Pankaj Advani and Geet Seethi have won so many world billiard and snooker tournaments but the sport and its players still don't get the attention they deserve in India.

How can we protest to make this deaf government understand?

Manish Jain from Kolkata, West Bengal on 5/2/2008 3:25:27 PM

My name is Manish Jain and I am the currently ranked 2nd in India's National Snooker Under 21. I am also ranked 2nd in India's National Billiards Under 21.

I am writing to you to say, as all of you know, that the government of India sponsors billiard and snooker players for the international tournaments after two or three of playing in the tournament.

I want to participate in the 2008 World Under 21 Snooker Championships which are to be held in France in July, but I am facing a huge financial problem. I do not have a sponsor or a job.

I agree with the previous comments, and so I request all of you to please find me a sponsor so that I can do something for my country India in the 2008 World Snooker Championships.

Vratika Pandey from Hydreabad on 11/23/2009 2:33:46 AM

I am also a snooker player, but I feel very sad when people do not know what snooker is, and then laugh at me, They say snooker is a boring game, but yet they play and know the game of cricket. Come ON! Pankaj Advani and Geet Sethi have won so many tournaments for our country but nobody seems to even care for that. But if India wins in cricket everyone knows about it. How can we improve snooker and billiards as a legitimate sport in everyone's minds?

Nilay Mitash from Indore, Madhya Pradesh on 7/30/2010 1:55:40 PM

I won't say that people of India are unaware of what snooker is, but yes our older generations don't understand. I think now people have started to gain an awareness about the level of snooker being played in India, and also of the the Snooker Championships in India.

I am a snooker player in India. I am not so great but I still aspire to go far ahead in the game. I really want to represent India for snooker at an international level some day.

Can anyone please tell me a good snooker coach near Indore, India? If anyone can, then please reply!
Reply and share your comments below: