Mike Russell
Mike Russell
Mike Russell has been a driving force in competitive billiards over the past decade, and has taken many titles. Mike was born in Middlesborough England on June 3, 1969. His is known to many as "the king of billiards," which is a nickname that is well deserved.
Mike Russell Billiards
Mike Russell has won the English billiards world championships seven times in his professional career, making him the winningest player in the post-war era. He turned professional in 1989, and has been ranked the number one player in the world.
Mike Russell
Mike Russell has done all this in the world of competitive billiards while holding down a 'regular' day job. There are even a few guys over at cuesnviews.co.uk who want to do a video showcasing the skills and career of
Mike Russell
.
Mike Russell - Billiard Player
Headshot photo of Mike Russell: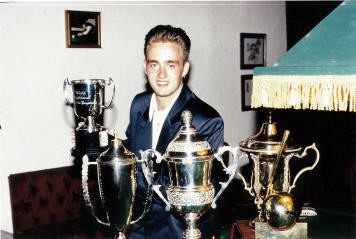 Photos of Mike Russell playing billiards: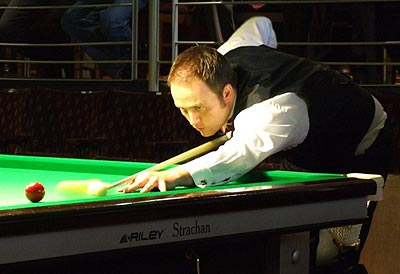 Mike Russell - Biography
Date of Birth: 1969-06-03 00:00:00.000
Place of Birth: Middlesbrough, England
Country of Residence: United Kingdom (GBR)
Mike Russells Nickname(s): King of Billiards
Email Address for Mike Russell: mikerussell2081@hotmail.com
Mike Russells Website: http://www.wadla.com/mike/
If you know of any other interesting information about the life of pool player Mike Russells, send us an update using the contact form below.
Mike Russells Cue Sports Records and Accomplishments
Mike Russell has been playing snooker and billiards for a while now. Here are some of his accomplishments.
1989 - World Professional Billiards Champion
1991 - World Professional Billiards Champion
1996 - World Professional Billiards Champion
1996 - UK Professional Billiards Champion
1999 - World Professional Billiards Champion
2000 - World Matchplay Champion
2000 - Named WBA Player of the Year
2002 - World Professional Billiards Champion
2003 - World Professional Billiards Champion
2004 - World Professional Billiards Champion
As he's since been slowing down with professional play, Mike Russell has not been active in the tournament scene.
Title: Mike Russell
Author: billiardsforum (Billiards Forum)
Published: 10/15/2006 10:09:34 PM
Last Updated: 10/23/2016 5:04:31 PM
Last Updated By: billiardsforum
Mike Russell Comments
Mike Cochrane from Bangor, County Down, Northern Ireland on 3/5/2011 3:13:23 PM

Mike Russell played in Northern Ireland a few years ago. He was wonderful to watch in the Queens Hall in Newtownards. He had a 546 break. Then, on the very next night in the West Club in Belfast he had a wonderful 1001 break. I don't think that Northern Ireland will ever see billiards like it again.
Reply and share your comments below: