Luther Lassiter
The biography of American pool player Luther Lassiter, Jr., AKA Luther Wimpy Lassiter, one of the greatest cue sport players of all time.
Luther Lassiter
Luther Lassiter was born on November 5, 1918 as Luther Clement Lassiter, Jr. and was considered to be one of the best pool players of all time.
Luther Lassiter's Pool Playing Career
Luther Wimpy Lassiter first played pool when he was 13 years old on a homemade pool table owned by his friend which had only four pockets. The next year he started playing at the local YMCA and began sneaking into pool rooms. At the age of 16 he first met Minnesota Fats at a pool hall Fats owned near Washington, D.C. in Anacostia. It was there where Lassiter first saw some great players, observed the level of play, and practiced his craft. He dropped out of school at 16 and began hustling pool games.
It started when I was 13. A doctor friend down home had a li'l four-pocket homemade table. It was the first one I ever played on, and I fell in love with the game right then.
In the 1960s and early 1970s, Luther Lassiter was traveling throughout the United States doing billiard exhibitions and playing in pool tournaments with his manager, Al Sunshine (see bottom of the Luther Lassiter billiard exhibition poster below).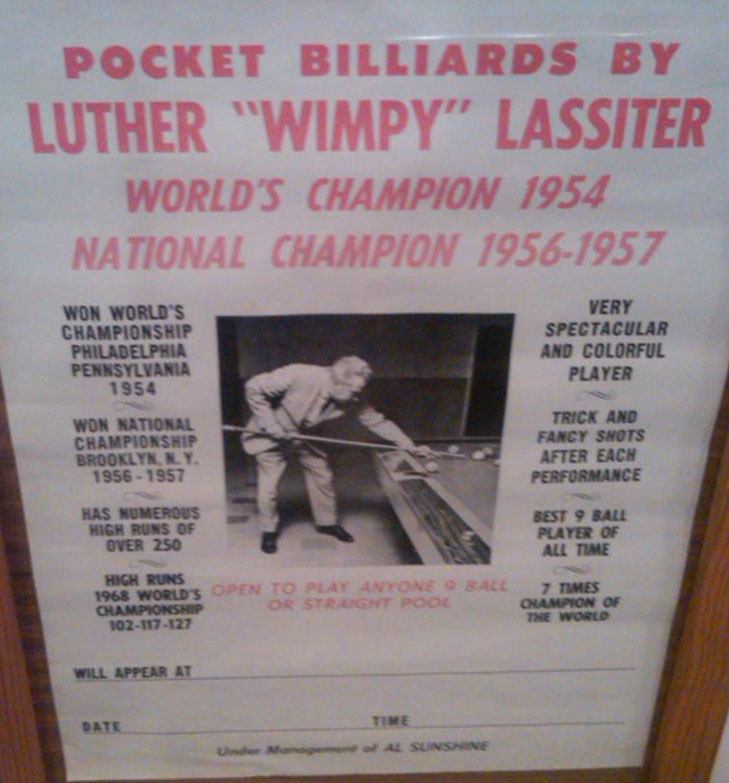 According to an article in the January 1975 edition of The New National Billiard News, Luther Lassiter was living in Virginia Beach, VA at that time, and was the manager of Gibbs Billiard Supply and Services on Virginia Beach Blvd. It also indicated that Wimpy was touring the country under the sponsorship of Gibbs Billiard Supply to do exhibitions and to play in pool tournaments.
Origin of the Nickname Luther "Wimpy" Lassiter
Luther was nicknamed "Wimpy" Lassiter in high school for his propensity for hot dogs, in very much the same way that Wimpy, in the Popeye comic strip, ate hamburgers.
Luther Lassiter's Personal Life
Described by many as a quiet man, his one true love was billiards. Many say that it was so much so, that it was the reason he never married. As he said at the age of 45 in his March 1964 Sports Illustrated interview:
I'm in love with pool. It's been my life for 32 years. I never had a job. I've just been a pool player and I tell you, sir, it's been a lonely life. But it's my profession and, as its champion, I hope to make some money at it.
Others say he never married because of "the swolls", a condition Lassiter had where his lips would become swollen and puffy when he talked to attractive women. Ralph "Minnesota Fats" Wanderone described this best:
"There was this tomato from Norfolk and she had the sweets real bad for Wimpy and Wimpy had weak knees for this dolly, too. They would sit in a corner for hours, like a pair of lovebirds, and then it would happen, I tell you, it would always happen.

Wimpy would come running over with his mouth covered up and say, 'Fat Man, I got the swolls.' I'd look at the kid and his lips would be all puffed out. At first, I thought it was from wiping off lipstick, but Wimpy wasn't the kind of boy to smooch much. Back then if he was to bump into Elizabeth Taylor in a bikini he might recite the Declaration of Independence or Invictus, or something like that. I'd have to say he was more Little Lord Fauntleroy than Errol Flynn.

The way women affected him was unbelievable, and it wasn't only this tomato from Norfolk. If any tomato put the sweet eyes on Wimpy he weighed in with the swolls. There was nothing he could do about it, so finally he just had to give up on the tomatoes.
Though in the 1964 Sports Illustrated article, he did admit that he almost settled down and got married:
I almost married once, I almost did. It was mighty serious. I bought furniture, a refrigerator, a stove. She had me going home early to get my rest. She knew I wasn't stepping out on her, but I didn't know she was stepping out on me. When it was all over I couldn't do a thing for days. I didn't even go to a movie. I just couldn't talk about it, and. my lips swelled up something awful.
Luther Lassiter also had anxiety when the big tournaments came around. It was so bad that he would get bleeding ulcers. In or around 1963, he had to have his gall bladder removed because of this. (Source: SI article from March 1964; link below).
Books by Luther Lassiter
Luther Lassiter has written a number of books on billiards and cue sports, including:
(links go to amazon.com)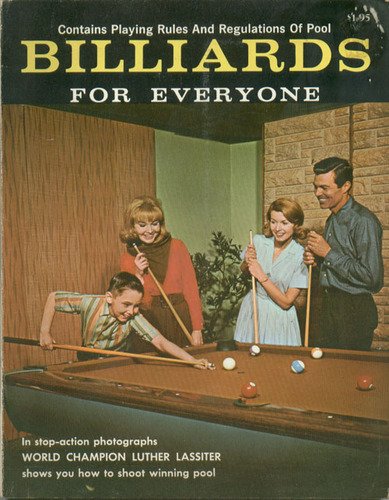 Luther Wimpy Lassiter's Pool Cues
Luther Lassiter played with a custom made pool cue from the late great pool cue maker George Balabushka. It was affectionately known as Wimpy's Bala or Lassiter's Bala and was later being sold on eBay with a starting price of $45,000 USD. He also played with a Harvey Martin custom cue (with a Harvey Martin cue case) according to Steve Price (a cue case maker from Florida). According to Dean (deanoc on AZB), Luther Lassiter played with a Gina cue toward the end of his career, which was stolen from him in San Antonio, TX.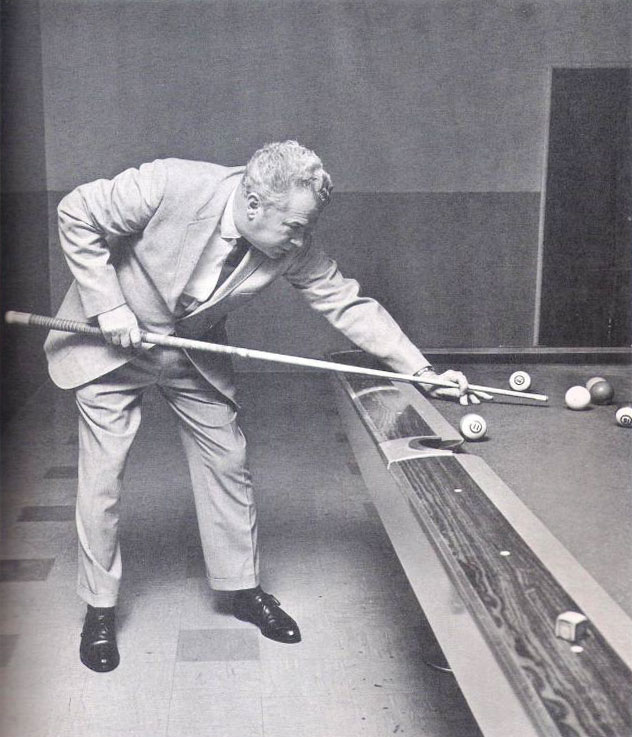 Luther Lassiter after Retirement
Coming out of retirement Wimpy won the televised ESPN "Legendary Stars of Pocket Billiards Tournament," in 1983, at the Claridge Hotel and Casino in Atlantic City. The players who competed in the 1983 round-robin tournament were Lassiter, U.J. Puckett, Minnesota Fats, Jimmy Caras, Jimmy Moore, Willie Mosconi and Irving Crane. Each player was matched against the others in a single match, with each playing an an equal number of matches for a set number of points with each match won. A match consisted of 1 seven-ball set, race to 4 games, 1 nine-ball set, race to 4 games, and in the event of a tie, 1 eight-ball set, best 2 out of 3 games. In this post-retirement tournament, Luther "Wimpy" Lassiter had a shutout. He won all six of his matches for 20 points each, achieving a perfect score of 120 points and the 1st place prize of $10,000 USD. Not a bad way to end a career in cue sports!
Wimpy Lassiter's Legacy
According to billiard historian R.A. Dyer, Wimpy spent his final years living in great financial difficulty. However, he was provided a pension by a man named Walter R. Davis, an Texas oil tycoon who originally grew up in Elizabeth City, NC with Luther. As children, Davis was quite poor, and Lassiter would help him out by giving him a few dollars so that he could eat. Davis remained a life-long friend of Luther's and never forgot Luther's good deeds and repaid them by helping Lassiter financially in his final years.
Luther Lassiter passed on October, 25, 1988 and rests at the New Hollywood Cemetery in Elizabeth City, NC.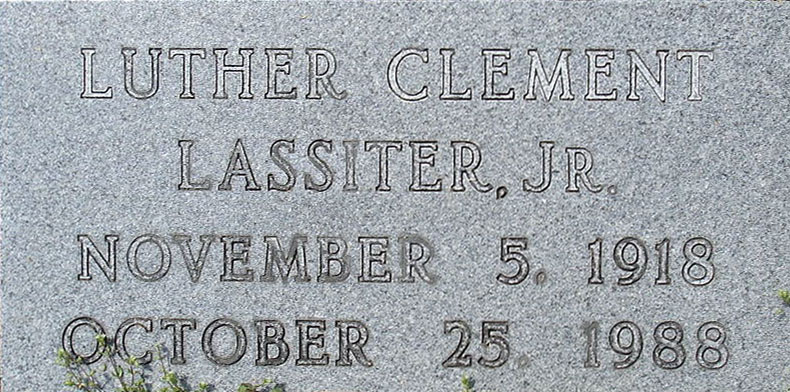 Lassiter's relatives still live in the Elizabeth City, NC area and include Mike Lassiter (Wimpy's nephew) and Scott Lassiter. At the houses of his relatives, so much Wimpy Lassiter memorabilia can be found, as shown by these photos taken by Bobby Chamberlain in 2010.
Luther Lassiter's billiard trophies in Elizabeth City, NC: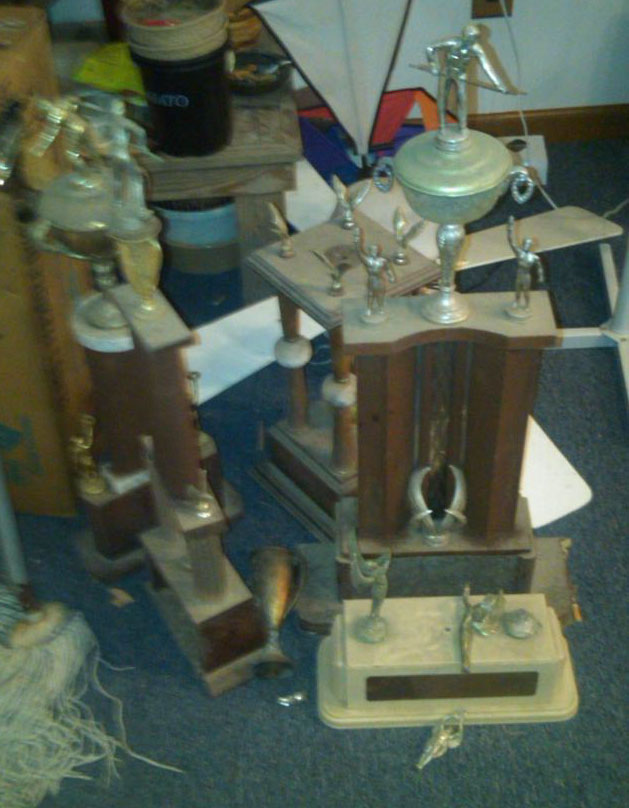 Luther Wimpy Lassiter's personal 5' x 10' pool table, which apparently still has the old worsted wool cloth and billiard balls that Lassiter played with.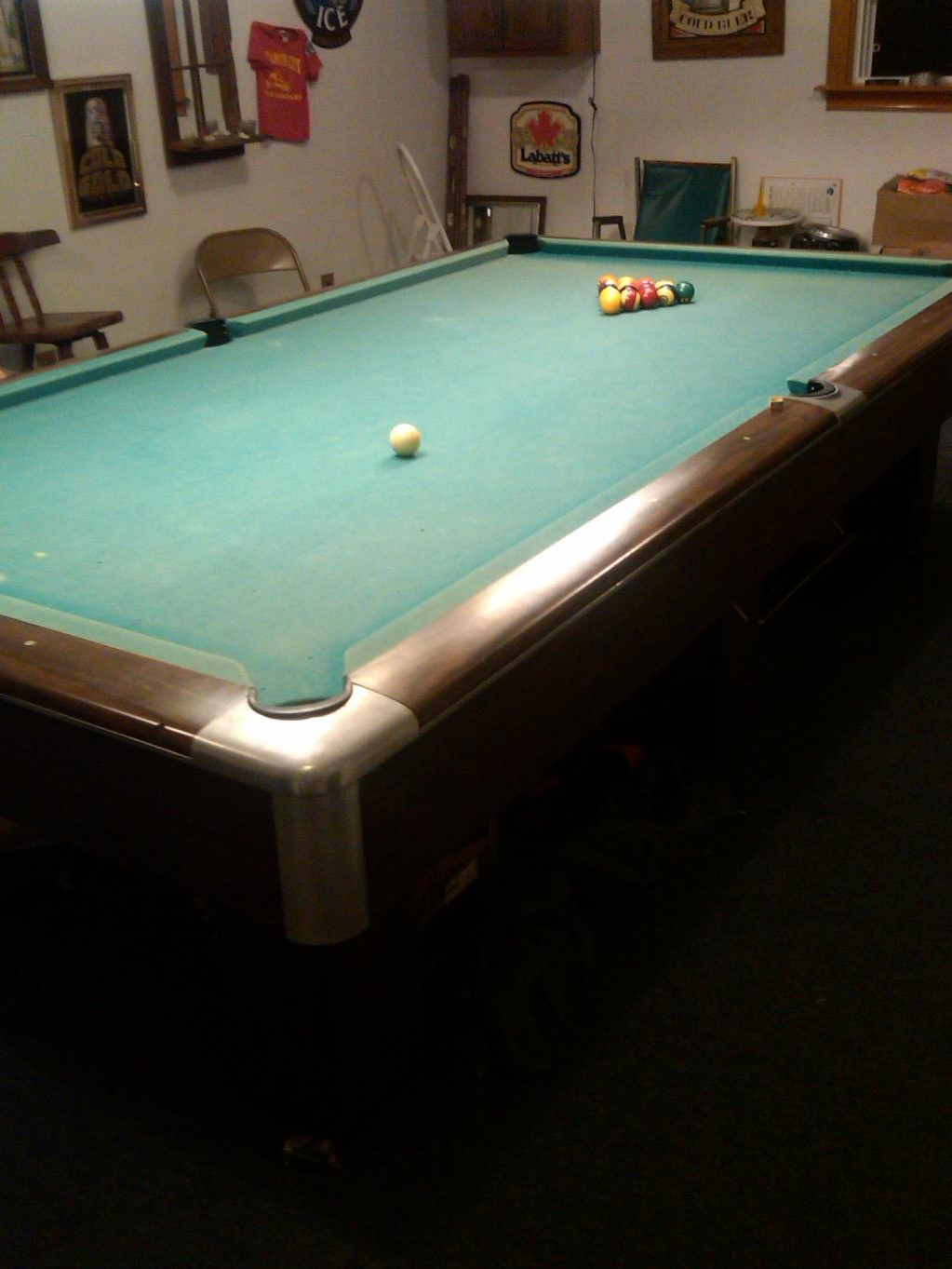 Luther Lassiter Sportscaster Cards
Sportscaster Cards (of NJ) featured Luther Lassiter in set #86 (which was printed in 1979 in Italy) and available to Sportscaster Cards mail order subscribers only. Luther's card was #24 in Series 86. Series 86 is considered one of the "rare, high number" Sportscaster series (#86). It is estimated that only a few hundred of these cards exist, but they still sell on eBay for between $3 and $8 USD. See sportscastercards.com for more information.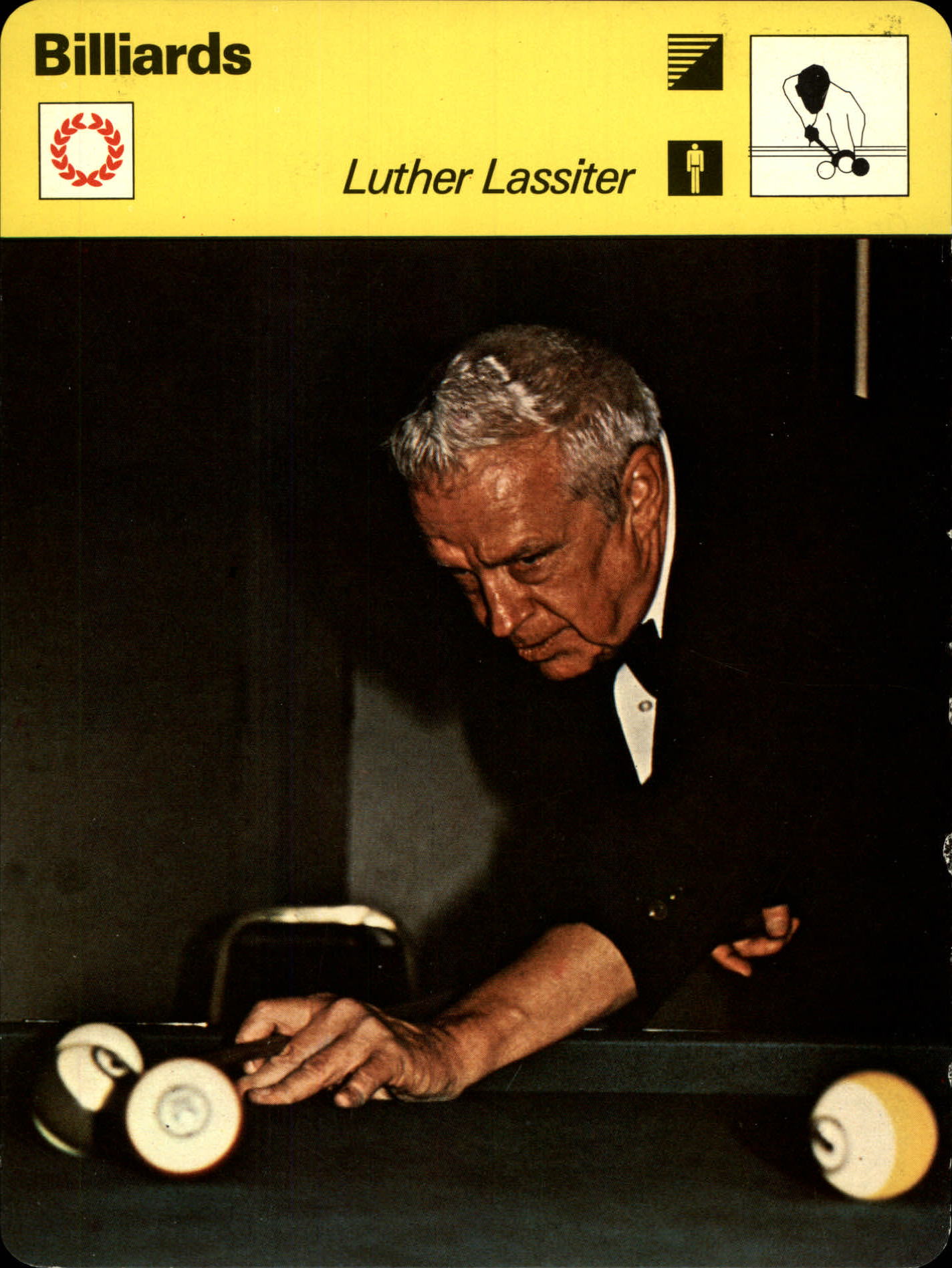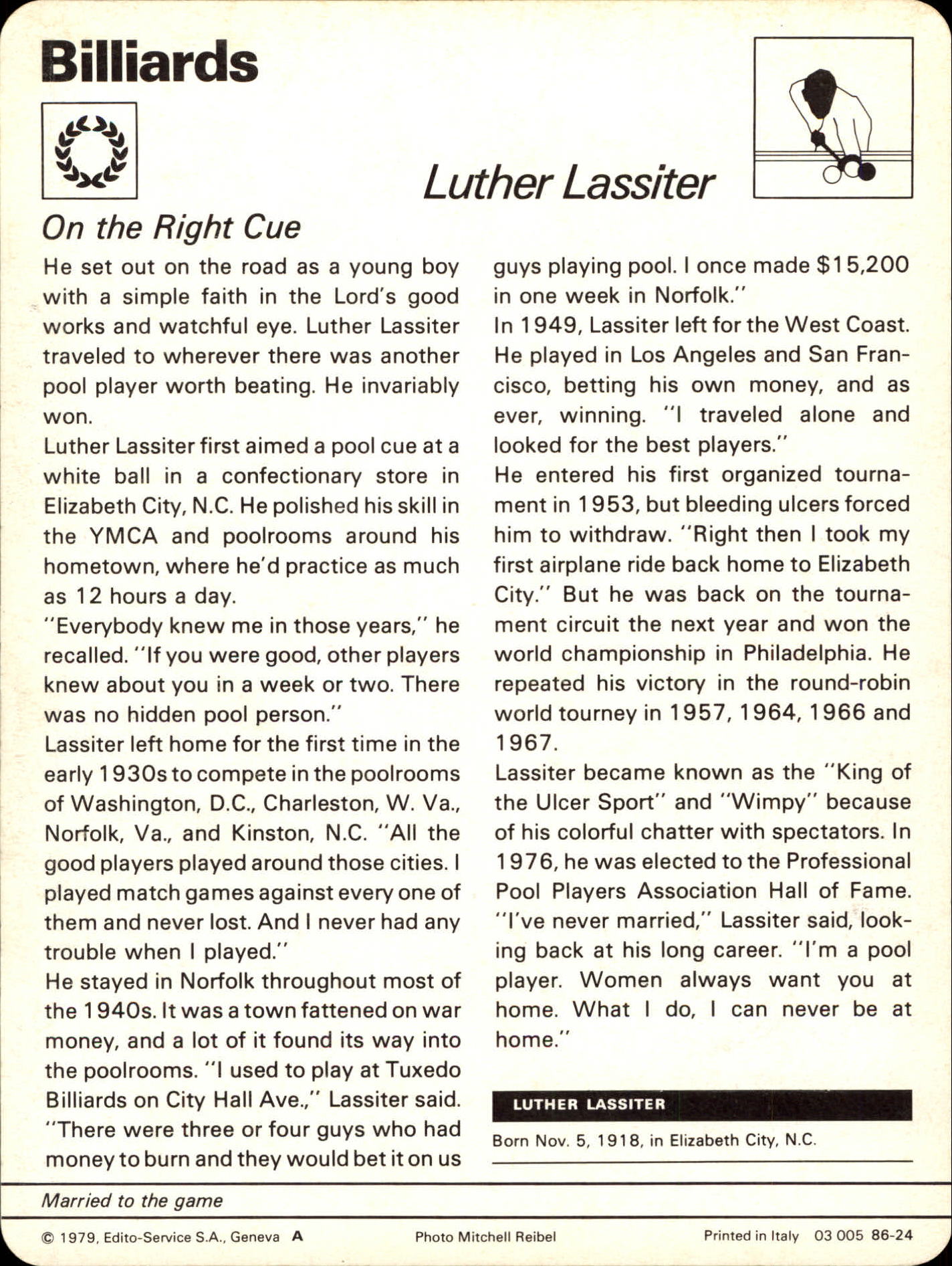 Here is the text from Luther Lassiter's Sportscaster Card:
He set out on the road as a young boy with a simple faith in the Lord's good works and watchful eye. Luther Lassiter traveled to wherever there was another pool player worth beating. He invariably won.

Luther Lassiter first aimed a pool cue at a white ball in a confectionary store in Elizabeth City, N.C. He polished his skill in the YMCA and poolrooms around his hometown, where he'd practice as much as 12 hours a day. "Everybody knew me in those years," he recalled. "If you were good, other players knew about you in a week or two. There was no hidden pool person."

Lassiter left home for the first time in the early 1930s to compete in the poolrooms of Washington, D.C., Charleston, W. Va., Norfolk, Va., and Kinston, N.C. "All the good players played around those cities. I played match games against every one of them and never lost. And I never had any trouble when I played."

He stayed in Norfolk throughout most of the 1940s. It was a town fattened on war money, and a lot of it found its way into the poolrooms. "I used to play at Tuxedo Billiards on City Hall Ave.," Lassiter said. "There were three or four guys who had money to burn and they would bet it on us guys playing pool. I once made $1 5,200 in one week in Norfolk."

In 1949, Lassiter left for the West Coast. He played in Los Angeles and San Francisco, betting his own money, and as ever, winning. "I traveled alone and looked for the best players." He entered his first organized tourna-ment in 1953, but bleeding ulcers forced him to withdraw. "Right then I took my first airplane ride back home to Elizabeth City." But he was back on the tourna-ment circuit the next year and won the world championship in Philadelphia. He repeated his victory in the round-robin world tourney in 1957, 1964, 1966 and 1967.

Lassiter became known as the "King of the Ulcer Sport" and "Wimpy" because of his colorful chatter with spectators. In 1976, he was elected to the Professional Pool Players Association Hall of Fame. "I've never married," Lassiter said, looking back at his long career. "I'm a pool player. Women always want you at home. What I do, I can never be at home."
More Information and Links on Luther "Wimpy" Lassiter
Here are some links to our sources for this Luther Lassiter biography, as well as some other general links to more information on the great billiard player.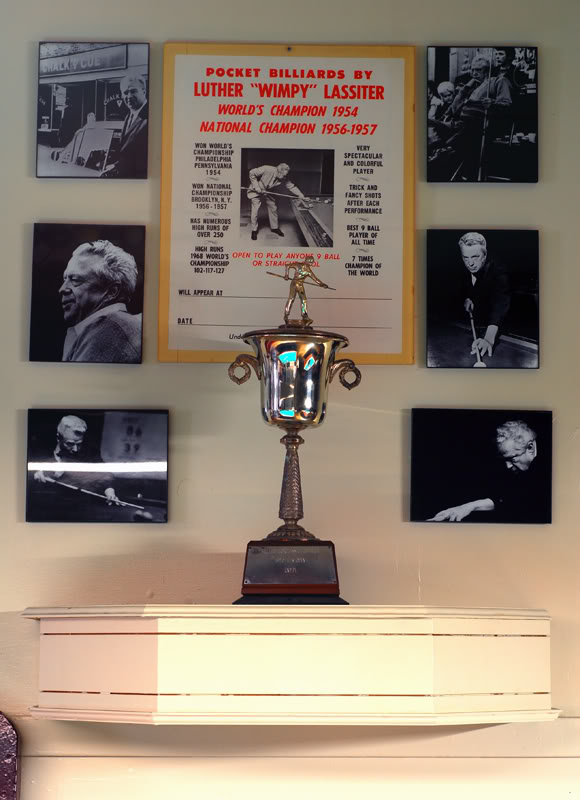 Luther Lassiter - Billiard Player
Headshot photo of Luther Lassiter: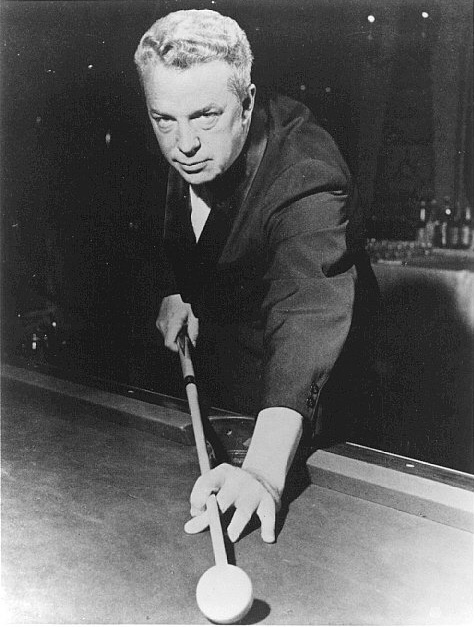 Luther Lassiter - Biography
Date of Birth: 1918-11-05 (died 1988-10-25)
Place of Birth: Elizabeth City, NC, USA
Country of Residence: United States (USA)
Luther Lassiters Nickname(s): "King of the Ulcer Sport", Luther "Wimpy" Lassiter.
Luther Lassiters Sponsors: Gibbs Billiard Supply and Services, of Virginia Beach, VA
Inducted into the BCA Players Hall of Fame: 1983
If you know of any other interesting information about the life of pool player Luther Lassiters, send us an update using the contact form below.
Luther Lassiters Cue Sports Records and Accomplishments
Luther Lassiter holds numerous titles in various cue sport disciplines including 9-ball, straight pool, one-pocket, 14.1 continuous pool, and others.
1962 - World 9-ball Champion
1962 - Johnston City, IL: 9-ball Champion, World All-Around Champion, and Straight Pool Champion
1963 - World 9-ball Champion
1963 - Johnston City, IL: 9-ball Champion, World All-Around Champion, and Straight Pool Champion
1963 - World 14.1 Continuous Champion
1964 - World 9-ball Champion
1964 - Johnston City, IL: 9-ball Champion, World All-Around Champion, and Straight Pool Champion
1964 - World 14.1 Continuous Champion
1964 - Featured in the March 23, 1964 issue of Sports Illustrated, in a feature article titled "You don't beat Wimpy at the game he loves" written by Tom Fox. Tagline was as follows:

Bible-reading Luther Lassiter, who in time past has overcome ulcers, the swolls and pool-shooting sinners who are not above duping their foes, makes a memorable last-gasp comeback to defend his world title

1966 - World 14.1 Continuous Champion
1967 - Johnston City, IL: 9-ball Champion, World All-Around Champion
1967 - World Nine-ball Champion
1967 - World 14.1 Continuous Champion
1969 - Johnston City, IL: 9-ball Champion, World All-Around Champion, and One-Pocket Champion
1969 - World One-pocket Champion
1969 - BCA US Open 14.1 Continuous Champion
1970 - Johnston City, IL: Straight Pool Champion
1971 - Johnston City, IL: Straight Pool Champion
1971 - Stardust All-around Champion
1983 - ESPN "Legendary Stars of Pocket Billiards Tournament" in Atlantic City, NJ (post-retirement)
1983 - Inducted into the North Carolina Sports Hall of Fame
1983 - Inducted into the Billiards Congress of America's Hall of Fame (BCA Hall of Fame)
1999 - Named 9th on the Billiards Digest "50 Greatest Players of the Century"
Are we missing anything significant? Comment below with details.
Title: Luther Lassiter
Author: billiardsforum (Billiards Forum)
Published: 10/20/2016 10:57:21 AM
Last Updated: 10/23/2016 5:02:03 PM
Last Updated By: billiardsforum
Luther Lassiter Comments
Steve Berry from Elizabeth City, NC on 9/29/2007 1:19:50 PM

Luther Lassiter is one of the greatest players in the history of Billiards.
Reply and share your comments below: