Jamison Neu
Jamison Neu
Jamison Neu is considered one of the worlds greatest trick shot billiard players, and is without a doubt, one of the world's best massé shot makers. In fact, Jamison Neu is so great at executing massé shots that many variations of the massé shot have been named after him.
Jamison Neu
We don't see Jamison Neu with a presence on the web anymore, as his site does not work. If anyone would like to add content to the Jamison Neu article, please post it using the form below.
Jamison Neu - Billiard Player
Headshot photo of Jamison Neu: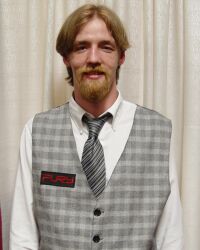 Photos of Jamison Neu playing billiards: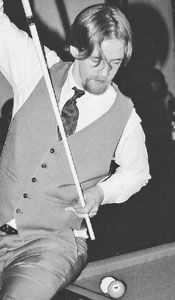 Jamison Neu - Biography
Date of Birth: 1979-05-13 00:00:00.000
Place of Birth: North Carolina, USA
Country of Residence: United States (USA)
Jamison Neus Nickname(s): The Gentleman, Mr. Masse
Jamison Neus Sponsors: Fury Cues
Email Address for Jamison Neu: jamisonneu@jamisonneu.com
Jamison Neus Website: jamisonneu.com
If you know of any other interesting information about the life of pool player Jamison Neus, send us an update using the contact form below.
Jamison Neus Cue Sports Records and Accomplishments
Jamison Neu has had many accomplishments throughout his career as a professional billiard player.
2005 World Masse Champion
2005 World Stroke Champion
2005 Masters Masse Champion
Ranked #1 statistically at the end of 2005 season
Jamison Neu was the only person to ever make all Masse shots twice within first 8 tournaments
1 of 4 people to ever make all Masse shots once in tournament play
Highest score ever recorded in Masse with only one missed attempt
Currently ranked #1 at Stroke and Masse
5th place at the 2005 World Championship
6th place at the 2004 World Championship
Performed trick shot exhibitions and pool clinics 4 times per day for 26 days straight in Las Vegas
Performs trick shot shows all over the United States
Of course these are just a few of Jamison Neu's accomplishments.
Title: Jamison Neu
Author: billiardsforum (Billiards Forum)
Published: 6/1/2008 9:17:00 PM
Last Updated: 10/23/2016 5:08:06 PM
Last Updated By: billiardsforum
Jamison Neu Comments
There are not yet any comments. Please post one below. All comments are moderated.
Reply and share your comments below: