Jacob Schaefer Sr
Jacob Schaefer Sr
Jacob Schaefer ruled the sport of Balkline billiards throughout the end of the nineteenth and twentieth centuries.
Jacob Schaefer Sr
In fact, Jake Schaefer was so successful at the game, that variations were invented to inhibit genius; all were unsuccessful. Jake Schaefer was a driving force behind the growing popularity of carom billiard games. Jake Schaefer traveled throughout the world, winning matches all over, and gaining fans in the process.
Jake Schaefer Sr
Jacob was so popular in those days, he had his own chewing tobacco baseball card.
Jacob Schaefer Sr
Jacob Schaefer retired from competitive billiards after competing while desperately ill to bring a surprising victory over Willie Hoppe at a game of 18.2 balkline in 1908.
Jacob Schaefer Sr - Billiard Player
Headshot photo of Jacob Schaefer Sr: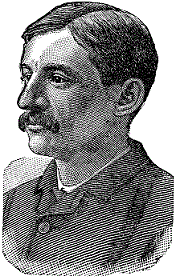 Photos of Jacob Schaefer Sr playing billiards: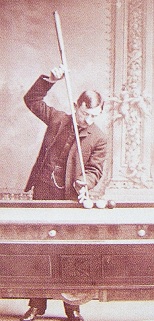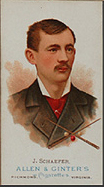 Jacob Schaefer Sr - Biography
Date of Birth: 1855-02-02
Place of Birth: Milwaukee, WI
Country of Residence: United States (USA)
Jacob Schaefer Srs Nickname(s): The Wizard, Jake Schaefer Sr.
Inducted into the BCA Players Hall of Fame: 1968
If you know of any other interesting information about the life of pool player Jacob Schaefer Srs, send us an update using the contact form below.
Jacob Schaefer Srs Cue Sports Records and Accomplishments
Jacob Schaefer's longest old style straight-rail billiards run was 3000 in a 1890 match again F.B. McCleery. He won that match with a staggering score of 3004-15. Long runs such as this in games of old style straight-rail billiards were achieved by using a "nurse" shot with the balls in the corner of the table to repeatedly score points. It was because of Jacob Schaefer's amazing skill at this technique that new games were invented such as 14.2, 18.1, and 18.2 balkline billiards.
Title: Jacob Schaefer Sr
Author: billiardsforum (Billiards Forum)
Published: 12/9/2006 4:24:27 PM
Last Updated: 10/23/2016 5:09:42 PM
Last Updated By: billiardsforum
Jacob Schaefer Sr Comments
John Sieber from Cincinnati, OH on 12/17/2016 9:11:11 PM

In 1889, Jacob "The Wizzard" Schaefer Sr. was the guest star on opening night at Frank Francis Billiard Hall, in Cincinnati Ohio. One block from the center of the city, the building still stands today.
Reply and share your comments below: