Alex Pagulayan
Alex Pagulayan
Alex Pagulayan's parents emigrated to Canada when he was only 13 years old.
Alex Pagulayan's Early Days
His father managed a pool hall, so Alex Pagulayan's exposure to the game came early. Though he was attracted to others sports, he thought his stature may not have been right. "I like a lot of sports, but with pool, you don't have to be physically tough. His main hot spot was the pool call "Loma's"
Alex Pagulayan's Professional career
Alex Pagulayan also has expertise in the pocket billiards game of snooker, and his capabilities enabled his Philippines team to win the Snooker Gold Medal at the 2005 SEA Games (held in Manila, Philippines) with teammates Joven Alba and Leonardo Andam. After the team's 3–2 win against Thailand at the Makati Coliseum, Alex Pagulayan emerged as a triple Gold Medalist.
Alex Pagulayan and Francisco Bustamante at the 2004 US Open Nine-ball Championship signing autographs. Very skilled players in nine-ball have the tendency to sometimes pocket four or even five balls on the break. Alex Pagulayan in the first rack of the semi-finals in the 2004 BCA Open, sank six balls on the break, two-thirds of the entire rack. (You should note that Rodolfo Luat also performed a similar feat in a Japanese tournament.) Alex Pagulayan's break did not include the 9 ball, and despite the six ball advantage, he lost that game to fellow countryman Santos Sambajon.
In 2002, Alex Pagulayan made it to finals of the US Open Nine-ball Championship, but was defeated by Ralf Souquet, 11–13. Three years later, he got another shot for the US Open Nine-ball Championship title and won it, defeating Jose Parica in the finals, 11–6.
Ronnie Wiseman, Keith McCready, and Alex Pagulayan (left to right) at the 2003 Carolinas Open in Goldsboro, North CarolinaIn 2003, Alex Pagulayan went on the road in the United States with Canadian pool player Ronnie Wiseman to compete in pocket billiard tournaments. They both scored a double victory at the Carolinas Open at Fast Eddie's in Goldsboro, North Carolina, with Wiseman winning the one-pocket tournament and Pagulayan winning the nine-ball event. Later in 2003, Pagulayan reached the finals of the World Nine-ball Championship. Unfortunately, he was bested by Thorsten Hohmann 10-17.
In 2004 in Taipei, Taiwan, Alex Pagulayan captured the prestigious World Pool Championship title, representing Canada. The score was a 17–13 victory over Pei-wei Chang in the finals. In 2006, Alex Pagulayan won the first national championship of the Billiards and Snooker Congress of Philippines (BSCP), besting Gandy Valle in the finals and earning P1,000,000 (US$20,639).
Not many pool players in the Philippines excel at or even play straight pool. For a number of years, Efren Reyes was the only Filipino player known to have made runs of 100 or more. However, at an demonstration match at the 2006 Derby City Classic in Kentucky, Alex Pagulayan made a high run of 130, the second-highest of the event. This makes him the second Filipino player known to have run 100 balls in straight pool in controlled competition.
In 2007, won the World Summit of Pool nine-ball championship held at the Riviera Casino in Las Vegas, Nevada. American Shane Van Boening defeated Alex Pagulayan earlier in the event, 11–4, but the veteran Pagulayan came back from the losing bracket of the double-elimination tournament chart by beating fellow countrymen Francisco Bustamante and Warren Kiamco, only to face Van Boening in the final round. The semi-finals as well as the final matches were recorded by ESPN for future broadcast, and the final match between Pagulayan and Van Boening was a race to 7. Pagulayan shot out with a strong lead, 4–1, but Van Boening managed to tie the score at 5–5. However, after Pagulayan three-fouled him, resulting in a loss of game for Van Boening, Pagulayan advanced forward and captured the title in the final game, ending the match at 7–5.
Alex Pagulayan
Despite his 2004 relocation to the Philippines, Alex Pagulayan still officially has a mailing address in Canada.
Alex Pagulayan's Personal Life
In March 2007, when asked where he resides in a Pool Billiards News interview, Pagulayan jokingly replied, "My suitcase. Yes. That's where I live right now – out of my suitcase!" Aside from pool, Alex also plays poker, chess and basketball.
Alex Pagulayan - Billiard Player
Headshot photo of Alex Pagulayan: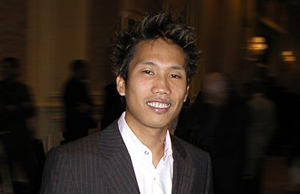 Photos of Alex Pagulayan playing billiards: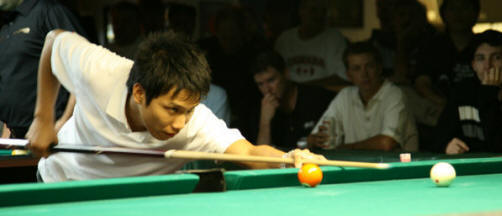 Alex Pagulayan - Biography
Date of Birth: 1978-06-25
Place of Birth: Cabagan, Isabela, Philippines, and raised in Toronto Canada.
Country of Residence: Philippines (PHL)
Alex Pagulayans Nickname(s): The Lion, The Killer Pixie
Alex Pagulayans Sponsors:

Alex Pagulayan's sponsors have included Mezz Cues and Puyat Sports, and more recently, OB Cues. The OB cues sponsorship ended (on good terms) in mid 2014 when Alex Decided to focus more on snooker. Here is the situation as explained by Shane Sinnott of OB Cues:

Alex and OB parted ways very amicably with respect to him being an OB sponsored player. Alex actually contacted us through his manager earlier in the year stating that he wanted to focus more on Snooker and less on pool. He did not feel comfortable receiving compensation from OB for a pool sponsorship when he was basically not playing any pool, which was very admirable. It obviously didn't make sense for us to continue to sponsor Alex as a pool player when he wasn't playing any pool so we agreed to part ways.

We wish Alex the best of luck in his Snooker career and we hope that he makes it all the way to the top. We all know that he has the heart to be successful in whatever he puts his mind to. If Alex decides to come back to playing pool full time then I am sure the OB Team and Team Pagulayan will be having another conversation regarding sponsorship in the future. Until then, we will continue to watch and support Alex in his Snooker (and Pool) endeavors!
If you know of any other interesting information about the life of pool player Alex Pagulayans, send us an update using the contact form below.
Alex Pagulayans Cue Sports Records and Accomplishments
Here are a list of Alex Pagulayan's achievements.
2016 Derby City Classic World All round Champion
2016 Derby City Classic One Pocket Champion
2015 3rd Annual Big Tyme Classic 9-ball bar table champion
2015 3rd Annual Big Tyme Classic one pocket champion
2015 Professional one pocket Buffalo's billiards 2000 entry Champion
2015 World all around Champion
2015 Derby city one pocket champion
2013 Derby City Classic 9-ball Champion (Indiana, USA)
2013 Southern Classic 9-ball Bank Champion (Tunica, MS, USA)
2012 Accu-Stats "Make it Happen" Invitational Champion (NJ, USA)
2012 Southern Classic 10-ball Champion (Tunica, MS, USA)
2012 Southern Classic 9-ball Champion (Tunica, MS, USA)
2012 Jay Swanson Memorial 9-ball Champion (LA, USA)
2012 Canadian 8-ball Champion (Toronto, ON, Canada)
2012 Canadian 9-ball Champion (Toronto, ON, Canada)
2012 Canadian Snooker Champion (Toronto, ON, Canada)
2011 Jay Swanson Memorial 9-ball Champion (LA, USA)
2011 Derby City Classic Bankpool Champion (Indiana, USA)
2011 Canadian Snooker Champion (Toronto, ON, Canada)
2010 Alex did not compete in 2010
2009 Alex did not compete in 2009
2008 Guinness Tour 9-ball Champion (Singapore)
2008 World Pool Masters, Las Vegas, Nevada
2007 World Summit of Pool
2006 Philippine National Championship
2005 Philippines Snooker Team Gold Medal, SEA Games
2005 US Open Nine-ball Championship
2005 Derby City Classic Ten-ball Ring Game Champion
2005 SML Entertainment Nine-ball Champion
2004 WPA World Nine-ball Championship
2003 Joss Tour Grand Final Winner
2003 Carolinas Open Nine-ball Division, Goldsboro, North Carolina
2003 IBC Western Canadian Open
2002 World Pool Trickshot Champion
Quite the list!
Forum questions and answers about Alex Pagulayan:
Recent news on Alex Pagulayan:
Title: Alex Pagulayan
Author: billiardsforum (Billiards Forum)
Published: 7/15/2008 6:46:00 PM
Last Updated: 10/23/2016 5:03:04 PM
Last Updated By: billiardsforum
Alex Pagulayan Comments
patrickp123495 from Manila, Cavite on 2/16/2009 8:43:52 AM

Currently, Alex Pagulayan has other sponsors like Mezz Cue and Puyat Sports.

billiardbuzzdotcom from Jacksonville, FL on 9/8/2009 3:52:48 AM

This guy is very talented and consistent. He won something every year. Congrats Alex Pagulayan. What a Billiard Player.
Reply and share your comments below: