Mezz TA-3 Kunihiko Takahashi Pro Pool Cue For Sale
---
1/7/2008 2:24:49 PM
Mezz TA-3 Kunihiko Takahashi Pro Pool Cue For Sale
Pool players, fans, and friends! Up for sale is my Mezz TA-3 pool cue, the Kunihiko Takahashi Professional Model.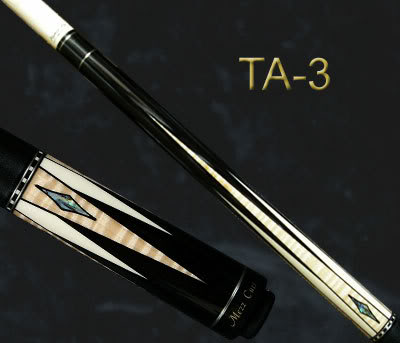 It is only slightly used, and in very good condition. It comes with the Hybrid II Pro United shaft!, and has no dings, pings, or any other damage.
I have used it for about 5 weeks before I stored it in my pool cue collection room.

AnitoKid
Mezz TA-3 Kunihiko Takahashi Pro Pool Cue For Sale
Replies & Comments
---
AnitoKid on 1/12/2008 3:46:29 PM

My Mezz TA-3 pool cue has been sold.
Mezz TA-3 Kunihiko Takahashi Pro Pool Cue For Sale
Title: Mezz TA-3 Kunihiko Takahashi Pro Pool Cue For Sale
Author: AnitoKid
Published: 1/7/2008 2:24:49 PM