Value of a McDermott E-B6JB Cue
---
12/28/2020 6:22:13 AM
Value of a McDermott E-B6JB Cue
I have a 3 piece McDermott E-B6JB jump/break cue. In 1996 the cost was around $215
It's similar to the McDermott E-B6 cue shown here:

This cue was sold as a jump/break cue, but some players use it as a normal shooting cue and then disengage the handle when they need a shorty cue for tight spaces.
How much is the McDermott E-B6JB cue worth today? Is there any value in it?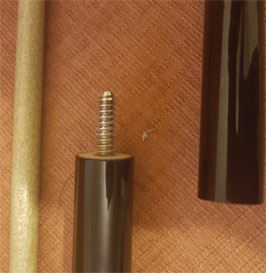 user1603027115
Value of a McDermott E-B6JB Cue
Replies & Comments
---
billiardsforum on 12/29/2020 1:32:00 PM

It has no special traits that warrant any premium beyond it's utility value as a jump-break cue.

It is probably worth somewhere in the ballpark of $125, give or take.

It appears to have a bunch of dings, dents, scrapes, and scratches, so that affects value as well.

Since you know what model it is, just set some alerts eBay, watch classifieds, etc.
Value of a McDermott E-B6JB Cue
Title: Value of a McDermott E-B6JB Cue
Author: user1603027115 (Neil Martin)
Published: 12/28/2020 6:22:13 AM
Last Updated: 12/29/2020 1:18:59 PM
Last Updated By: billiardsforum (Billiards Forum)