Value of a 1970s National Pool Cue
---
11/26/2019 1:17:57 PM
Value of a 1970s National Pool Cue
What is the value of a 1970s National pool cue?
I purchased the one below back in the late 1970s for about $125. Can anyone please tell me the value of this stick?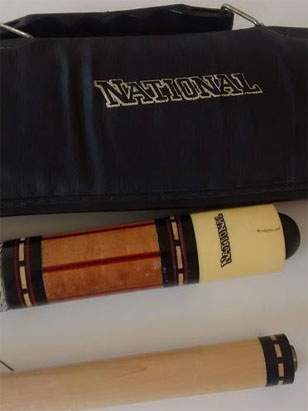 user1574803076
Value of a 1970s National Pool Cue
Replies & Comments
---
Chopdoc on 11/26/2019 5:33:42 PM

Your National cue is still worth $125 IMHO, maybe $150 - $175 on a good day.

This model may have been made by Viking by the way.

user1574803076 on 11/27/2019 7:09:29 AM

Thank you. Very much appreciated.
Value of a 1970s National Pool Cue
Title: Value of a 1970s National Pool Cue
Author: user1574803076
Published: 11/26/2019 1:17:57 PM
Last Updated: 1/2/2020 4:33:31 AM
Last Updated By: billiardsforum (Billiards Forum)