Identify a George Balabushka Pool Cue
---
10/15/2018 8:38:27 PM
Identify a George Balabushka Pool Cue
I need some assistance on a cue that I inherited.
I would like to see what the value of this George Balabushka pool cue is.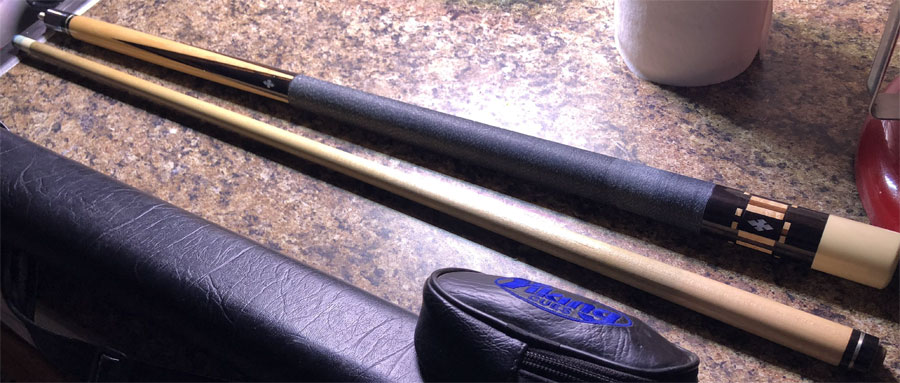 Julian
Identify a George Balabushka Pool Cue
Replies & Comments
---
billiardsforum on 10/16/2018 2:50:20 AM

This cue looks like a Georga Balabushka GB-5 (modern remake version) from the George Balabushka Signature Series.

It was available as early as 1999 I believe (that's when the line first appeared on BWH). At that time, the MSRP was about $700, but it commonly retailed at about $540 on sites like Billiard Warehouse and the other big cue sport retailers, and as low as $440 during clearance sales.

It is still being sold today on BWH, and today the MSRP is $870, and retail is around $785.

Balabushka Pool Cue - GB5

George Balabushka GB-5 signature series pool cue. This pool cue has a natural stained birdseye maple forearm with four sharp ebony points with two veneers. The butt is ebony with multiple wood and mother of pearl inlays. The wrap is a black with white spec irish linen. The joint is 5/16 x 14 stainless steel. This cue comes with one shaft with a 13 mm pro taper and a professional leather tip.

Specs:

Birdseye Maple Forearm, Light Brown Stain, (4) Point African Ebony Splice & Bacote Veneers
(4) Mother of Pearl, White Shell Notched Diamond Inlays in Forearm
Stainless Steel Joint Collar with 5/16-14 Pin
Black with White Spec Irish Linen Wrap
(4) Mother of Pearl, White Shell Diamond Inlays, Bacote & Maple in Ebony Butt Sleeve
Canadian Maple Shaft, 13 mm Pro Taper, Phenolic Collar with Silver Ring, Brass Pilot Wood Wrap, Juma Ferrule & Pro Layered Tip
Custom Joint Protectors with Logo & Black Velvet Bag with Logo
George Balabushka Signature

Source: billiardwarehouse.com/cues/balabushka/balabushka_gb5.htm

Chopdoc on 10/16/2018 2:13:59 PM

Judging from the thickness of the silver ring in the joint, this is an older one.
Identify a George Balabushka Pool Cue
Title: Identify a George Balabushka Pool Cue
Author: Julian (Julian Benavides)
Published: 10/15/2018 8:38:27 PM
Last Updated: 10/16/2018 2:34:43 AM
Last Updated By: billiardsforum (Billiards Forum)