1987 Signed Helmstetter Cue #18 of 25
---
1/23/2019 11:17:48 AM
1987 Signed Helmstetter Cue #18 of 25
I have the following limited edition 1987 Helmstetter cue numbered 18 of 25.
Do you have any idea of the value of these limited edition signed, numbered Helmstetter cues from 1987?
It is in very good condition.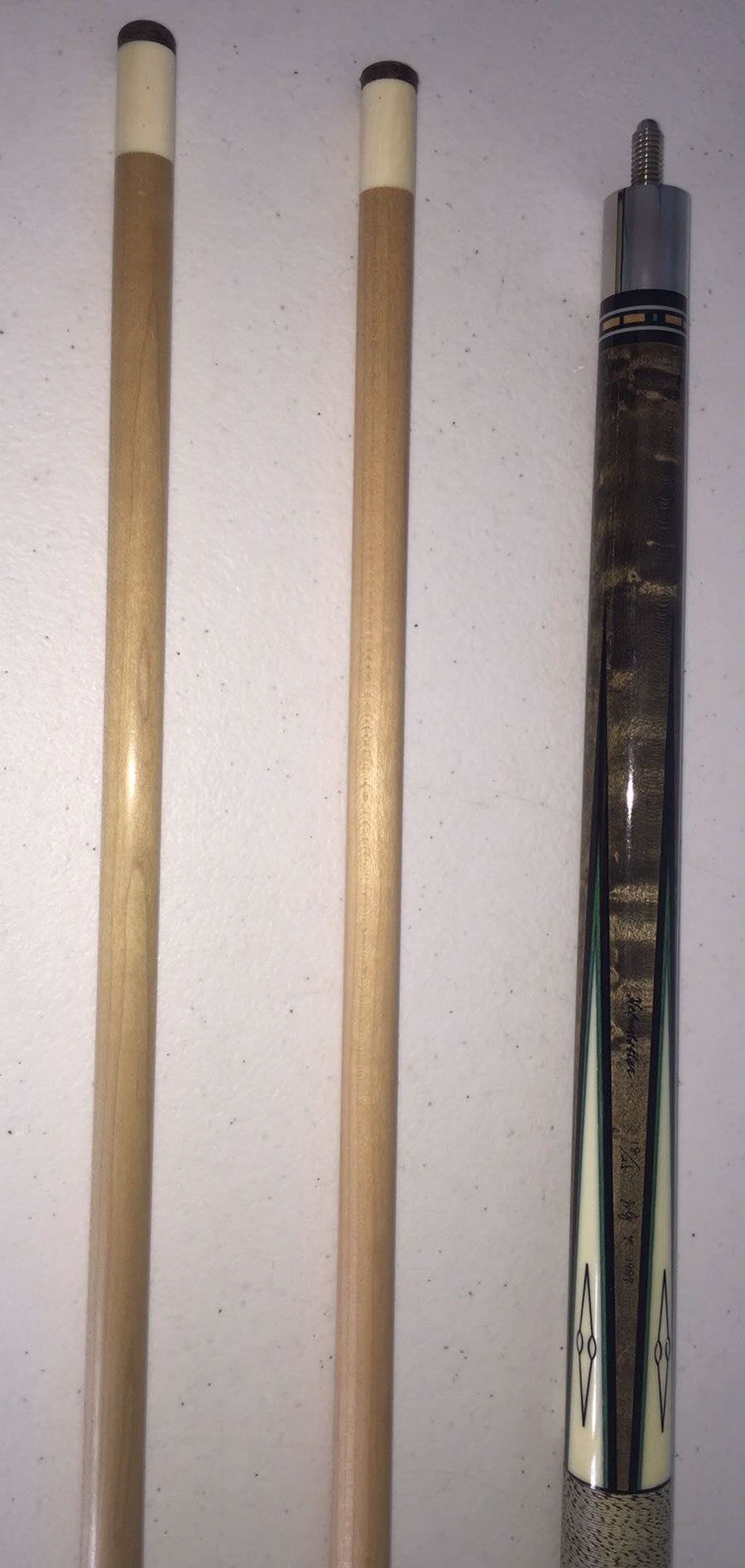 user1548271067
1987 Signed Helmstetter Cue #18 of 25
Replies & Comments
---
Chopdoc on 1/23/2019 8:22:30 PM

Nice cue, and looks to be in great condition. Nailing down value is difficult on these I think. A feel a few hundred is warranted. Personally, I like this one.

Really need to look at comparable sales. I think the $400 to $600 range is likely. I believe I have seen them go higher. I have seen people ask $800 to $900 for such cues but I don't think they are selling in that kind of price range.

Sorry I can't be more specific.

I do think that the condition and two original shafts really bolsters the value.

I have many cues but have yet to pull the trigger on a Helmstetter. Something like this would be nice in my collection, but I am concentrating this year on getting restorations done on cues I already own.

Darn cool cue.

billiardsforum on 1/24/2019 2:29:36 AM

What a great looking limited edition Helmstetter Cue. It's in great shape and has two matching shafts which also look to be in very good shape.

I second @Chopdoc's opinion in that it's condition and the extra matching shaft are big value-adds.

In the quick search I just did, I came across a comment at AZB on Helmstetter in general which may refer to this cue (albeit, indirectly) (emphasis mine):

Richard still did consulting for Adam Cues during the 1980's and also during this time a number of [limited edition] (1/1, 1/25, 1/50) cues were made that are hand signed and dated by Richard Helmstetter.

I am unsure if he actually made these cues himself or if they were a limited product of cues that Richard designed, but they are really nice cues, and they come with two matching shafts. However, like all cues associated with Richard or Adam Custom Cues they have never become ultra collectible which is truly a shame because in my opinion they are great cues.

Source: forums.azbilliards.com/showthread.php?t=154515

Also, the Blue Book's Helmstetter blurb notes that these command a premium over production Helmstetter cues and are "highly collectible".

In the Helmstetter Cues section:

Original signed Helmstetter billiard cues are highly collectible.

In the Adam Cues section:

Add 50% for limited edition and signature cues made by Helmstetter
Add 500% for custom cues made by R.C. Helmstetter that are signed and dated.

I am pretty sure you have one of the cues they are referring to in the first bullet.

The "signature" on yours is actually a stamp, so those blue book references leave some doubt as to which cues they are referring to. I am not a Helmstetter cues expert by any means.

Nonetheless, great looking cue. Thanks a lot for sharing it here.
1987 Signed Helmstetter Cue #18 of 25
Title: 1987 Signed Helmstetter Cue #18 of 25
Author: user1548271067
Published: 1/23/2019 11:17:48 AM
Last Updated: 1/24/2019 2:32:42 AM
Last Updated By: billiardsforum (Billiards Forum)