Year and Model ID Meucci Originals Pool Cue
---
9/25/2018 4:18:45 PM
Year and Model ID Meucci Originals Pool Cue
Looking for a year and model number on this Muecci Originals pool cue.
Any help is greatly appreciated.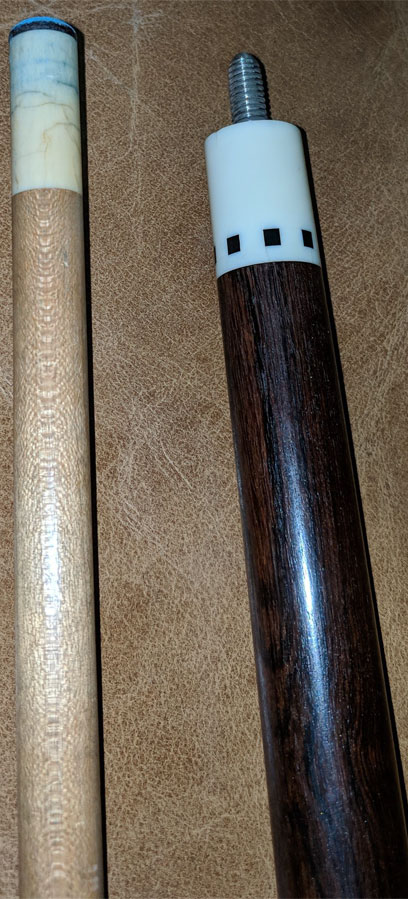 user1537917524
Year and Model ID Meucci Originals Pool Cue
Replies & Comments
---
billiardsforum on 9/26/2018 3:58:57 AM

You have a Meucci Originals MO-3 pool cue. This cue was part of Meucci's first full-series release which is now known and the "Meucci Originals" series (hence the "MO").

They were first made in the 1970s and made for a good while after that.

There are several variations of the Meucci MO-3, including, but not limited to:

The oldest MO-3 cues have a brass joint pin. later ones used stainless steel. Brass version, being older, are more rare and sought-after by collectors.
Some are inscribed with "Tournament Champion" on the butt cap - those were provided as prizes in tournaments back in the day.
Ones which still have the older "pill style" rubber bumper sell for a bit more if they still have that original bumper (vs. a replacement or newer "flat-style" bumper). Yours has the "pill-style" bumper.

The original MSRP was $90 in the first catalog (shown below).

There are a lot of MO-3 cues out there in really good shape so they aren't hard to find, but cues from this series are still generally sought-after. You won't have any issue selling it but this particular model doesn't fetch as much as the others unless it is in brand-new/unused condition with 2 or more original, straight, matching shafts.

Some recent sale prices for the Meucci Originals MO-3 have been as follows:

$217.50 - Feb 06, 2018 (one shaft, used but good shape)
$127.50 - Dec 14, 2017 (one shaft, needed to be restored)
$200.00 - Nov 19, 2017 (one shaft, used but good shape)
$255.00 - Aug 21, 2017 (one shaft, used but ok shape, has pill-style bumper, sold with a porper case)
$187.50 - Aug 23, 2017 (one shaft, used but good shape)

Yours is in as-good or better shape than the ones listed above, except your shaft collar is in relatively bad shape. You can also see in just those few months there are a lot of them which had come up for sale, and the prices the sold for. Use that as a guide for value.
Year and Model ID Meucci Originals Pool Cue
Title: Year and Model ID Meucci Originals Pool Cue
Author: user1537917524
Published: 9/25/2018 4:18:45 PM
Last Updated: 9/26/2018 3:35:45 AM
Last Updated By: billiardsforum (Billiards Forum)