What Type of Lucasi Cue is This
---
12/27/2019 1:32:14 PM
What Type of Lucasi Cue is This
What type of Lucasi pool cue do I have?
I know its from 2004 but past that I am clueless.
I need help identifying this Lucasi cue model.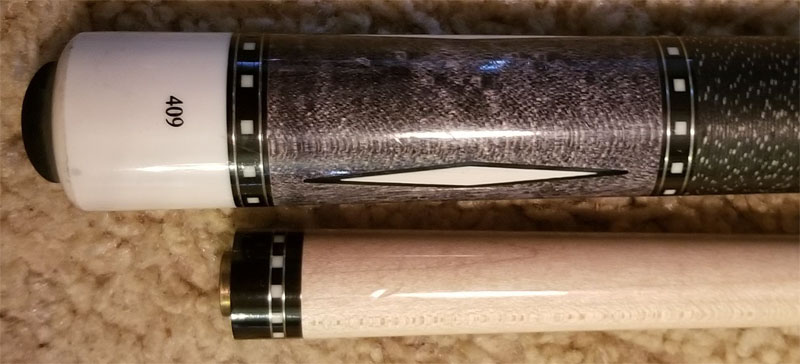 smogc
What Type of Lucasi Cue is This
Replies & Comments
---
billiardsforum on 12/30/2019 2:27:40 PM

This is a Lucasi L-D3 cue from around 2004. MSRP was $159, but common retail price was $128 at the time.

The "409" means that it's production run occurred in September 2004.

Lucasi L-D3 Pool Cue

Lucasi pool cue with a gray stained birdseye maple forearm. The butt is gray stained birdseye maple with four large imitation bone diamonds surrounded by ebony. This cue features five sets of bushka style rings. The wrap is black with white spec irish linen. This cue has a Uniloc quick release joint and comes with one shaft with a 13mm pro taper.
What Type of Lucasi Cue is This
Title: What Type of Lucasi Cue is This
Author: smogc
Published: 12/27/2019 1:32:14 PM
Last Updated: 12/30/2019 2:18:07 PM
Last Updated By: billiardsforum (Billiards Forum)