What Kind of Pool Cue is This? ID Brand or Maker
---
9/19/2021 6:25:13 PM
What Kind of Pool Cue is This? ID Brand or Maker
What kind of pool cue could this be? I'm wondering what brand it is or who manufactured it.
I found the cue at a thrift store priced pretty cheap. I was wondering if it is a decent brand.
The pool cue is straight as an arrow and in pretty good shape. There are no maker marks anywhere except for a gold decal that shows the cue's weight as "28 oz".
I would really appreciate any information on the cue, and I can't wait to play a game with it. It's actually the first cue I have owned.
If you need a specific angle let me know. I have no idea what to really look for.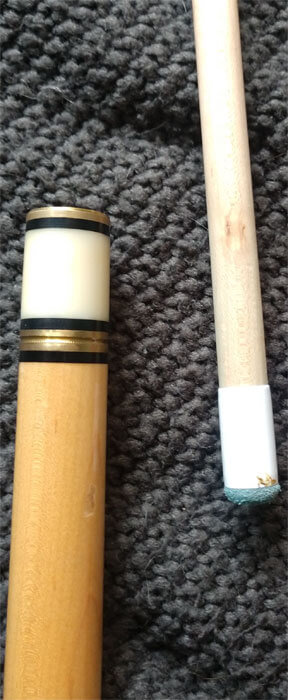 hammy
What Kind of Pool Cue is This? ID Brand or Maker
What Kind of Pool Cue is This? ID Brand or Maker
Title: What Kind of Pool Cue is This? ID Brand or Maker
Author: hammy (Terrance Wareham)
Published: 9/19/2021 6:25:13 PM
Last Updated: 10/29/2021 2:41:41 AM
Last Updated By: billiardsforum (Billiards Forum)