Vintage Meucci David Howard Giant Killer?
---
12/18/2012 9:21:30 AM
Vintage Meucci David Howard Giant Killer?
I have posted photos of a vintage Meucci David Howard Giant Killer or Dragon Slayer pool cue below, and I am wondering if this is the Slayer cue with pure Ivory on the shaft and also on the shield?
Also, does anybody know the value of this Meucci stick in good condition? Do you think the cue it will go up in value over time?
Just looking for more details really.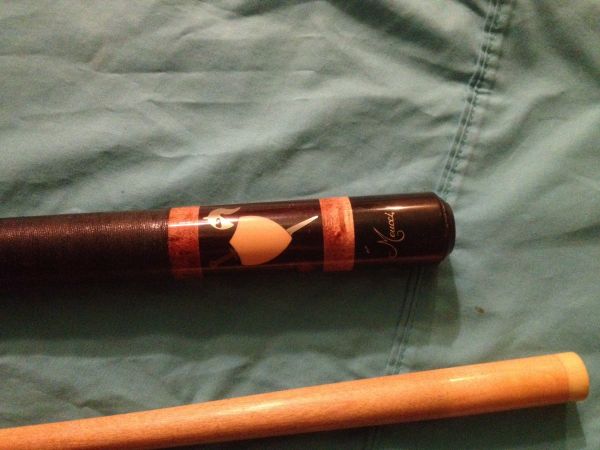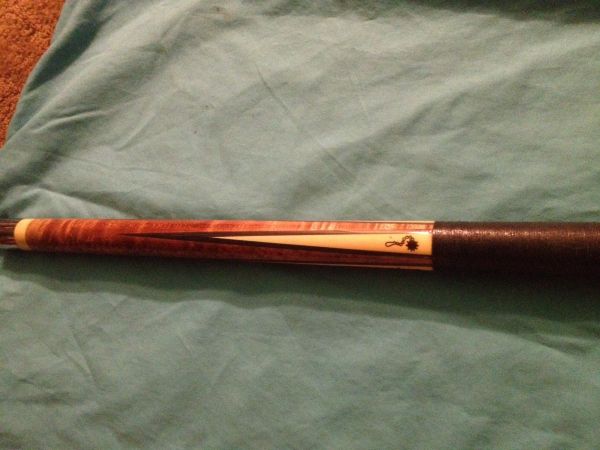 RedTail9
Vintage Meucci David Howard Giant Killer?
Replies & Comments
---
billiardsforum on 4/21/2013 9:54:15 AM

Looks like one was for sale on discountpoolcues.com in 2009 for $1200 in mint condition.

Your cue is not the David Howard version. The David Howard Meucci is called "The Giant Killer" and would have the name "David Howard" on the butt of the cue. They usually have the older block-style Meucci logo.

You have a Meucci M-16. Not sure if those were made with ivory, but I think they were. I believe the shield is real ivory (should be approximately 1" x 1") in size. They were made by Meucci in the 1980's and sold for around $300.

Here is an image to show you the differences between the Meucci DH-4, Meucci M-16, Meucci 95-26, and the Meucci HOF-7:

That cue is definitely "collectible" grade if it is in new or near new condition. Generally prices will increase over time. Just depends, of course, on how many are on the market at the exact time you go to sell it, and how many buyers there are.

guest on 8/1/2013 10:04:08 AM

The cue pictured is a Meucci "The Giant Killer."

Meucci's "The Dragon Slayer" cue was a later remake of "The Giant Killer" and had a wooden shield and no David Howard signature.

If this is an original (and not a copy) it does have ivory inlays.

I personally own one of these cues and would be hard pressed to part with it.

user1558288495 on 5/19/2019 10:54:56 AM

Any chance you want to sell that David Howard Meucci cue?
Vintage Meucci David Howard Giant Killer?
Title: Vintage Meucci David Howard Giant Killer?
Author: RedTail9
Published: 12/18/2012 9:21:30 AM