Vintage Brunswick Cue, Gold Crown? Age, Value?
---
3/19/2020 5:04:59 AM
Vintage Brunswick Cue, Gold Crown? Age, Value?
Looking for more information on this Brunswick pool cue.
It appears to have the Brunswick Gold Crown logo in a see through window in the butt sleeve end. The cue is in great shape.
But I can't seem to find anything about this cue.
I see the same Gold Crown logo affiliated more with bowling equipment and billiards chalk and some professional pool tables from 50 years ago.
The case appears aged a bit but is also in great shape.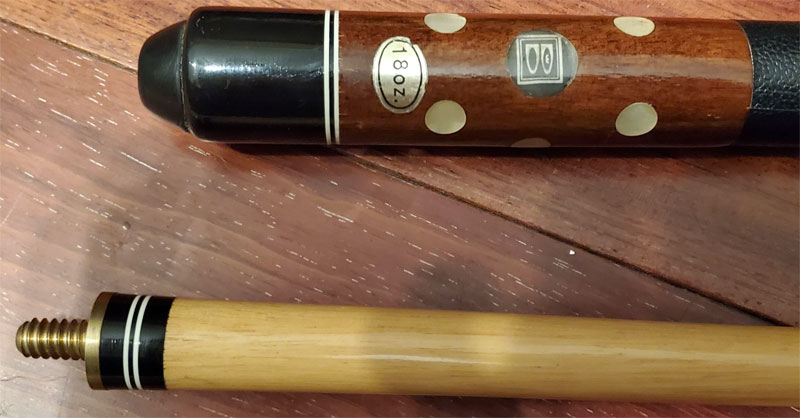 user1584619497
Vintage Brunswick Cue, Gold Crown? Age, Value?
Replies & Comments
---
billiardsforum on 3/19/2020 11:56:16 AM

Your Brunswick pool cue is from somewhere between 1975 and 1985.

It's made from "Indonesian hardwood" with "pearlized and hardwood inlays". They feature a brass-on-brass joint and a ramine wood shaft.

They are considered to be a lower-quality cue because of the quality of construction and the materials used. For example, ramine is generally considered a poor-quality wood stock for a pool cue shaft

I don't have the exact catalog it's from (nor could I find it in the Brunswick Billiards archives), but here's a very close one from the same era. This is from the 1982 catalog. It's also in the 1977 and 1981 catalogs.

In terms of value, the cue isn't worth much. I would put it at somewhere between $40 and $70.

In fact, a few of this exact Brunswick cue model sold recently on eBay. Here's one that sold for $61 at the end of January 2020:

And looking at currently active eBay listings, we see a set of 3 Brunswick cues, from related 1970s / early 1980s Brunswick cue series. They are for sale right now on eBay for $175, and they won't likely get that much.

Here's another similar Brunswick cue (basically the same as yours, save for a few insignificant details), and it is for sale for $175 on eBay right now. Again, they won't get this much for it.

user1584619497 on 3/19/2020 1:41:48 PM

Wow, thanks so much for the detailed information on the Brunswick cue.

I saw that eBay post for $175 and thought that seemed high. I actually picked this up at Goodwill for $2 thinking I'd let my kids use it in the basement, then looked closer and it seemed fairly nice.

Maybe I'll just keep it around and use it when I play the occasional game.
Vintage Brunswick Cue, Gold Crown? Age, Value?
Title: Vintage Brunswick Cue, Gold Crown? Age, Value?
Author: user1584619497
Published: 3/19/2020 5:04:59 AM
Last Updated: 3/19/2020 12:03:29 PM
Last Updated By: billiardsforum (Billiards Forum)