Value and Model of a Smoke-Colored Meucci Cue
---
12/4/2019 6:46:41 PM
Value and Model of a Smoke-Colored Meucci Cue
This smoke colored Meucci cue was given to me as a gift years ago.
I have no idea how old it is, what model it is, or how much it's worth.
Any help would be greatly appreciated.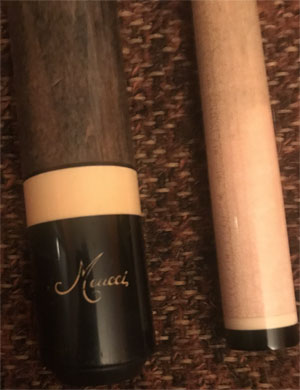 jscott
Value and Model of a Smoke-Colored Meucci Cue
Replies & Comments
---
billiardsforum on 1/3/2020 4:26:57 PM

It is a Meucci E3 from the Meucci European series.

Forearm and buttsleeve are maple. Natural-with-green-spec wrap.

It is a low-end Meucci cue. No value as a collectible cue.

Used, it's worth $100 or less depending on condition.
Value and Model of a Smoke-Colored Meucci Cue
Title: Value and Model of a Smoke-Colored Meucci Cue
Author: jscott (J. Scott)
Published: 12/4/2019 6:46:41 PM
Last Updated: 1/3/2020 4:17:59 PM
Last Updated By: billiardsforum (Billiards Forum)