"Sierra 2000 1 of 1 Eric Niemira" Excalibur Cue
---
8/4/2021 10:41:40 AM
"Sierra 2000 1 of 1 Eric Niemira" Excalibur Cue
I am looking for information on this Excalibur pool cue.
In addition to the Excalibur cue logo on the butt cap, the butt sleeve has hand-writing, which says:
Sierra 2000
1 of 1
Eric Niemira
Does anyone know:
Who is the cue maker of this Excalibur cue?
Did Viking help make this cue?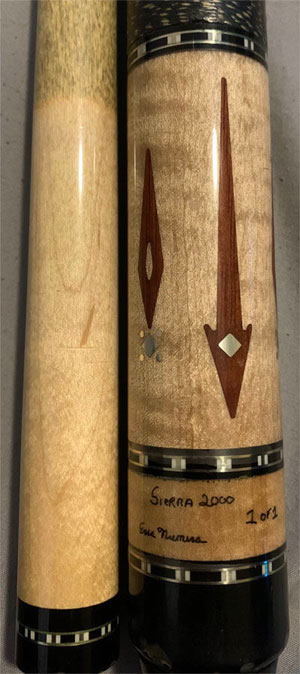 user1628098510
"Sierra 2000 1 of 1 Eric Niemira" Excalibur Cue
Replies & Comments
---
billiardsforum on 8/24/2021 4:24:21 AM

Eric Niemira was the cue maker, and his company was Sierra Custom Cue based out of Tempe, AZ.

The 2000 would likely be the year of completion of that cue, but his cues also usually have a custom rubber bumper with the year of completion molded into it. In your case, it would be "00".

He and Dave Corbett founded Sierra Custom Cue in 1992 and they made cues from 1993 onward. Niemira and Corbett are no longer making cues. I don't know when, exactly, he stopped, but I know it was some time before 2014.

I have no idea why it would have the "Excalibur" logo.

I don't have Eric's contact info anymore, but I know he's friends with Bryan Mordt of BCM Cue. It's a long shot, but you could visit the BCM cues website and reach out from there if you were looking for more info.

bcmcue.com

---

Note that there is another more recent company making production cues which use the name "Sierra Custom Cue". This company "appropriated" the name, but aren't associated with Niemira. These newer Sierra cues would have this logo (typically just the mountain portion is found on the butt caps):
"Sierra 2000 1 of 1 Eric Niemira" Excalibur Cue
Title: "Sierra 2000 1 of 1 Eric Niemira" Excalibur Cue
Author: user1628098510
Published: 8/4/2021 10:41:40 AM
Last Updated: 8/24/2021 4:01:19 AM
Last Updated By: billiardsforum (Billiards Forum)