Schön Cue Identity Please
---
8/14/2018 4:32:28 AM
Schön Cue Identity Please
Need model number and year of this Schön cue please. I can't find any information on it. I modified with predator shaft. This cue plays itself.
I need to get some information on this Schon cue so I know a ball park value amount to sell it for.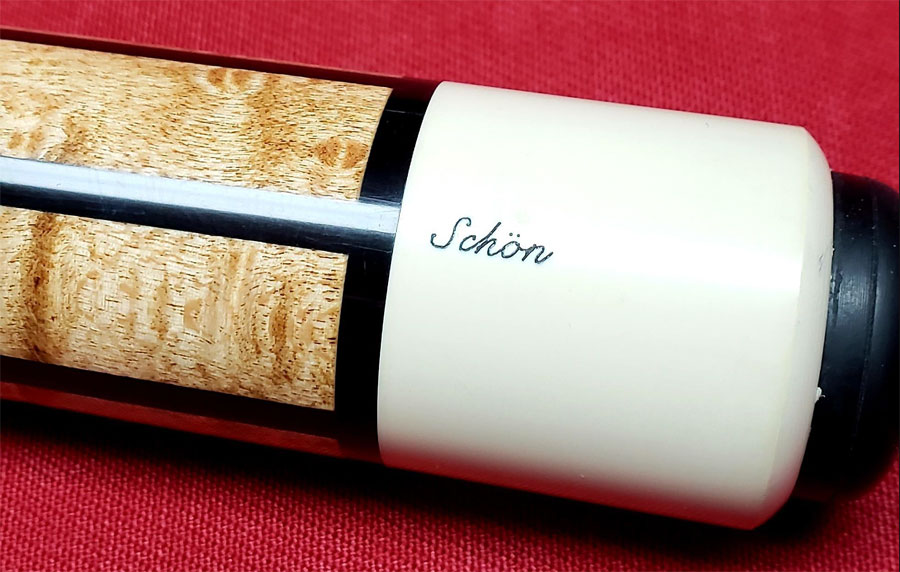 user1534246347
Schön Cue Identity Please
Replies & Comments
---
billiardsforum on 8/15/2018 4:27:27 PM

You have a Schön CX-68 pool cue from the Schön CX series. The cue is still available for purchase on a number of online billiard retailers. The Schon CX68 has an MSRP of $650, and a typical retail price of about $520.

The Schon CX Series are made exclusively for billiard distributor Cuestix International, and are sold through their network of dealers.

Schön CX-68

The Schon CX-68 features a highly figured stained Birdseye Maple forearm with precise Ebony point inlays. The butt sleeve is of Jet Black Ebony inlayed with large stained Birdseye Maple panels. A black with white speck Irish Linen wrap & white butt cap complete this stunning cue.
Schön Cue Identity Please
Title: Schön Cue Identity Please
Author: user1534246347
Published: 8/14/2018 4:32:28 AM
Last Updated: 8/15/2018 4:12:32 PM
Last Updated By: billiardsforum (Billiards Forum)