Question About Pool Cue Makers, Hiolle and Other
---
9/19/2021 2:40:10 AM
Question About Pool Cue Makers, Hiolle and Other
I wanted to post some pictures of 2 cues I just inherited.
One is a 3-piece Hiolle pool cue, but I am not sure of it's age or it's value.
The other one has no makers marks other than "Made in England" and the "19" on the upper part.
I don't play pool so I don't really have a use for them. I am looking to find out who they are made by and if they are worth anything.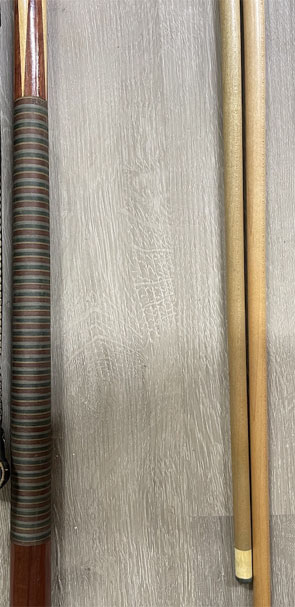 rcooper
Question About Pool Cue Makers, Hiolle and Other
Question About Pool Cue Makers, Hiolle and Other
Title: Question About Pool Cue Makers, Hiolle and Other
Author: rcooper (R. Cooper)
Published: 9/19/2021 2:40:10 AM
Last Updated: 10/28/2021 2:03:51 AM
Last Updated By: billiardsforum (Billiards Forum)