Pure X Power Driver + Air Flight Technology, PureXAir
---
7/7/2021 10:19:44 PM
Pure X Power Driver + Air Flight Technology, PureXAir
I got a PureX Technologies PureX Power Driver + Air Flight Technology 4 piece pool cue at an estate sale.
The base is three pieces of black carbon fiber and tapers off after the third piece. The first piece has a rubber grip, second piece says "PURE X Power Driver + Airflight Technology, and the third piece says "PureXAir" There is a 1/2 inlay of a black, pearl luminescence at the tip and at the junction of the wood section with the fiber carbon section. The wood section also says HTX Pure X technologies.
It also has 1805 engraved on the bottom.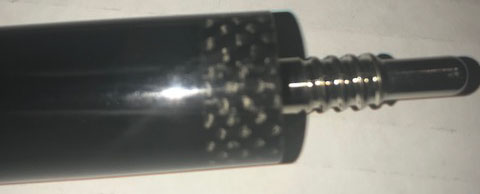 travjam44
Pure X Power Driver + Air Flight Technology, PureXAir
Replies & Comments
---
billiardsforum on 7/16/2021 3:28:49 AM

PureX is line of cues from the Players cue brand.

This is a current model, the Players HXT-P1 Pure X jump-break pool cue.

From the marketing materials:

Players HXT Pure X Jump Break Cue - The Quadruple Threat

Your Opponent Won't Even Know What Hit 'Em

The new Players HXT Pure X Jump Break Cue gives you ultimate control over your game, with three interchangeable quick release joints that let you pick your perfect shot--use just the forward Air Flight portion with ergonomic flared handle for super-short vertical shots, add the jump extender for longer shots, combine the Air Flight + Power Driver for more torque and leverage, or go full-length with the Air Flight + Long Jump + Power Driver for explosive breaks. Make those "impossible" shots look easy.

HXT Pure X Jump/Break Technology Features

Carbon Fiber Impact System engineered to place virtually indestructible material at key impact points – dramatically increasing stiffness to provide maximum power. What does this mean? Scary accurate, blazing fast, explosive breaks every time!
XLG Quad Face Tip gives you more ball to tip contact, equaling an extended sweet spot for ultimate transfer of power to the ball
Mz Multi-Zone Grip Technology - This super comfortable grip won't slip in your hands like others, giving you intense traction and stability to keep even your most powerful break smooth and the ball right where you want it
Zone 1: Super traction to help prevent inconsistent hand torque
Zone 2: Smooth contour combined with light traction for a lighter feel
Zone 3: Uniform sweat channels for increased comfort and stability
Acid Burn Joint and Butt Cap - Sport models feature an acid burned joint and butt cap colored to match the wrap detailing.

Cue Details

Wood: 100% North American Grade A Hard Rock Maple
Joint: Carbon Fiber
Tip: XLG Quad Face
Weight: Standardized weighting system 18oz-21oz available
Butt cap: Acid-etched stainless steel
Pure X Power Driver + Air Flight Technology, PureXAir
Title: Pure X Power Driver + Air Flight Technology, PureXAir
Author: travjam44
Published: 7/7/2021 10:19:44 PM
Last Updated: 7/16/2021 3:23:03 AM
Last Updated By: billiardsforum (Billiards Forum)