Pool Cue With "Mc" Logo
---
5/26/2018 11:58:08 PM
Pool Cue With "Mc" Logo
I'm looking to identify this older pool cue with an "Mc" logo which I recently acquired. It is a very solid and well built pool cue. I don't recognize the "Mc" logo.
The guy I got it from thought it was a McDermott, but pretty sure it is not based on looking at their historical models; There is nothing with this logo.
Any help would be great, thanks!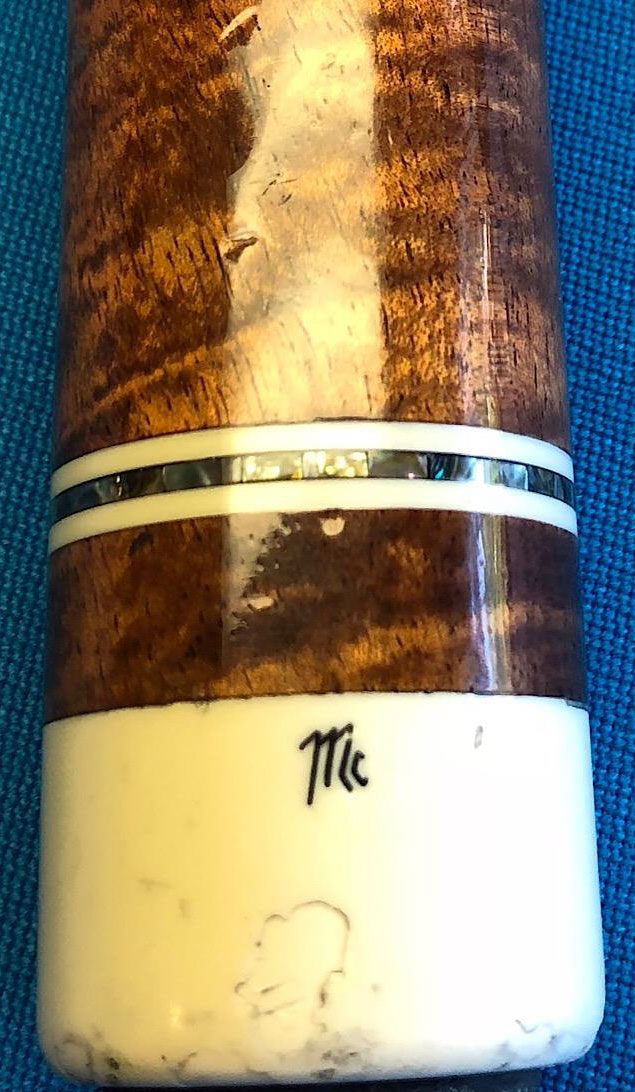 user1527393485
Pool Cue With "Mc" Logo
Replies & Comments
---
billiardsforum on 5/28/2018 5:26:33 PM

This would definitely not be a McDermott cue as you correctly concluded.

I am not yet sure on what brand that logo belongs to but I will keep an eye out.

user1527393485 on 5/29/2018 1:38:10 PM

Thanks for the response. After lots of googling, I believe it is a Morris Cue made by Ned Morris some time in the 90's. I found one screenshot on his facebook page with the same mark. It seems he also partnered with Mark Stoller of stealth cues.

If anyone knows any further information, it would be great.

billiardsforum on 5/29/2018 6:27:46 PM

You are correct, thanks for posting the info, and great find!

I was able to find a bunch more of his cues with the same "Mc" logo now that you posted that... but still no reference to your exact cue, but as always, I will continue to keep an eye on it for you.

Ned Morris Custom Cues

Here is a beautiful pink ivory and ivory blue book 3rd edition color page cue! Ned Morris is known for his playability, and this cue should show how he should be known for his artistry! A beautiful custom collectible cue!

Weight: 19.5 oz
Condition: Pristine
Length: 58"
Joint: 3/8-10 Ivory
Shafts: 13 mm
Wrap: Calf Skin

---

Very simple [Ned Morris] Merry widow [cue], I think? the handle is Satinwood. Wonderful playing cue, in my case 24/7 now. Hoping to get another one day

---

"Cue 11" from Ned Morris' old website "Morris Custom Cues" (retrieved circa 2006)

"Cue 12" from Ned Morris' old website "Morris Custom Cues" (retrieved circa 2006)

---

I have a Ned Morris cue for sale. 3/8x10. Comes with 2 shafts and they both roll straight. one of the shaft is my player so it does have blue-ing but the other shaft is like new. I hit a few racks with it. > The used shaft is about 12.7 mm and the newer one is a 13 mm. I was told the forearm is curly maple and the handle I am not sure of.

It is a very light cue. I would have to say about 18.5 oz. It does come with joint protectors for one shaft and one butt. Price $600 obo.

---

Ned Morris Custom Cues

Brazilian Rosewood into Brazilian Rosewood with 4 veneers; rust, black, teal, natural. Custom matching joint protectors and Kamui Black tips. Five weight bolts make this cue adjustable down to 18.7 ounces in 0.1 increments for that perfect custom weight. The Hoppe ring is LBM for our international customers. This cue has seen very little play and really looks brand new. Now take all of that and remember it has Ned's great hit!

---

twitter.com/customcues/status/827719705100038145
Pool Cue With "Mc" Logo
Title: Pool Cue With "Mc" Logo
Author: user1527393485 (G. H.)
Published: 5/26/2018 11:58:08 PM
Last Updated: 5/28/2018 5:48:28 AM
Last Updated By: billiardsforum (Billiards Forum)