Oldest Known Pool Cue Stick?
---
1/14/2018 12:46:38 PM
Oldest Known Pool Cue Stick?
I've been doing some research into the history of billiards cues and their predecessors, the mace. I am well aware of the history of BBC and other 19th century cue makers, so I am not asking for references to their work. I have found reference to a few handcrafted Portuguese cues made in the mid-18th century, and I have also found images depicting French monarchs playing with maces in the mid-15th century. I have been fortunate enough to hold a few maces over the years, but none had documentation that was readily available.
With that being said, does anyone know the definitive oldest "cue" or "mace" that has been preserved to modernity? Does anyone know if any institutions preserve these artifacts? I'd like to at least identify the oldest known surviving cues so that I can begin my research in depth.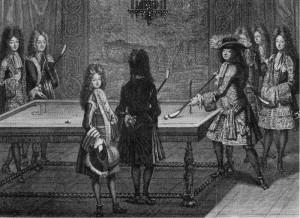 ThriceGreat
Oldest Known Pool Cue Stick?
Replies & Comments
---
Oldest Known Pool Cue Stick?
Title: Oldest Known Pool Cue Stick?
Author: ThriceGreat (J Owens)
Published: 1/14/2018 12:46:38 PM
Last Updated: 3/31/2019 7:49:39 AM
Last Updated By: billiardsforum (Billiards Forum)