Older Cue with Joint Type I've Never Seen Before
---
12/15/2019 6:21:07 AM
Older Cue with Joint Type I've Never Seen Before
Can anyone help me identify this older pool cue? It has a joint type that I have never seen before.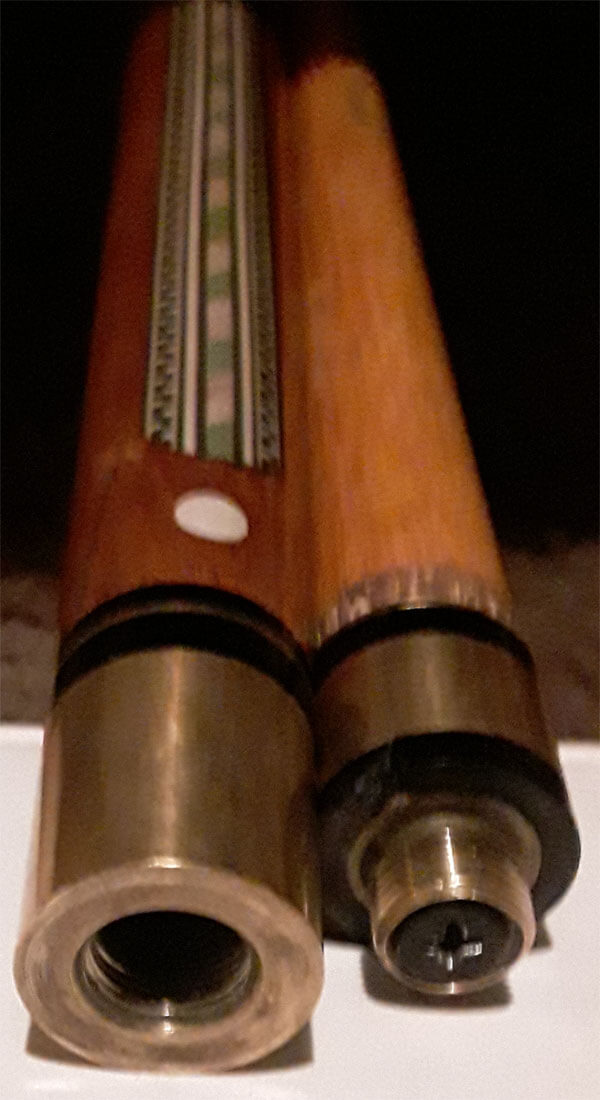 jsticky8384
Older Cue with Joint Type I've Never Seen Before
Replies & Comments
---
billiardsforum on 12/31/2019 9:21:20 AM

UPDATE - I was totally wrong.

I now believe you have an older Adam cue - the Adam M/A-12 cue aka "Billy the Kid" from the 1973-1974 Adam Bandits series (named after notorous outlaws).

---

I initially thought that it looked to be a Schmelke joint (though not identical to the one in the photo below).

However, I can't find that specific one in any of the catalogs I have (though I don't have every single one).

If you could post clear photos of the cue, including any numbers, stamps, or other markings, it would be helpful.

Schmelke made cues for other companies, so it may not be a Schmelke branded cue, even if it was made by them. In fact, check out this question about a Brunswick-branded cue from a line which was manufactured by Schmelke. It has the same joint type as the cue in your photo, and many other design similarities. Likely from the same period as the cue in your photos.

Hopefully this helps point you in the right direction to continue your research.

It might be worth reaching out to Schmelke Cues. Their email and phone number is in the link.

sunchaser on 1/17/2020 1:16:57 PM

I have that cue. Its a Brunswick with the brass Schmelke style joint

billiardsforum on 1/18/2020 7:57:51 AM

@sunchaser - No, it's not a Brunswick cue, though there are very similar Brunswick cue models.

See above - It's an Adam M/A-12 cue aka "Billy the Kid" from the Adam Bandits series.
Older Cue with Joint Type I've Never Seen Before
Title: Older Cue with Joint Type I've Never Seen Before
Author: jsticky8384
Published: 12/15/2019 6:21:07 AM
Last Updated: 12/31/2019 9:06:07 AM
Last Updated By: billiardsforum (Billiards Forum)