Meucci Gambler Cue with All Jokers
---
2/25/2018 6:56:33 PM
Meucci Gambler Cue with All Jokers
I have the following Meucci Gambler cue with all Jokers. Can anyone identify the model number?
It has a brown leather wrap, and two matching Meucci Gambler shafts - one Meucci Black Dot shaft, and one Predator 314 shaft.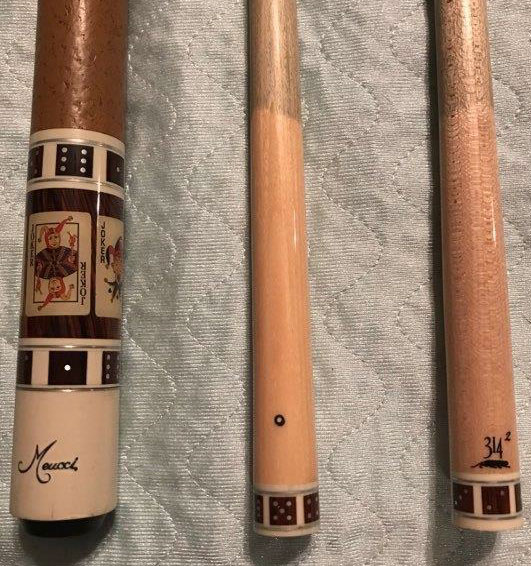 user1519584992
Meucci Gambler Cue with All Jokers
Replies & Comments
---
billiardsforum on 2/27/2018 6:06:30 AM

This is a Meucci Gambler G-3 Joker pool cue. It is still available for sale today (Feb 26, 2018) on budgetbilliards.com for $748 USD with one shaft.

Yours obviously has a custom wrap option and an additional shaft.
Meucci Gambler Cue with All Jokers
Title: Meucci Gambler Cue with All Jokers
Author: user1519584992
Published: 2/25/2018 6:56:33 PM
Last Updated: 2/27/2018 6:01:41 AM
Last Updated By: billiardsforum (Billiards Forum)