McDermott Logo Stamped in Wood at Joint Collar
---
11/26/2017 10:17:31 AM
McDermott Logo Stamped in Wood at Joint Collar
I've spotted this McDermott pool cue in a pawn shop and I cannot tell if it's genuine or a counterfeit.
Based on the McDermott logo that's stamped near the joint collar joint rather than at the butt end, it could either be a Lucky or Star line which could mean that it was made in Asia. However it doesn't have the word "Lucky" or "Star" below the logo as shown in the McDermott catalogs.
If genuine, what is the value and is it possible that this pool cue was made during the transitional period from USA factory to Asian factory before the Lucky or Star line came out?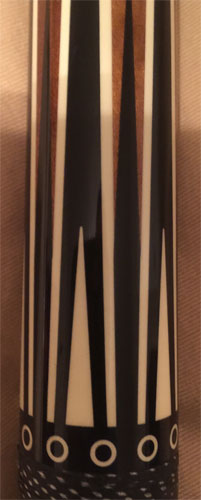 jb4billiards
McDermott Logo Stamped in Wood at Joint Collar
Replies & Comments
---
billiardsforum on 11/26/2017 12:14:43 PM

This came in McDermott's "Deluxe Cue Kit", and can be seen in their 2012-2013 catalog on page 59 shown below.

The whole kit retailed for $69 USD. They are still sold, and you can still get them new for around this price.

It is their mid-low end cue kit. (there is one lower-end, and two higher-end kits available). They are made in China.
McDermott Logo Stamped in Wood at Joint Collar
Title: McDermott Logo Stamped in Wood at Joint Collar
Author: jb4billiards
Published: 11/26/2017 10:17:31 AM
Last Updated: 11/26/2017 12:04:55 PM
Last Updated By: billiardsforum (Billiards Forum)