Lucasi Cue Model?
---
6/28/2019 10:36:36 AM
Lucasi Cue Model?
I won this cue a couple of months ago in a tournament.
It has definitely been refinished with a Unilock joint.
It has the production number of "608" opposite of the Lucasi name on the butt. I think that simply means that it's the 608th cue made of that model/series.
There were two shafts that the cue came with. One is obviously just a Lucasi shaft special ordered to look similar. The one pictured has been turned down and has the exact same silver rings as the butt. This leads me to believe it is the original shaft.
It looks like an older model but no one can seem to tell me what I have.
I have owned many high end cues over the years but this one is absolutely my favorite cue. It is extremely well balanced and plays so beautifully. It quickly became my go to playing cue.
I do plan on contacting Lucasi as well but thought I would post this to see what insight any of you may have. I do know there are a ton of models and series of cue made by Lucasi. Lol
Thank you for any info that can be provided.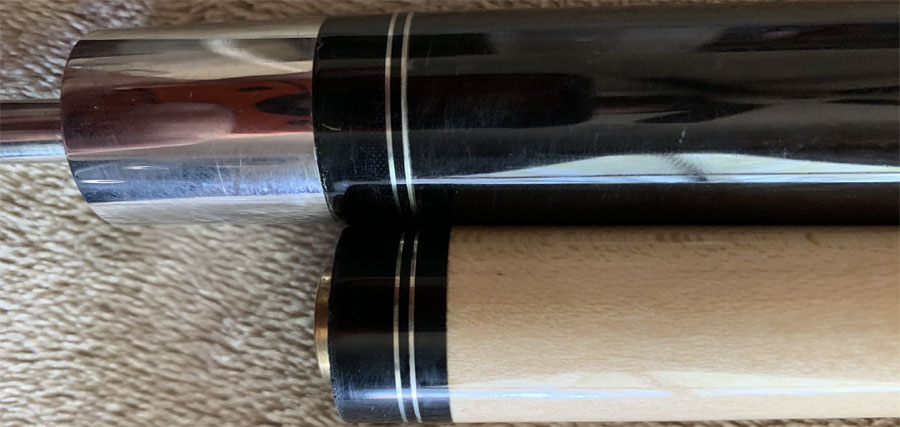 AZAnvil
Lucasi Cue Model?
Replies & Comments
---
Chopdoc on 6/28/2019 10:59:43 AM

The number is the month and year of manufacture.

The joint is original.

I see no reason to think the cue has been refinished.

.

AZAnvil on 6/28/2019 11:09:34 AM

That's very helpful! Thank you!

I would have bet based on the marks under the finish that it had work done but this is why I posted this. I am new to cue maintenance and repair within the last 2 years. I have not done a full refinish for a customer yet. I don't really have an experienced cue smith to learn from.

Any ideas on the model at all? I know that's a bit of a needle in a hay stack.

I really appreciate your response. I absolutely love this cue.

billiardsforum on 7/2/2019 4:56:58 PM

I couldn't find this model in my catalogs.

You might also try reaching out to Cue & Case Sales - one of the bigger distributors for Lucasi cue in North America.
Lucasi Cue Model?
Title: Lucasi Cue Model?
Author: AZAnvil
Published: 6/28/2019 10:36:36 AM
Last Updated: 7/2/2019 4:37:01 PM
Last Updated By: billiardsforum (Billiards Forum)