"Jimmy Rempe by Meucci" Pool Cue Info and ID
---
8/8/2019 4:33:45 PM
"Jimmy Rempe by Meucci" Pool Cue Info and ID
Hey guys any Info on this never-restored Meucci Jimmy Rempe cue?
It says "Jimmy Rempe by Meucci" on it, and has a print of Jim Rempe's signature and a stick-character of him shooting pool on a pool ball shown within the wrap area of the cue (see below).
It isn't in the typical Meucci Jimmy Rempe series brochures.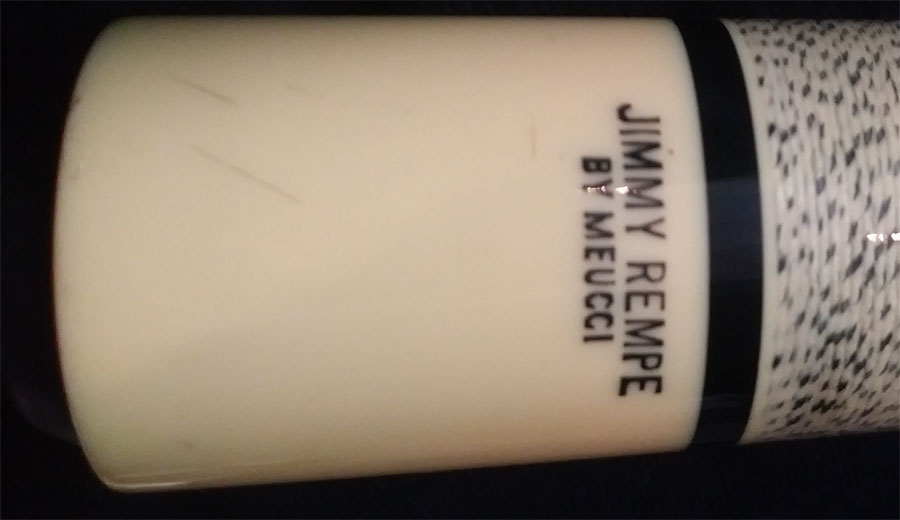 user1565307224
"Jimmy Rempe by Meucci" Pool Cue Info and ID
Replies & Comments
---
billiardsforum on 9/11/2019 4:51:18 AM

I don't have any personal knowledge of this cue, but it isn't part of the older, earlier Meucci Larry Hubbart series' which are in all of the brochures you see online.

This model wasn't ever cataloged.

Cue probably worth somewhere between $400 and $700 depending on condition, number of matching shafts, etc. I'd consider it more "obscure" than "rare" - and due to it's obscurity, there isn't a massive demand (as it's not a widely known model). There are some Meucci Collector groups on Facebook, and I think you'll have the best chance of getting a higher value for it there. There or on eBay perhaps.

I've only seen one other one of these, with a black wrap. It was for sale on eBay 10 years ago. This is what the seller had to say about it. Again, this isn't my info, It's just info I've come across and saved.

Take it for what it is worth.

Very Rare Meucci Jimmy Rempe Cue

Sold Date: 2009-07-13
Sold For: $460

I am the original owner of this cue, I purchased it about 20 years ago.

I was told by Bob Meucci that only about 50 of these were manufactured for worldwide distribution. He remembered it well and said that it never appeared in any catalog.

It has seen very little use and is in very good condition. It comes with one (original) shaft. Based upon the very limited run, it is one of the rarest Meucci cues available.

I live in Northeast PA, which is Jimmy Rempe country. Some years ago Jimmy was running a local pro-shop. I stopped in to ask his opinion with regards to it's value. He was surprised to see one, and said it was worth some big money. He also said "It will be worth a lot more when I am dead". Nice touch.

The bottom line is because it is so rare and never cataloged, it is difficult to put a value on. My BIN is less than half his estimated value.

user1565307224 on 9/11/2019 6:15:31 AM

Thank you very much for the info on this Meucci Rempe cue.

The shaft is in excellent condition with it's original ferrule and tip. So with that said, I have a 77 original shaft with small nick in it by the joint which I use to play with in order to preserve the other shaft.

I am not really in it for the money, and not interested in selling it. I am just glad to hear that I have a "priceless" piece of history.
"Jimmy Rempe by Meucci" Pool Cue Info and ID
Title: "Jimmy Rempe by Meucci" Pool Cue Info and ID
Author: user1565307224
Published: 8/8/2019 4:33:45 PM
Last Updated: 9/11/2019 4:33:41 AM
Last Updated By: billiardsforum (Billiards Forum)