Is this a Meucci MO-7 Cue?
---
9/19/2018 11:58:35 AM
Is this a Meucci MO-7 Cue?
I think I have a Meucci MO-7 cue. It's a level-3 Meucci. Can you tell me if this is actually a level 3 Meucci MO7 and what it is worth?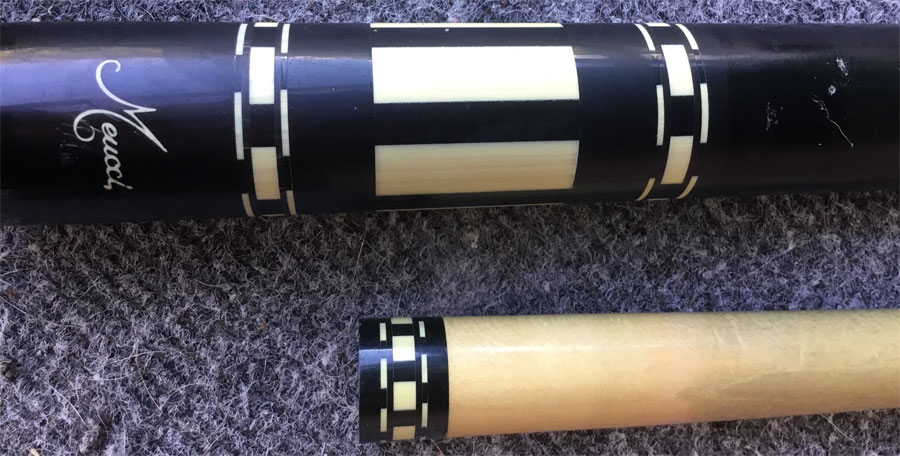 Bruce Henderson
Is this a Meucci MO-7 Cue?
Replies & Comments
---
billiardsforum on 9/19/2018 12:17:39 PM

No, this isn't a Meucci MO7. the "MO" stands for "Meucci Originals", which literally say "Meucci Originals" on the cues where your newer-style Meucci logo is.

This is most likely a Meucci HOF-1 from the Meucci Hall of Fame series (1990s).

The "Meucci Originals" MO7 version is from the 1970s and 1980s, and the logo would look like this:

The HOF-01 pool cues today go for between $350 and $450 in like-new condition. Add $100 for each additional straight matching shaft. As yours is pretty banged up, it would be worth something near or slightly lower than the lower-end I quoted above.
Is this a Meucci MO-7 Cue?
Title: Is this a Meucci MO-7 Cue?
Author: Bruce Henderson
Published: 9/19/2018 11:58:35 AM
Last Updated: 9/19/2018 12:07:43 PM
Last Updated By: billiardsforum (Billiards Forum)