Information on a "Maximum" Cue Stick
---
5/5/2020 6:51:07 PM
Information on a "Maximum" Cue Stick
Can anyone tell me about this "Maximum" cue stick?
I want to know what model or make this cue is and what this pool stick is called. I would also like some information about it's market value.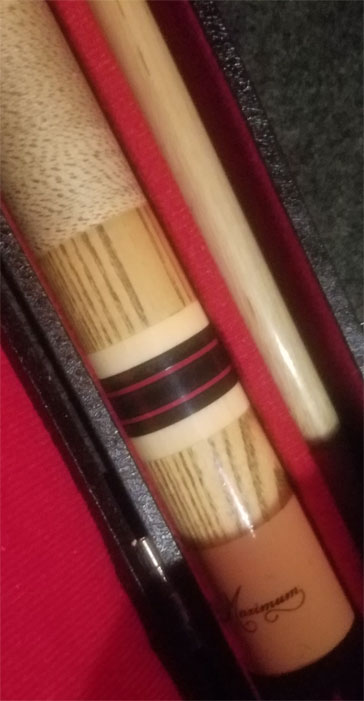 Paula
This question relates to the following products:
Information on a "Maximum" Cue Stick
Replies & Comments
---
billiardsforum on 5/27/2020 4:15:22 AM

This is a "Maximum" MAX-5 cue from Meucci Cue.

Maximum cues were a low-end "budget" brand created by Meucci Cue of Byhalia, MS and sold between around 1995 to 1997.

MSRP (over time) was between $152 - $204.

If both the butt and shaft roll straight together and apart, and no major damage exists, they'll sell today for between $120 and $200 depending on it's condition.

See Meucci Maximum 5 Cue for the full specs and details of this model.
Information on a "Maximum" Cue Stick
Title: Information on a "Maximum" Cue Stick
Author: Paula (Paula Gass)
Published: 5/5/2020 6:51:07 PM
Last Updated: 5/27/2020 4:09:00 AM
Last Updated By: billiardsforum (Billiards Forum)