Identify Viking Dragon Cue Model
---
11/12/2018 4:30:12 PM
Identify Viking Dragon Cue Model
Please Identify this dark green Dragon Viking cue model: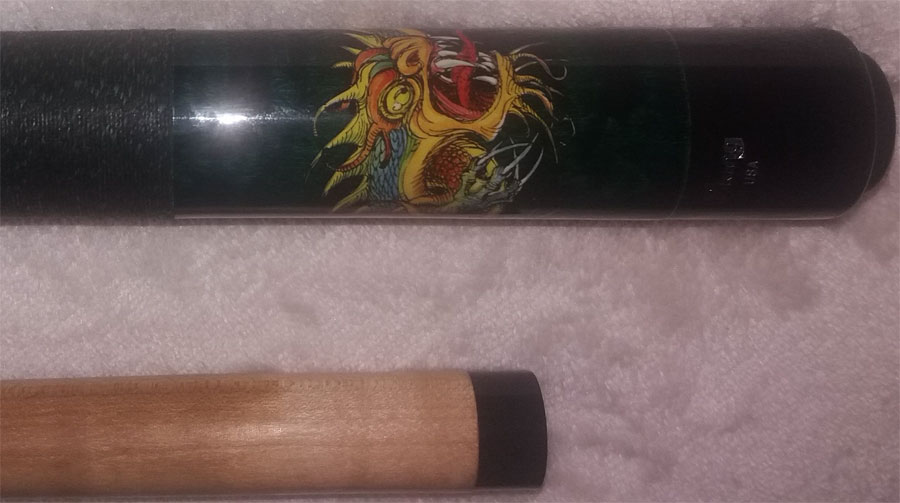 user1542069012
Identify Viking Dragon Cue Model
Replies & Comments
---
billiardsforum on 11/13/2018 3:40:34 AM

It is a Viking K7 "Dragon" cue (Sku: VIDK07) from the Viking DeCues Series. DeCues is a shortening of "decal cues".

The illustrations are done by artist John Schmelzer.

It's MSRP was $310.

Here is the product description from the catalog:

VIDK07 - Stay out of the dungeon with the help of this dragon cue! The bird's-eye maple forearm of this cue features a ferocious-looking Chinese-esque dragon. The bird's-eye maple butt sleeve is adorned with two equally intense-looking dragons. Get medieval on your opponents!

Vikingcue900 on 3/25/2021 5:24:47 AM

Does any one on here have this Viking K7 "Dragon" cue stick?

I had it when it first came out. But after a month, I fell on hard times and had to sell it very cheaply, on the promise the guy I sold it to would sell it back to me.

He said no when time came for me to buy it back.

If anyone has one for sale at a reasonable price, let me know.
Identify Viking Dragon Cue Model
Title: Identify Viking Dragon Cue Model
Author: user1542069012
Published: 11/12/2018 4:30:12 PM
Last Updated: 11/13/2018 3:31:01 AM
Last Updated By: billiardsforum (Billiards Forum)