Identify Unknown Carved Pool Cue
---
11/4/2018 2:25:11 PM
Identify Unknown Carved Pool Cue
I did a couple hours of research on this carved pool cue and could not find anything about it.
The label on the cue looks like it starts with a "G" and ends with an "R".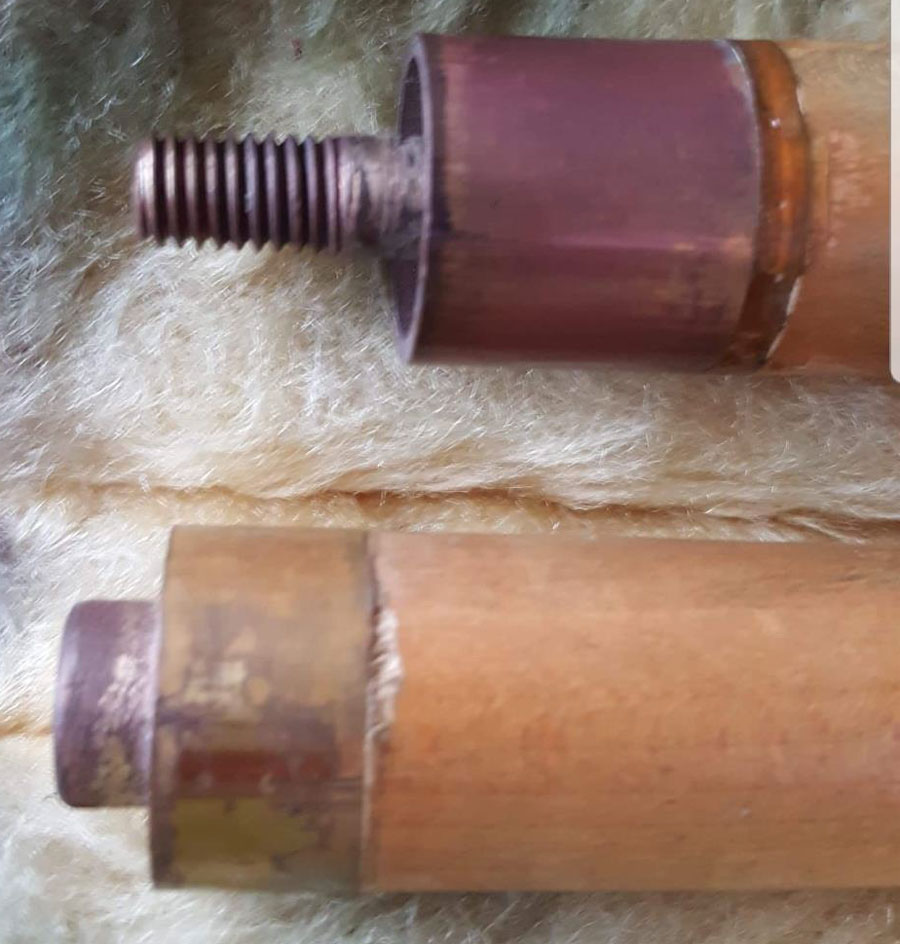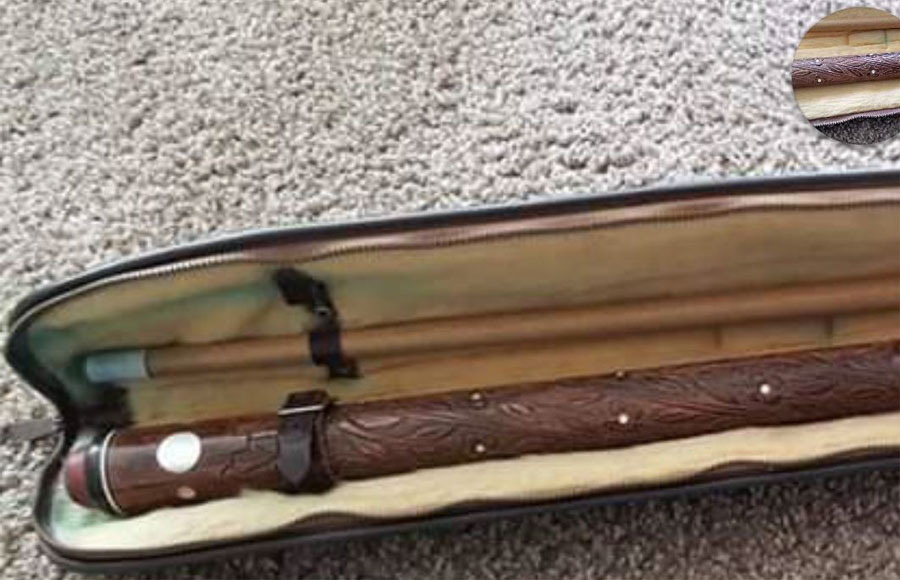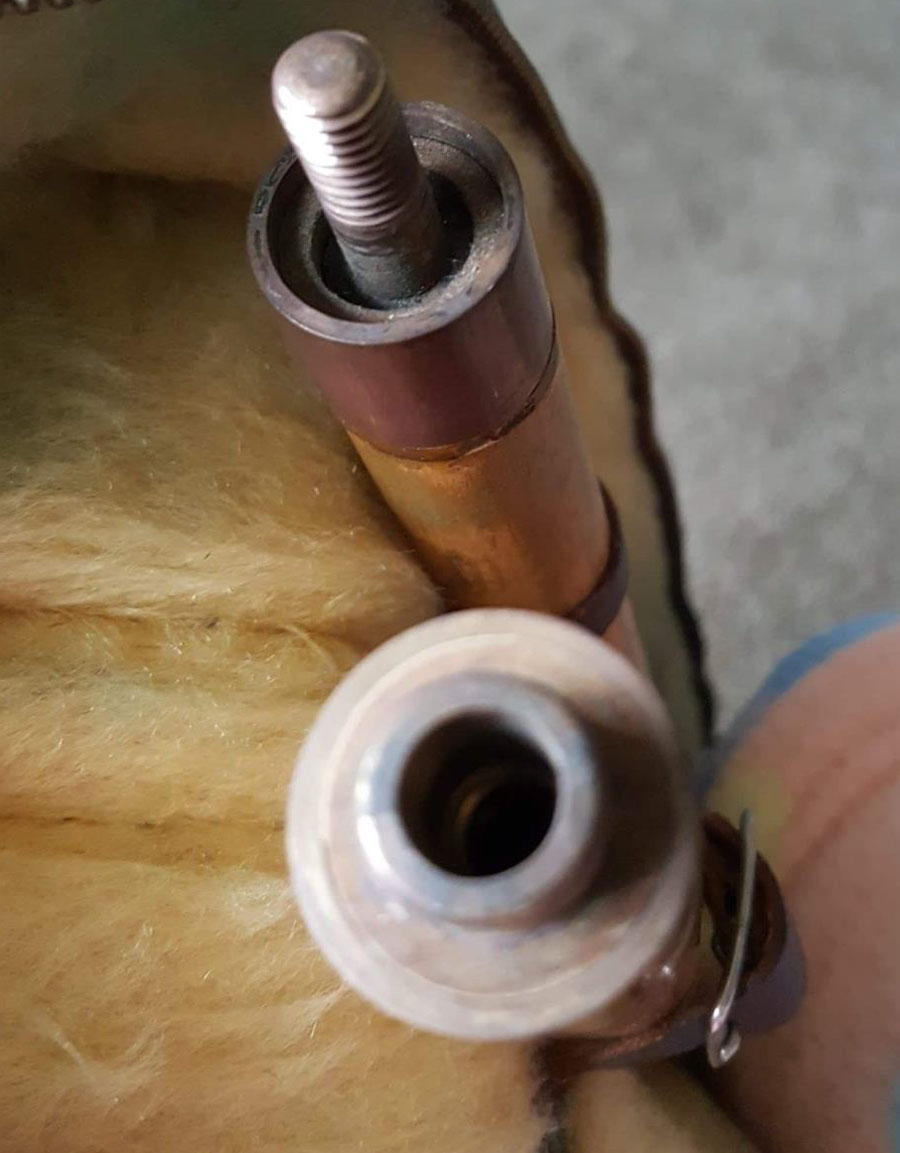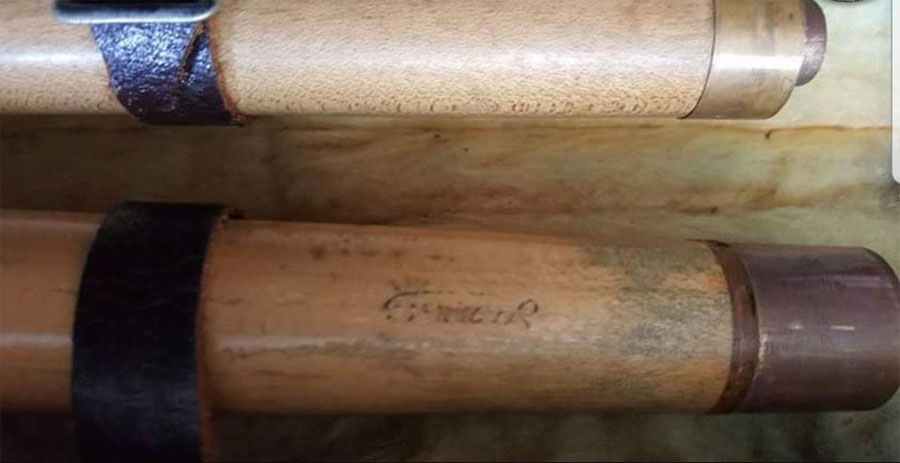 wildlandfirefighter42
Identify Unknown Carved Pool Cue
Replies & Comments
---
Chopdoc on 11/5/2018 6:04:24 PM

It is a Sampaio "Astro" cue.

From the Blue Book:

Sampaio Astro Pool Cue

Level 4 - Maple forearm, four full-spliced hand-engraved hardwood points, floral engraved hardwood handle with mother-of-pearl dots in the center of the flowers between mother-of-pearl dots in hardwood rings at top and bottom, hand engraved hardwood butt sleeve with large mother-of-pearl dots.

Sampaio Billiard Cues

Maker of pool cues from 1880 to the mid-1970s in Lisbon, Portugal.

Sampaio was founded in Portugal in 1880. A family-owned and operated business run by meticulous old-world craftsmen, the company rose to prominence throughout Europe by the early 1900s. Their expertise was in three-cushion billiard cues and their reputation for quality and playability was well deserved. Their early cues (1880-1930) were on par with anything being made in Europe at the time. Exotic hardwoods gathered from the four corners of the world and quality craftsmanship combined to make the company world-famous by 1940.

[...]

At different periods they were stamped with the "Sampaio" logo. Somewhere along the line, this logo was moved to the forearm and the word "Portugal" remained stamped on the shafts.

[...]

Ben Shimel, the founder and then-owner of J-S Sales, was impressed with the quality of the Sampaio cues and visited the Sampaio family in 1962. A joint venture resulted and a new line of cues meeting American standards were developed. Shimel invested in and guided the redesign from billiard to pool cues as pocket billiards was unknown in Portugal. Pool cues with longer ferrules, pro tapers, brass joints and colorful nylon wraps were added to the line. Both billiard and pool cues were now available and proved to be very successful in America, and the Sampaio family struggled to keep up with the orders pouring in from the U.S. J-S Sales imported up to 60,000 cues annually. Though quite different in appearance from American cues of the time, both lines had solid old-world craftsmanship built into them.

[...]

Sampaio ceased production in the 1970s after over 90 years in business.

Source: bluebookofpoolcuevalues.com/Pool_Cue_Values/Pool_Cue_Manufacturer_Model_Value.aspx?id=SAMPAIO_BILLIARD_CUES_DISCONTINUED_CUES_Level_4_The_Astro

billiardsforum on 11/6/2018 2:33:00 AM

Does the stamp on the OP's cue say Sampaio? Almost looks like a different version of the stamp from what I usually see. Hard to make out. Then again, it could be just damaged or dinged up beyond recognition.

Here are a few better quality stamps from my archives, for anyone wondering what they look like:

Chopdoc on 11/6/2018 6:26:22 AM

His picture is upside down. It says Sampaio.

Also, the cue is dirty and in relatively poor condition, so the stamp is a bit unclear. Flip the picture and you will see it.

As far as variations on the stamp, from what I have seen, any variation has to do with how deeply it is stamped. Age and grime tend to make them look different as well.
Identify Unknown Carved Pool Cue
Title: Identify Unknown Carved Pool Cue
Author: wildlandfirefighter42 (Tyler Williams)
Published: 11/4/2018 2:25:11 PM
Last Updated: 11/5/2018 1:50:56 PM
Last Updated By: billiardsforum (Billiards Forum)