Identify my Meucci Pool Cue Stick
---
1/10/2017 7:16:17 PM
Identify my Meucci Pool Cue Stick
Someone gave me this Meucci pool cue along with a Lucasi.
I love pool with my heart, I've been playing since I was 13 years old and I'm now teaching my two sons.
Can anyone please tell me the name, year, or anything in reference to this Meucci cue?
It's a beauty.
Thanks,
Heather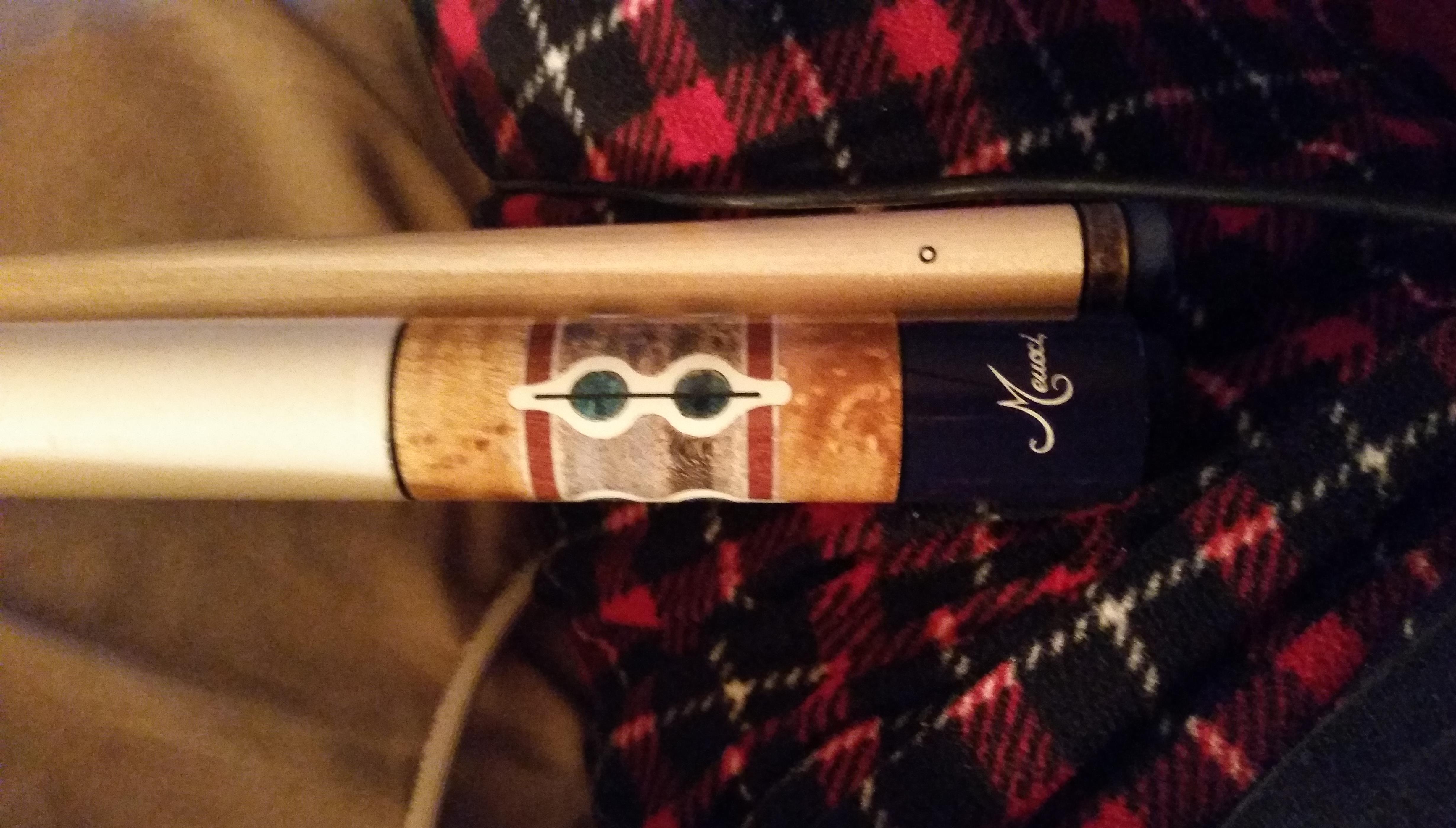 user1484093776
Identify my Meucci Pool Cue Stick
Replies & Comments
---
billiardsforum on 1/10/2017 8:38:21 PM

You have a Meucci "Bandito Blue" pool cue with a Meucci black-dot shaft.

Meucci Bandito-Blue Cue

MSRP Only 320.00

The new Bandito-Blue cue comes standard with a 12 3/4mm hard rock Black Dot Bullseye Maple shaft with the famous Meucci Pro Taper and a the lowest deflection ferrule & tip combinations in the world.

The masks on the forearm and buttlsleeve contain blue stained maple eyes to match the blue Joint collar and Buttplate.

This cue come standard with a cream Irish Linen Wrap and our proprietary Everlock adjustable weight system.

The Bandito-Blue is from the Meucci "Bandito" Series which came out in mid-2007.

If you have never felt like a Bandit before, you will now when you buy one of these custom made Meucci Bandito Cues for only $320.00

There are five different Bandito color combinations and each cue has 28 separate inlays over a triple spliced forearm and buttsleeve separated by multiple trim rings. The obvious mask shaped inlays on the top and bottom characterize further the meaning of the name... Bandito by Meucci.

All Bandito cues come standard with cream irish linen wrap and there are five different color buttplates with matching joint collars (Blue, Brown, Green, White, Black).

You never got so much work for so little money in an American-made cue.

They are built 100% at the new Meucci factory in Byhalia, MS.
Identify my Meucci Pool Cue Stick
Title: Identify my Meucci Pool Cue Stick
Author: user1484093776
Published: 1/10/2017 7:16:17 PM
Last Updated: 1/10/2017 7:41:33 PM
Last Updated By: billiardsforum (Billiards Forum)