Identify Meucci SE VII Cue
---
6/24/2018 1:39:43 AM
Identify Meucci SE VII Cue
Really would like know just what I got here exactly, my father loved the pool games especially 8 ball and he's was pretty hard to beat in a bar room setting.
This one says Meucci SE-VII and has the number 899.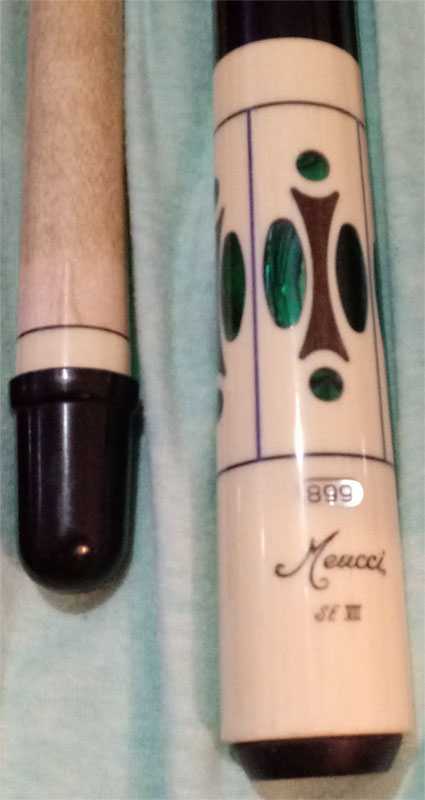 user1512089497
Identify Meucci SE VII Cue
Replies & Comments
---
billiardsforum on 6/26/2018 6:12:07 AM

This Meucci cue model number is exactly what is shown on the cue: SE VII (Meucci SE-7 pool cue) from the Meucci Special Edition series.

Yours is the Walnut stained version (there was also a forest green stain option). 1000 were made.

Form the brochure:

Meucci SE-VII

Truly a collectors item, at an unbelievable price. These cues are numbered and limited up to a release of 1000. Handsomely, ornate with deep green paua shell inlays. Available in a rich walnut of forest green stain.

user1532386567 on 7/23/2018 3:56:08 PM

I have Meucci SE-7 with serial number 491. Is there anyway to tell how old it is and what the original shaft was?

billiardsforum on 7/23/2018 4:30:13 PM

No way to know. Meucci doesn't keep detailed records like that.

I DO know there was a #503 for sale second-hand in 2005, so for sure yours is earlier than that.

No way to date the age of the shaft either. Meucci can and will make any version of their shafts at any time if requested.
Identify Meucci SE VII Cue
Title: Identify Meucci SE VII Cue
Author: user1512089497 (Chad DeWeese)
Published: 6/24/2018 1:39:43 AM
Last Updated: 6/26/2018 5:42:54 AM
Last Updated By: billiardsforum (Billiards Forum)