Identify and Value Meucci Cue Shafts
---
5/9/2020 6:34:35 PM
Identify and Value Meucci Cue Shafts
I don't know that much about Meucci shafts, but I just purchased about 50 different models.
I am trying to figure out what value these shafts are worth.
Some are un-chalked, barely used, or have had the ferrule replaced.
Some are no-dot with micarta ferrules, some are red dot shafts, and some are black dot shafts.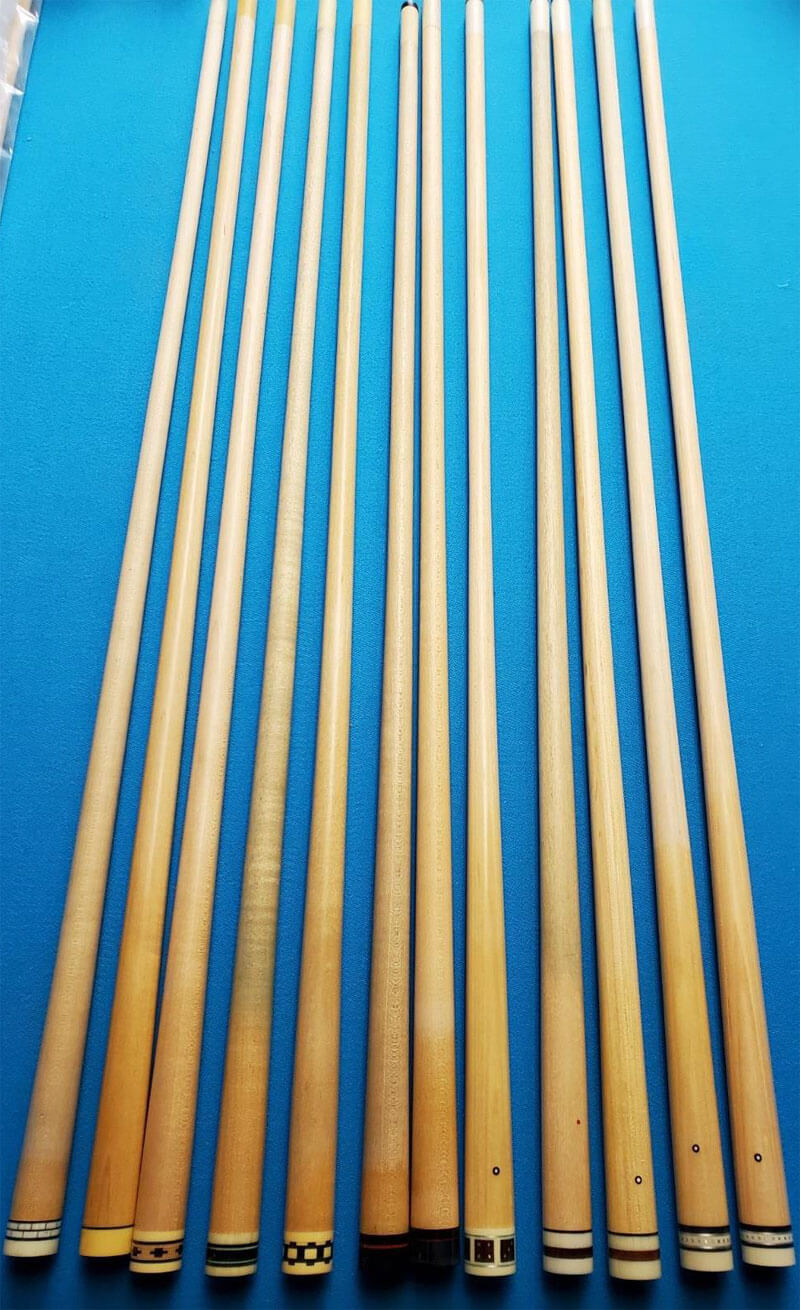 sirclutch
Identify and Value Meucci Cue Shafts
Replies & Comments
---
billiardsforum on 5/28/2020 3:46:58 AM

You probably may have figured out which Meucci models these shafts belong to by now, but for anyone coming behind I will try to answer.

Some of the Meucci shafts aren't clear enough in the photo to tell exactly which model they are from.

Many of these could belong to a lot of different models, so over half of the answers will be "it could be from XYZ but could be from multiple other models).

But anyway, here's a shot:

Meucci 97-31B Cue (shown below) Could also be from a Meucci 95-31 or Meucci C7 cue - same cues more or less.

So many different models this could belong with. One such model is a Meucci Starter Series ST-1 shown below:

Meucci David Howard DH-3 Cue (1st cue below), or a Meucci Series M-13 cue (2nd cue below)I would guess it's most likely this, given the era of most of these other shafts.


I can't place this one, but I believe it could belong to a few different models from the 1990s

It is probably from this first cue which nobody seems to know the model name of (but it's a newer version of the Meucci Buddy Hall BH-5 cue (shown 2nd below). Could also be from a Meucci Larry Hubbart LH-8 cue (shown 3rd below) but doubtful it's this.


Meucci 95-29 potentially (shown below). There are quite a bunch of others it could be from as well, including the Meucci 95-16 cue, and the Meucci HOF-7 cue (shown 2nd below).

Is it the same as #6? Can't tell. If so, lots of Meucci cues it could be from.

Meucci Gambler Cue (Probably a Gambler #3)


Meucci Power Piston PP-4 Cue (red dot shaft)


Meucci Power Piston PP-4 Cue (aka Meucci MEP04 Cue) (black dot bullseye shaft)


Meucci 21st Century 21-3 Cue (or any variant thereof)


Same as above

In terms of the value of these Meucci shafts - they'll vary based on condition, the market at any given time, and the popularity of the Meucci cue model they belong with.

If they came with actual cues - it might be best to sell them together.

user1623306042 on 6/9/2021 11:20:43 PM

The one you listed as a "Meucci Brian Howard BH-5" is actually a "Buddy Hall BH-5" from the Buddy Hall series.

billiardsforum on 6/14/2021 3:44:28 AM

Good catch. Not sure where my brain went when I was typing that.

I've corrected the reference. Thanks!
Identify and Value Meucci Cue Shafts
Title: Identify and Value Meucci Cue Shafts
Author: sirclutch
Published: 5/9/2020 6:34:35 PM
Last Updated: 5/28/2020 3:49:08 AM
Last Updated By: billiardsforum (Billiards Forum)