Identify and Value a Rich Q Pool Cue
---
4/20/2020 11:10:05 PM
Identify and Value a Rich Q Pool Cue
I am just looking for some info on the model and value of this Rich Q pool cue.
Thanks in advance!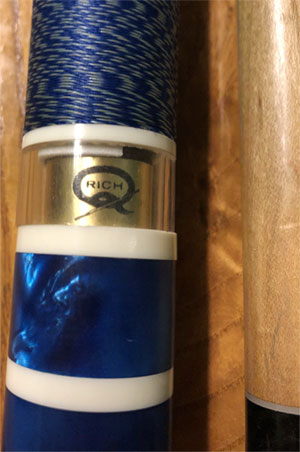 NickS
Identify and Value a Rich Q Pool Cue
Replies & Comments
---
Type79 on 4/21/2020 2:41:11 PM

I have an interest in Rich cues made on Long Island and your cue is one of them. They were made by Sol Rich and continued to be manufactured under the ownership of Imperial. Unfortunately their sales sheets are a bit scarce and they might not have been replaced and updated as styles and models evolved.

Your exact cue is not included in any of the sale brochures I find on the internet, so I can not provide a model designation nor a certain time period it might have been made other than to say I think it would be reasonable to speculate it is from the 1970s. Cues very similar in design to yours do appear in the 1976 catalog.

Details on the family of cues that evolved from and through Sol Rich / Imperial Rich / Rich Q / -RICH- seems somewhat elusive and I will not go off on a tangent with an opinion as to why, but the more common styles, like yours, seem to sell in a range from $75 to $200 highly dependent upon condition (straight/warped, solid finish or needing a refinish, etc) and who is looking to buy at any given time.

NickS on 4/21/2020 3:37:47 PM

That's awesome.

Thank you so much for all the info on my Rich Q!
Identify and Value a Rich Q Pool Cue
Title: Identify and Value a Rich Q Pool Cue
Author: NickS (Nick S.)
Published: 4/20/2020 11:10:05 PM
Last Updated: 4/21/2020 4:11:42 AM
Last Updated By: billiardsforum (Billiards Forum)