Identify 1980s Mali Cue and Value It
---
8/24/2020 6:13:18 AM
Identify 1980s Mali Cue and Value It
I have a Mali cue from the 1980s and I am trying to figure out it's model name and value.
It looks like the one that is number 2 in that photo below.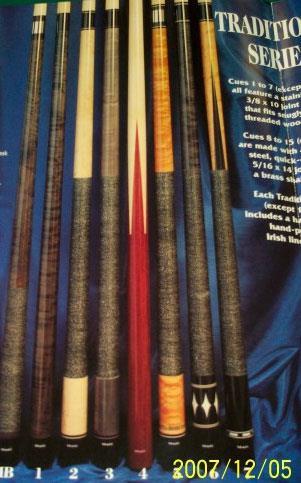 How do I determine the value of this Mali cue?

asloat
Identify 1980s Mali Cue and Value It
Replies & Comments
---
billiardsforum on 10/21/2020 1:48:11 AM

I don't know the exact series and model for this Mali cue, but I can tell you that it's definitely not the one in that brochure page.

Simple Mali cues like yours are worth somewhere in the $60 to $120 range.

They often sell on eBay for under $100. Those priced over $100 often don't sell.
Identify 1980s Mali Cue and Value It
Title: Identify 1980s Mali Cue and Value It
Author: asloat (Andrew Sloat)
Published: 8/24/2020 6:13:18 AM
Last Updated: 10/21/2020 1:37:36 AM
Last Updated By: billiardsforum (Billiards Forum)