Identify 1960s Pool Cue with no Markings
---
10/8/2019 9:48:47 AM
Identify 1960s Pool Cue with no Markings
I was hoping that someone could help me identify this sixties pool cue.
There there are no markings.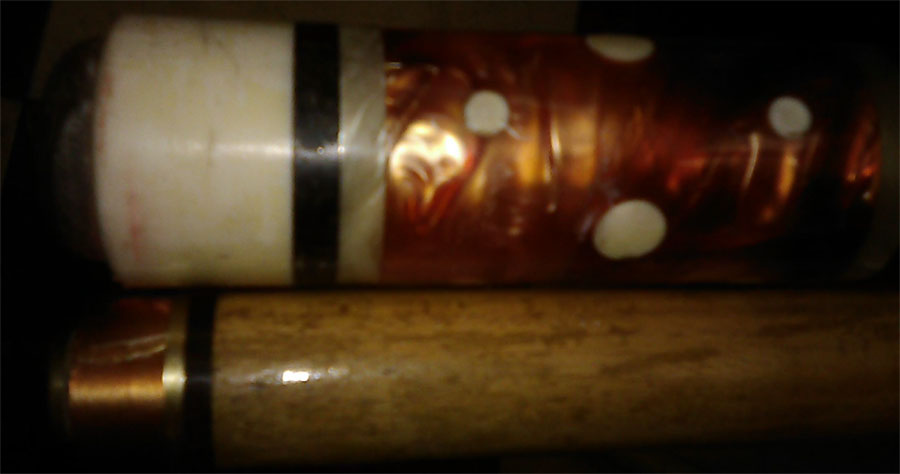 user1570553326
Identify 1960s Pool Cue with no Markings
Replies & Comments
---
billiardsforum on 10/8/2019 11:01:42 AM

I don't recognize the pool cue from those blurry photos, but I can tell you that the folks who might recognize it are certainly going to ask for clear, crisp photos of all parts of the cue.

Ensure that you take clear close-up shots of the joint pin and insert, as well as the bumper and, if applicable, of what's under the bumper.

user1570553326 on 10/13/2019 2:38:13 AM

Hope these are better photos of the pool cue.

It's probably not worth much since it's well used.

I don't mind though, pool is practically my life and it was a gift from a thoughtful friend. I am just curious to see if it's an important part of pool history or just a cool retro piece.

Cuefan on 10/13/2019 12:27:12 PM

I have no idea what kind of cue this is, but it looks colorful with all the plastic inlays.

If you want to sell it let me know.
Identify 1960s Pool Cue with no Markings
Title: Identify 1960s Pool Cue with no Markings
Author: user1570553326 (Brandi Lynn)
Published: 10/8/2019 9:48:47 AM
Last Updated: 10/8/2019 10:55:51 AM
Last Updated By: billiardsforum (Billiards Forum)