ID Series of McDermott Cue
---
4/14/2020 9:09:39 PM
ID Series of McDermott Cue
I picked up this McDermott cue at a garage sale.
It is a little banged up on the butt end but otherwise in good shape.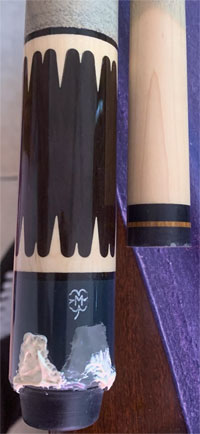 billyray
ID Series of McDermott Cue
Replies & Comments
---
billiardsforum on 4/16/2020 9:41:35 AM

You have a McDermott E-F6 cue from the McDermott EF Series.

This cue was made between 1990 and 1997, and had a MSRP of $300.
ID Series of McDermott Cue
Title: ID Series of McDermott Cue
Author: billyray (Billy Powell)
Published: 4/14/2020 9:09:39 PM
Last Updated: 4/16/2020 9:33:28 AM
Last Updated By: billiardsforum (Billiards Forum)